She Does Not Seek Her Own Way
She Does Not Seek Her Own Way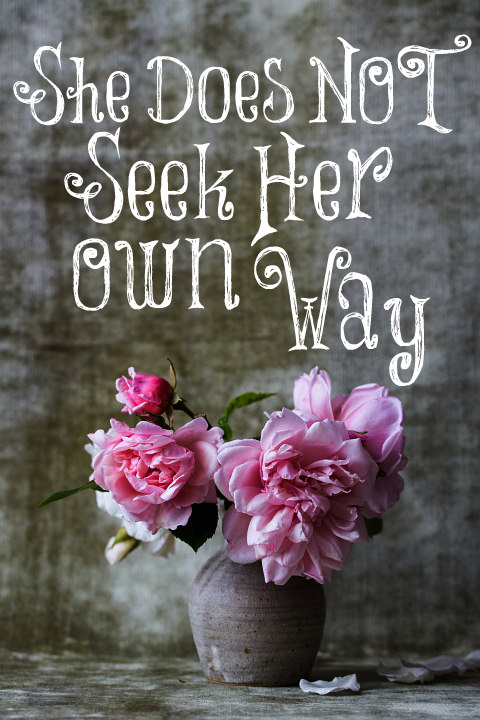 "Charity…does not behave itself unseemly, seeketh not her own, is not easily provoked, thinketh no evil; rejoiceth not in iniquity, but rejoiceth in the truth" (1 Corinthians 13:5, 6). The KJV of the Bible uses the word "charity" instead of love. Charity means "in a general sense, love, benevolence, good will; that disposition of heart which inclines men to think favorably of their fellow men, and to do them good." Charity helps define what love is more clearly. Love is an action not a feeling. It's an action of good will and love towards others not evil.
"Charity dos not behave itself unseemly." Gill's Exposition of the Bible interprets the word "unseemly" to mean "by using either unbecoming words, or doing indecent actions." We are to not let any unwholesome words come out of our mouths "but that which is good to the use of edifying, that it may minister grace unto the hearers" (Ephesians 4:29). We don't cuss, swear, or slander others. We aren't loud and demanding to be heard. We speak the truth in love. We aren't rude to people. We are discreet with our actions and how we treat other people. We show kindness to everyone. We pursue modesty, femininity, and gentleness in all of our ways. Learning to have a meek and quiet spirit is one of our greatest goals.
"Charity seeketh not her own." Yes, she seeks what is best for her husband as his help meet. She seeks what is best for her precious children, not what she wants to do and not pursuing her goals and dreams. She knows that they need and want her with them full time. This is what is best for them. She seeks what is best for her home and makes it a place of refuge in the storms of life. She wants a lovely and peaceful home where her family will feel well loved and cared for. This means she must sacrifice her pleasures and what culture tells her to do for the good of her family which is to be a keeper at home as God requires (Titus 2:5).
"Charity is not easily provoked." Provoke means "to make angry; to offend; to enrage." Many women are easily provoked simply for not agreeing with others. They have no charity towards others. They allow their feelings and emotions to control their behavior instead of what is true and right, and we wonder why the divorce rate is so high. On the other hand, a woman who is not easily provoked shows charity to others by allowing them to have opinions contrary to her own without getting upset and angry. The only thing that provokes her is sin and Satan. She is patient and kind towards others as she is called to be. She loves others more than she loves herself.
"Charity thinketh no evil." A woman who is full of charity tries to find the good in life instead of dwelling upon the evil and trying to find things to complain about. She finds the good in people, too, and dwells upon these instead. She doesn't make up slander about others in order to tear them down. She doesn't think evil of the president or any of the leaders but prays for them instead. If she is upset with someone, she gives it to the Lord instead of thinking evil about them. She doesn't allow bitterness to grow in her heart since she knows that this defiles many (Hebrews 12:15).
A godly woman loves and cares for others deeply. She is available to help when there is a need. She loves being there for people and making their lives easier. Let's be this kind of woman!
Charity…beareth all things, believeth all things, hopeth all things, endureth all things.
1 Corinthians 13:7