Put Away Your Childish Ways
Put Away Your Childish Ways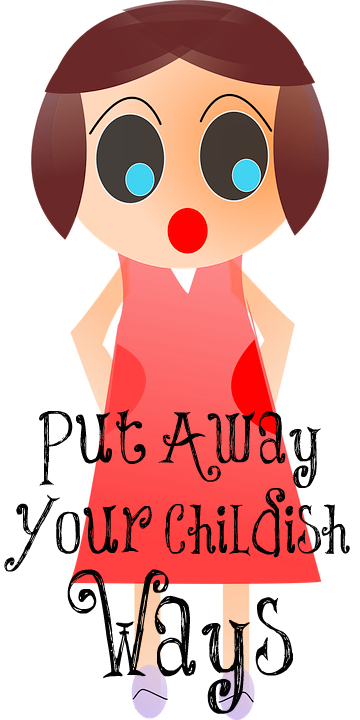 "When I was a child, I spake as a child, I understood as a child, I thought as a child: but when I became a man, I put away childish things" (1 Corinthians 13:11).
Many women today never grow up. They act like children even as adults. They are led by their emotions and feelings. They get offended easily. They have temper tantrums when things don't go their way. When they want something, they demand they get it. They are insecure and ungrateful. They want to be served and not serve. They are seekers of pleasure and what feels good. They give up when the going gets rough. They are immature.
As believers in Jesus Christ, we are commanded to put away childish things and grow in the wisdom and the knowledge of the Lord. In Ephesians 4:1-3, we are commanded to "walk worthy of the vocation wherewith ye are called. With all lowliness and meekness, with longsuffering, forbearing one another in love; Endeavoring to keep the unity of the Spirit in the bond of peace." This is how a mature woman is to conduct her life.
We are to walk worthy of our vocation. What is our vocation? If you are a married woman, your vocation is to be a help meet to your husband and a keeper at home. If you have children, you are to mother your children. This is God's calling on your life. Therefore, walk worthy of it! How do you do this? Make sure you are continually renewing your mind with God's truths found in His Word. This is what helps you grow in maturity. Commit to being a woman of the Word and a woman of prayer.
As a wife and mother, humble yourself and learn to love and serve your family with lowliness and meekness. A mature woman knows that the greatest of all is the servant of all. She wants to live her life serving others. She is longsuffering with her husband and children. She understands God uses trials and sufferings for her good. Everything that comes into her life, she knows that God will be with her and give her the grace and the strength to endure.
She forbears with her family in love. She knows they aren't perfect and they have faults, but she loves them deeply. She wants peace in her home, therefore, she does all she can to maintain peace. She trains her children to obey her, to be kind, and raises them in the nurture and the admonition of the Lord. She knows the Spirit works mightily within her and God's grace is abundant upon her.
Women, let us put away our childish ways and seek to be women who love the Lord with all of our heart, mind, and strength, and love others as we love ourselves.
But strong meat belongeth to them that are of full age, even those who by reason of use have their senses exercised to discern both good and evil.
Hebrews 5:14