Are Men Commanded to Be the Providers?
Are Men Commanded to Be the Providers?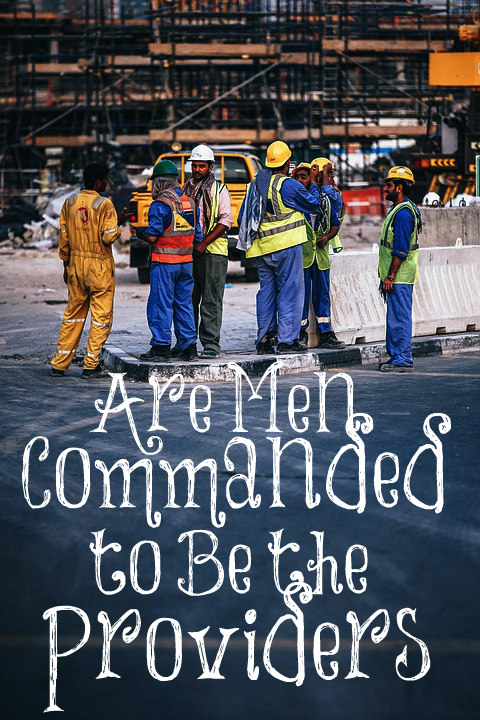 A woman asked me if there was more than just one verse that states men are to be the providers of their families. The verse she referenced is found in 1 Timothy 5:8, "But if any provide not for his own, and specially for those of his own house, he hath denied the faith, and is worse than an infidel." Yes, there is!
Let's go back to the beginning of time, right after the Fall, when God gave the man and woman the consequences of their sin. Here is the one he gave the man:
"Thou shalt not eat of it: cursed is the ground for thy sake; in sorrow shalt thou eat of it all the days of thy life;…In the sweat of thy face shalt thou eat bread, till thou return unto the ground; for out of it wast thou taken: for dust thou art, and unto dust shalt thou return" (Genesis 3:17, 19). And to the woman, God said, "I will greatly multiply thy sorrow and thy conception; in sorrow thou shalt bring forth children; and thy desire shall be to thy husband, and he shall rule over thee" (Genesis 3:16). The man is clearly to be the provider and toil in the soil, while the woman's life is to revolve around her children and husband, as she was created to be his help meet.
Later in God's Word, we read the verses about only men going out to war. The women were home with their children. The men in the Old Testament were the Judges (with the exception of one), Priests, Kings, Patriarchs, and even the Proverbs 31 woman's husband was "known in the gates, when he sitteth among the elders of the land" (Proverbs 31:23) while she was known for "looking well to the ways of her household."
In Deuteronomy 24:5, we are told this about a newly married man: "When a man hath taken a new wife, he shall not go out to war, neither shall he be charged with any business: but he shall be free at home one year, and shall cheer up his wife which he hath taken." Then in Ecclesiastes 9:9, "Live joyfully with the wife whom thou lovest all the days of the life of thy vanity, which he hath given thee under the sun, all the days of thy vanity: for that is thy portion in this life, and in thy labour which thou takest under the sun." These verses clearly show us men's place in society.
In the New Testament, there were some women who made money but, most likely, they worked in or around their homes which is where they are called to work. The first verse I listed above clearly shows that men are to provide for their own households and Gill's Exposition Commentary wrote this about that verse: "But if any provide not for his own… Not only for his wife and children, but for his parents, when grown old, and cannot help themselves."
In 1 Timothy 5:4, we are told this: "But if any widow have children or nephews, let them learn first to shew piety at home, and to requite their parents: for that is good and acceptable before God." So if a widow has children or NEPHEWS… It could have easily said, "children or nephews or nieces…" but it didn't.
Besides these, there is nothing that commands women to be the providers. Older widows are to be taken care of by the relatives and/or churches and younger widows are to marry, bear children, and guide the home. Older widows aren't known for having careers but "Well reported of for good works; if she have brought up children, if she have lodged strangers, if she have washed the saints' feet, if she have relieved the afflicted, if she have diligently followed every good work" (1 Timothy 5:10). Younger women are to be taught to be "keepers at home."
Therefore, taking the Scriptures as a whole, we can see God's plan for women and men is different and good. When women decide to leave their God ordained ministry in their homes and pursue careers instead, they are actually taking the man's curse upon themselves. Yes, there are exceptions but these don't negate what God's perfect will is for us. As believers in Jesus Christ, we do our best to obey Him and leave the results with Him!
And be not conformed to this world: but be ye transformed by the renewing of your mind, that ye may prove what is that good, and acceptable, and perfect, will of God.
Romans 12:2