Quality Time is a Lie
Quality Time is a Lie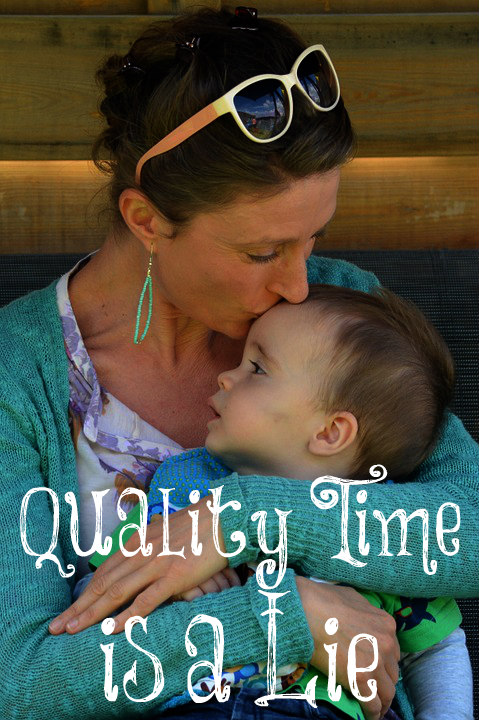 When I was a young mother, there was a lot of talk about "quality time" among those young mothers who were career women. They felt that if they gave their children quality time, it would make up for the quantity of time they weren't with their children. It sounded good but in practice, it was not good at all. Children are not ignorant. They can tell when they are being neglected. Many of my friends loved coming over to my house during high school since I was one of the few who had a full-time mother at home who made our home warm and inviting. At times, I would go to some of my friends' houses and their homes were always dark and cold since their mothers weren't home often at all.
Robert Stacy McCain wrote on the topic of "quality time" in his article "Living Well is the Best Revenge."
"The cliché of 'quality time' was invented by Baby Boomer yuppies in the 1980s to rationalize the way their lifestyles deprived their children of so many traditional childhood experiences. Whereas most Baby Boomers grew up in traditional families — perhaps our parents were not as perfect as Ward and June Cleaver, but we still had the basic security of a stable home life — many of the Boomers sadly failed their children in this regard. If you've read Barbara Dafoe Whitehead's book The Divorce Culture, you understand how the cliché of 'quality time' insinuated itself into the vocabulary of parenting.
"The working mother might not be able to give her children the kind of daily supervision and care she'd like to give them, but she could take them on a three-day vacation to Disney World and say they'd had quality time together. The divorced father might only see his kids one weekend a month, but he could take them out jet-skiing at the lake and tell himself that this quality time made up for the absence enforced by the custody settlement.
"Being blessed with a good wife, and watching our children grow into caring, responsible adults, is not something I could ever deserve, and too often I take this evidence of God's grace for granted…Watching my kids grow up — and now, watching my grandchildren grow up — is a blessing for which I'm especially grateful, when I consider all the ways in which wicked people have endeavored to destroy my family's happiness."
I have heard too many stories of children going home to empty homes and feeling abandoned. I can't even imagine what babies and toddlers who can't speak are feeling as they are being left day-after-day in daycare centers away from their mothers and homes all day. It's heartbreaking to me and this is why I write about this topic so frequently. Mothers need to go home! Most mothers make so little money when all is said and done and it's not worth it in time spent away from the home and children.
Being 60 years old and watching my children and now my grandchildren grow up are my greatest blessings in life. Being married to one man for 38 years is a huge blessing. Being home full time to care and raise my own children and now help with my grandchildren, there could be no greater blessings in this short time on earth.
Quality time is a lie. In order to raise godly offspring who know the ways of the Lord, they need copious amounts of quantity time with their mothers. It's not something that can be short-changed. Do not sell your souls to gain the whole world, women. Sacrifice your own "needs and desires" to be home full time with your precious children; those blessings from the Lord with eternal souls.
 …bring them up in the nurture and admonition of the Lord.
Ephesians 6:4