Teaching Sons and Daughters to Be Chaste in This Highly Sexualized Culture
Teaching Sons and Daughters to Be Chaste in This Highly Sexualized Culture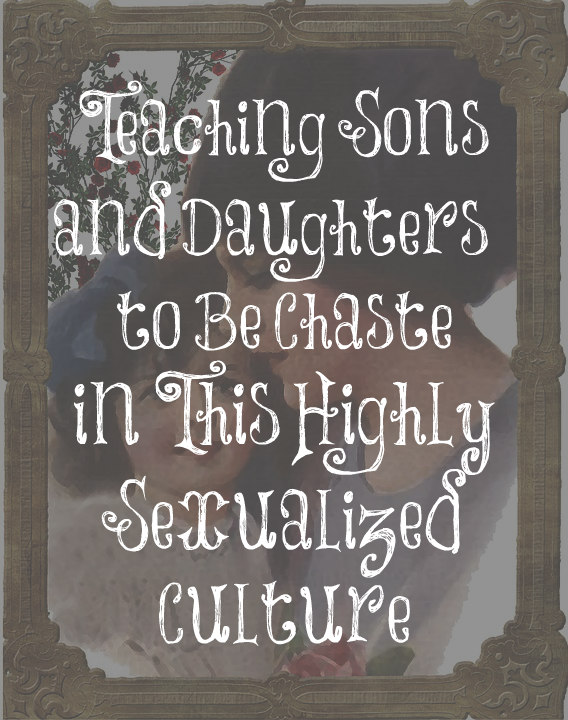 We live in a highly sexualized culture. We can't even watch a football game without seeing scantily-clad women and commercials that would make our grandmothers roll over in their graves. Evil is considered good and celebrated and good is considered evil and offensive. Pornography is watched by most men (and even many women now) and living with one's boyfriend before marriage is considered okay even in the Christian community.
How do parents raise their children to withstand the sexual aggression being thrown at them and remain sexually pure until marriage? It begins when they are young, dear women. You must discipline your young children to obey you when you tell them to do something. In this way, you are teaching them self-control and they can't always get what they want. You are training them to control their flesh and what it desires. It's the most important thing you can do to teach your children to be sexually pure.
Allowing your children to disobey you is doing them no favors. You are giving them a valuable gift when you teach them to control themselves. If they can control themselves when they are young, they will be able to control themselves when they are older. If they understand and obey "no" when they are young, they will understand and obey "no" when they are older.
When you teach your children to obey you and mix it in with a lot of love and affection, they will grow up and want to obey and please you. They will respect you. When you base what you teach them upon the Word of God, they will understand your reasoning for saying "no" to them and teaching them self-control. You can then talk freely about the dangers of sexual immorality and the beauty of saving sex until marriage. They will respect your beliefs because they know that they come from God Almighty.
As you live in a covenant marriage with your husband, you are showing your children that God's ways are so very good and right. They are full of blessings! They will want what you have as they watch with deep heartache and bad consequences all of the young relationships falling apart around them and want what you have instead and not what their friends have. As they grow into teenagers, make sure they know who they are in Christ and that He has freed them from sin. Study Romans 6 and 8 with them and encourage them to be continually renewing their minds with God's ways. Remind them that God's ways are good, and acceptable, and perfect! This is how you teach your sons and daughters to remain sexually pure.
But fornication, and all uncleanness, or covetousness, let it not be once named among you, as becometh saints.
Ephesians 5:3