Receiving Many Uplifting, Inspiring Comments!
Receiving Many Uplifting, Inspiring Comments!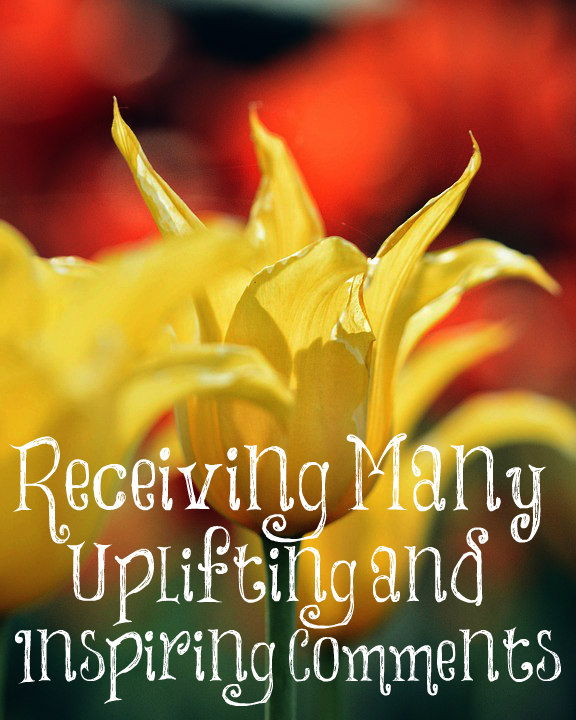 Many of you see the many cruel comments that I receive daily, but I want you all to know that I receive MANY wonderful and inspiring comments on a daily basis, too, like this one!
"Hi there, I am not comfortable posting publicly, but I want you know in the midst of all the criticism, you have been a steady guide back to Jesus for me. Long story short, there are lots of older Christian women in my life, but none that love Jesus with their whole lives, read God's word, or follow the Titus two lifestyle.
"You are it for me. God has graciously filled all of the gaps, but it has been a humbling process. I lost my marriage and I didn't see my kids several days a week. I was raised in a sinful, broken, 'Christian' home, but I didn't surrender to God's will until after my divorce. I spent months and months spending every single second in the Bible and praying for my husband's heart.
"I now have my husband and children back. We also have a new baby. I homeschool, cook all three meals, and most importantly, my kids are learning our faith. I still have a lot of refining ahead of me, but the work that God has done in my family is miraculous.
"The girls and women who you are positively impacting probably aren't as loud as the critics, but Jesus, Paul, Peter, etc. have a lot to say about that! God sees your goodness and your reward is surely waiting for you! Please take heart and be encouraged! Thank you!"
I asked her for permission to post this since I want to continually encourage women towards biblical womanhood and hear about the transforming power of the Lord in other women's lives. I am mocked and slandered continually about my "antiquated" ideas and trying to take women back to the '50s, but these antiquated ideas (biblical ideas) are what change people for their good.
There was an atheist recently that commented on one of my posts and wrote that there's such a void in our culture and that what I write makes a whole lot of sense. Of course, it does, even for atheists, since God is their Creator, too, even though they don't acknowledge it. God wrote our instruction manual and His ways are perfect!
I am receiving many good reviews about my new book Biblical Womanhood: A Study Guide. It's my desire for women to get into the Word of God themselves, learn how God wants them to live, and begin living for Him because it not only benefits them, but their families and all who watch their example of godliness. Godly women are bright lights in the growing darkness. It's exactly what this world needs most.
Let your speech be alway with grace, seasoned with salt, that ye may know how ye ought to answer every man.
Colossians 4:6