Many Women Seem to Enjoy Tearing Down Other Women's Marriages
Many Women Seem to Enjoy Tearing Down Other Women's Marriages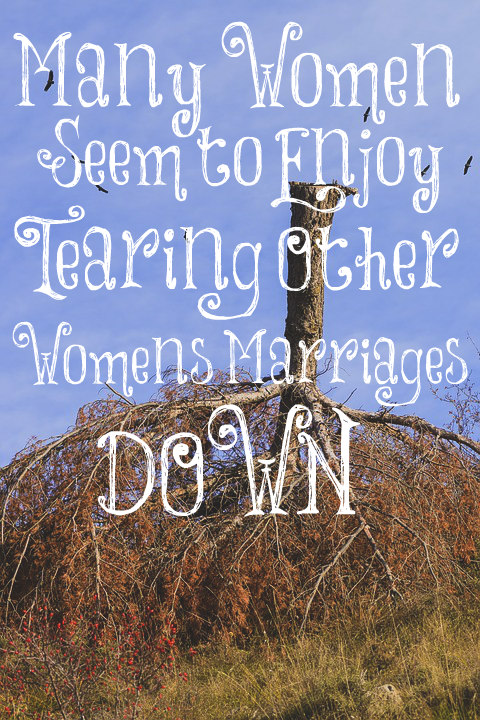 Why do many women seem so ready and willing to tell other women what their husbands are doing wrong, thus trying to tear their marriage apart? Why aren't women more willing to encourage women in their marriages and build them up instead?
On a post a few weeks ago, a woman made the following comment:
"My husband likes to have a quiet dinner where he can discuss his day, etc. in a relaxed atmosphere without interruptions due to people talking over him. I know many wives who just start talking and going on and on as soon as their husbands walk through the door. This is not a peaceful environment.
"So, for our family, and as a sign of my submission to him, we have an unwritten rule that he is the only one allowed to talk at the dinner table, unless he addresses or asks me or one of the kids a direct question. This way he can talk uninterrupted and we can attentively listen. If I do talk too much on occasion, he will tell me gently, 'That's it; end it' and I know that is my cue to be quiet and listen.
"I know this is not a requirement because the Bible only directs women to be silent in churches/gatherings, but it has led to peaceful quiet dinners and it's what works for our family."
MANY women commented under her comment telling her that her husband was wrong, she was being abused, and he was being cruel and unreasonable. They seemed determined to destroy her marriage and speak evil about her husband. I didn't publish any of these comments since our goal, as Christian woman, should be to want to build marriages up, NOT tear them down.
The woman who wrote this comment said nothing about her husband being wrong. She said nothing about being or feeling abused and she said nothing about her husband being cruel. She sounds like a woman who honors and respects her husband. She isn't trying to change him but trying to please him instead.
Her husband isn't asking her to sin. He is simply asking for a peaceful and quiet home. He understands that most women's nature is to talk A LOT and he doesn't want this. She has submitted to his leadership and sees that it has produced good fruit. God commands women to have meek and quiet spirits for a very good reason!
"Be swift to hear, slow to speak" (James 1:19). This is a good verse for many of us to memorize. It's important for us to learn to listen, not interrupt others, and most importantly, obey our husbands, even if they want us to be quiet. Instead of trying to tear apart this woman's marriage, women should have been encouraging and praising her for her example of submission to all of us even when it isn't easy.
Speak evil of no man, to be no brawlers, but gentle, shewing all meekness unto all men.
Titus 3:2