Role Reversal in the Home
Role Reversal in the Home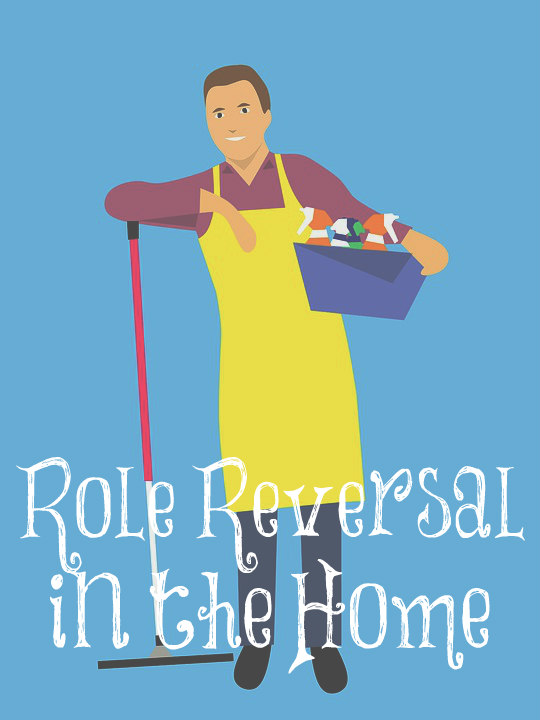 Is it okay for the woman to be the breadwinner of the family and the husband be the "keeper at home"? I have been asked this numerous times and I know of families that do it this way. I am going to let you hear from Michael Pearl for this answer. Yes, some of it will most likely offend you if you don't understand God's clearly defined roles between the sexes and get offended easily. Husbands are the head of the wife and called to provide for and protect their families. Wives are to live in submission to their husband's leadership and to be keepers at home. Here's Michael Pearl:
It is never ideal for the woman to be the breadwinner and the man to be the home-keeper for the simple reason that the role reversal (a role dictated by our created natures) places each in a position contrary to their nature. A single woman may fit into the workplace as well as a man. A single man with children may function as the housekeeper, cook, homeschool teacher, etc., and do a fair job of it—all consistent with human nature. But the marriage relationship is unique.
The man by nature is the savior, provider, and protector who braves the cruel world and carries the responsibility to protect and nourish his wife and family. It is in a man's genes to take the command-and-control position. To become a dependent rather than the provider wreaks havoc on a man's self-esteem. In our modern world, the one whose name is on the paycheck is the head of all finances, the one to be thanked and appreciated. That person is the fountain of the family, possessing the right of veto over all spending, and controlling the direction of the family where it involves finances.
The one who comes home tired from a day's work is entitled to the recliner until dinner is served. It is the one who says, "Why aren't my socks in the drawer?" and "This house is a mess; what have you been doing all day?" The breadwinner decides what kind of bread to eat and whether or not spending is foolish or necessary.*
A bread-winning woman is not vulnerable and finds it difficult to come home and be a submissive, servant wife. To be forced to do so breeds resentment and a feeling of being used. I need not go on; you know these things and more to be true to nature and experience.
But sometimes life throws unnatural curves and turns our world upside-down. We have to make do like a one-legged man. We get around and get along in the best way we can. When a man is disabled and cannot enter the labor force, the wife may be thrown into an unnatural role of breadwinner. Sometimes the children are forced to work to provide for the family. It is not natural but it is necessary.
A dependent man will have to accept a different worldview and a different role. He will have to accept not being fulfilled in the normal manner. And the bread-winning wife will need to learn humility and to try to maintain a feminine demeanor at home, giving deference to the man, allowing him to be a handicapped king in his limited domain. The dependent man will also need to learn humility and to accept his dependency with thanksgiving and grace. Like any unnatural handicap, it will not be easy, but it is entirely manageable, and each can find fulfillment in their role reversals.
However, when a couple reverses roles because the wife is able to make more money, or when the man is lazy and incompetent, or when she just likes to work and he just likes to hang out at home, you can be certain that neither is going to find fulfillment in their relationship, and their marriage is likely to end in the woman divorcing the man.
When both the man and woman are reconciled to the reality that the man is handicapped out of the work force through no choice of his own, and not having to do with incompetence, it takes the edge off of blame and the discomfort of role reversal; but when they both know it is a choice, expect the man to shrink in his self-respect and the woman to grow masculine in her demeanor—leaving the marriage to suffer.
God said to Adam, not Eve, "In the sweat of thy face shalt thou eat bread, till thou return unto the ground." 
Genesis 3:19
Paul declared, "But if any provide not for his own, and specially for those of his own house, he hath denied the faith, and is worse than an infidel."
1 Timothy 5:8
That they may teach the young women to be sober, to love their husbands, to love their children, To be discreet, chaste, keepers at home, good, obedient to their own husbands, that the word of God be not blasphemed. 
Titus 2:4–5
*I realize these statements will be highly offensive to many women but we must remember to only allow sin and Satan to offend us. These statements are neither. God has made the husband the head over his wife and the wife was created to be his help meet. His responsibility is to provide for the family and her responsibility is to be a keeper at home which includes keeping it clean and tidy, doing the laundry, fixing meals, etc. This is what God has called her to do; to "look well to the ways of her household. A godly wife is a submissive, servant wife and doesn't get offended by her husband's requests or rebukes.