Finding Joy in the Mundane
Finding Joy in the Mundane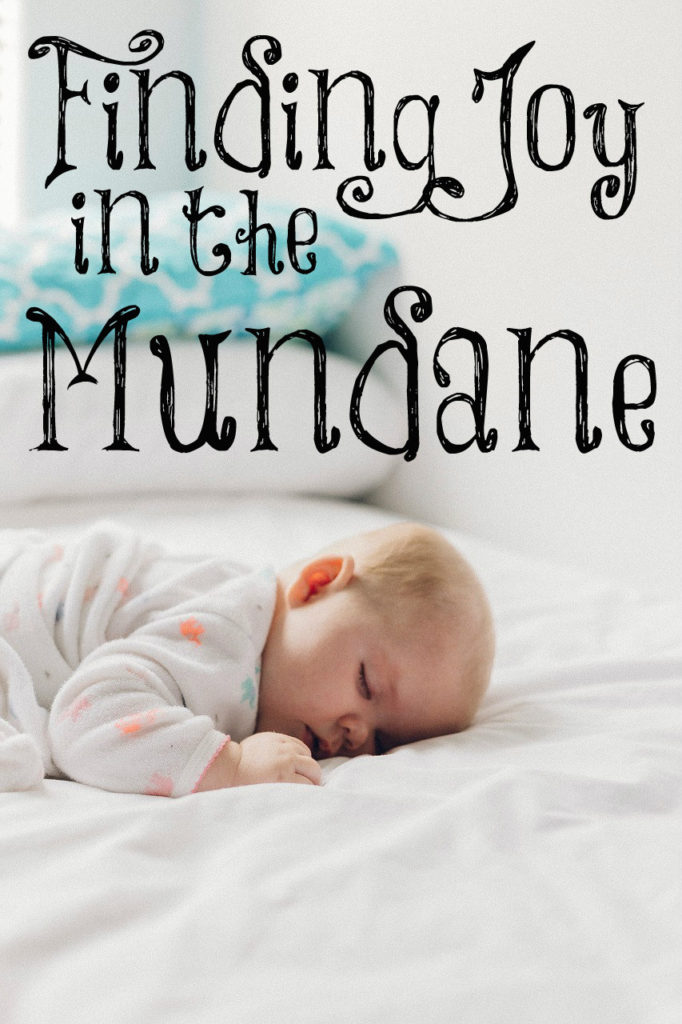 Written to me by a woman who wants to remain anonymous.
I have been following your blog and Facebook account for some time now, and it initially infuriated me. I am a stay at home mother, and I would not trade a minute of it. However, I went to college, and then to graduate school. I amassed $30,000 in loans to do it. And then I worked. And worked hard, 70 hour weeks seven days a week. At that time, we needed my income to survive, but it was also a source of personal pride in what I'd achieved.
When I became pregnant I quit working, which I'd always planned to do. And I suddenly found myself very depressed. I didn't spend all that time, energy, and money to change diapers! No, anyone could do that. This was meaningless work and totally unfulfilling personally, although I would never put my child in daycare.
I've grappled with this for several months. I read. I studied. I prayed. I consulted older women in my church. And I began to accept that this is my career. This is what I was meant to do. And I began to find joy in the mundane. (Let's face it, housekeeping and diaper changing can be monotonous). I prayed steadily for the Lord to give me joy in this season and this new role. To take the desire for outside work and career achievements from me. And he has answered me.
I have been so convicted to keep my home, feed my husband, raise, teach, and train my son, and if there be any time else after personal studies, then I add in play dates, excursions, etc., but my first priority is to keep my home and family ordered and maintained. My husband works two jobs for me to stay home, so I don't take the job lightly. But I admit, in my personal/postpartum depression I was resentful and lazy. He has been so impressed the last few months coming home to a clean house, a happy family, and a hot meal. And his joy in working has improved as a result.
Following the Scriptural plan for your life isn't always easy. Not when it requires such a drastic change from the life you'd been living/dreaming. But it is always worth it. I did what I was told to do, whether I "wanted" to or not, and the Lord in his grace has also now given me the heart and joy in doing so. Obedience is ALWAYS better.
And Samuel said, Hath the LORD as great delight in burnt offerings and sacrifices, as in obeying the voice of the LORD? Behold, to obey is better than sacrifice, and to hearken than the fat of rams.
1 Samuel 15:22