Rush Limbaugh Gets a Lesson on Submission
Rush Limbaugh Gets a Lesson on Submission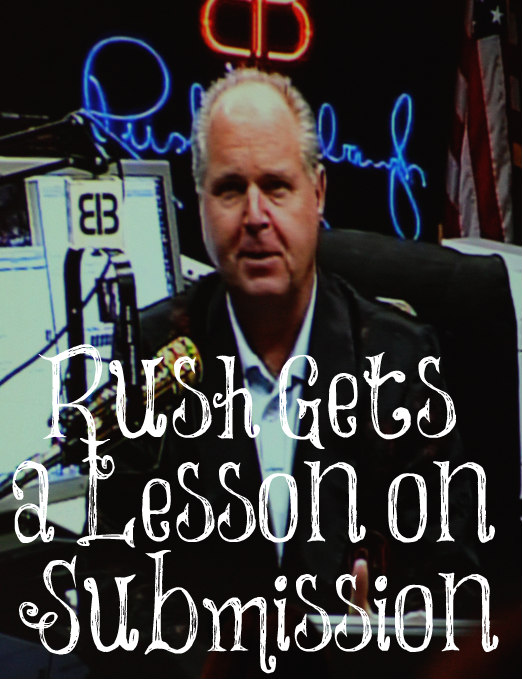 Rush Limbaugh received a telephone call yesterday from a woman named Angela. She's a Christian who has been married 27 years and is a wise woman!
They were discussing a new policy that has been instituted at Princeton. If you don't believe that universities are poisoning our culture (as Dennis Prager consistently states on his radio program), you sure will now.
RUSH: "Princeton – they're setting up a person to guard against and advise against and to rehabilitate men that are too masculine on campus. Princeton University's 'Men's Engagement Manager' to Battle Aggressive Masculinity."
ANGELA: "It's terrible. And I believe that's the downfall of our society. Men aren't allowed to be real men…Women are not allowed to be feminine. They're not allowed to take care of their husbands. They're looked down on if they enjoy doing that. They're not allowed to be submissive to their husbands, and no one can control the children. The children are basically running everything…I believe that the husband should be the head of the house and responsible for the family, and that the woman should do whatever her husband wants her to do."
Then Rush wanted to know exactly what she meant by the word submission and he made these comments in order to clarify what it doesn't mean.
"It's not superior status and secondary status."
"The way you mean it is not a put-down of women…The husband's responsibility is X; the wife's is X."
"When you say 'submissive,' you don't mean dominated and dominating."
ANGELA: "I try to submit to my husband and do whatever it is that he wishes me to do. But my husband is not a dominating, hateful man."
RUSH: "So you're not a prisoner…Some people might think you're painting a picture here where you might be a subservient wife with no power."
RUSH: "He says, 'Get me my slippers!' and there you go off and get the slippers. 'Rub my feet!' and there you are rubbing his feet. You're not talking about that?"
ANGELA: "No. Although I would do that for him if he asked me to."
Here Rush has painted her in a corner and she answered, "No" but qualified that she absolutely would do anything her husband asked her to do as she had stated previously; "the woman should do whatever her husband wants her to do." She has no problem serving and pleasing her husband!
RUSH: "I'm telling you, there are a lot of men listening to this saying, 'If only.' Don't doubt me on this…But, yeah, Mr. Snerdley wants to know if your husband realizes how lucky he is?"
Rush knows that a woman builds up her home or tears it down with her own hands (or mouth). He understands the power women have in a home and how destructive feminism has been for marriage and family.
Submission is not something a husband can force. Submission doesn't make a husband dominant and cruel. It's God's perfect prescription for women to actually win their husbands (1 Peter 3:1) and adorn themselves (1 Peter 3:5). It's a beautiful word that culture has twisted and made to look ugly as they miss out on strong, happy marriages while marching down the broad path that leads to destruction. Stay on the narrow path that leads to life, women. Live in cheerful submission to your husbands; for this not only pleases the Lord but makes your husband a very lucky (blessed) man!
For after this manner in the old time the holy women also, who trusted in God, adorned themselves, being in subjection unto their own husbands.
1 Peter 3:5