Sending Children to School to Be Salt and Light
Sending Children to School to Be Salt and Light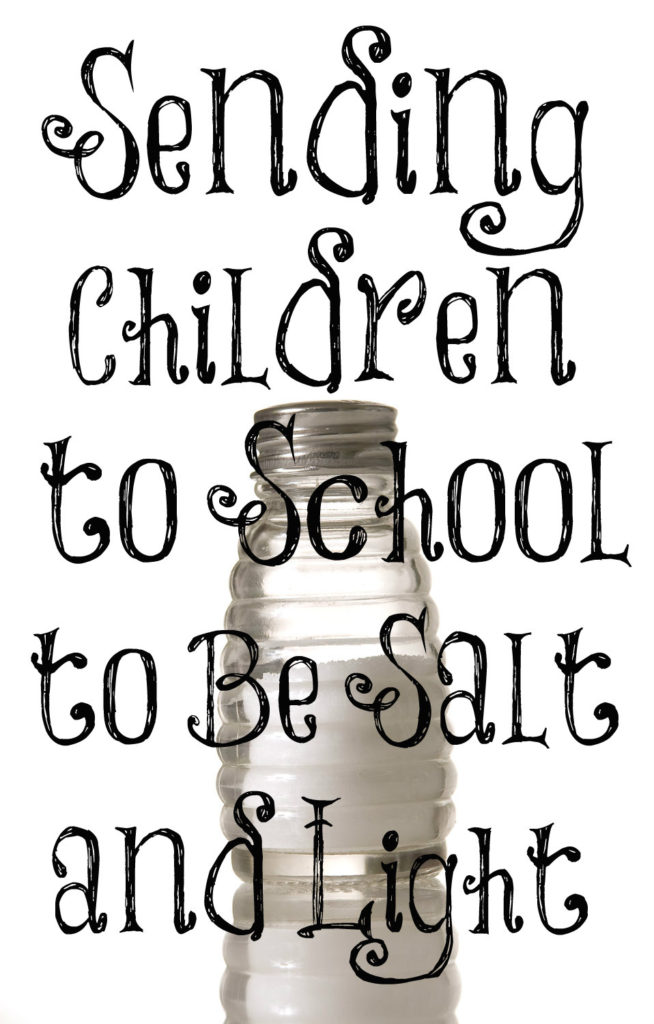 One of the main arguments for sending Christian children to public schools is so that they can be salt and light. Is this a valid argument? Here is what Lindy Johnson had to say about it.
"If we are to go and be salt and light, why do parents never put their kids in Muslim schools? Those schools could certainly use some light. Why don't they send their kids to the bars on the weekends to preach the Gospel?
"And how can a kindergartner who is not even saved yet be salt and light?
"And how can we teach our kids to be salt and light if they are not with us to see our example?
"Do we just ignore the Biblical commands to teach our kids throughout the day from Deuteronomy 6? What about to bring them up in the nurture and admonition of the Lord? (The Greek word here used for "nurture" literally means to educate.)
"What about when Scripture tells us to not learn about other gods? (Greek mythology taught in schools).
"What about when Proverbs warns us against foolish companions and the NT tells us not to fellowship with unbelievers?
"And can children not be more effective at being salt and light when they are not bound to a building for seven hours a day where they are not allowed to boldly and clearly preach the Gospel but instead going to the park with their parents to tell others about Christ there?
"The people I have met who use the salt and light argument do not spend the couple of hours a day they have with their kids to teach them how to share the Gospel. They take them to even more activities in the world. The salt and light argument is an excuse to live the way they want to live. Otherwise, we would be having revival in our public schools."
Then Simon Turpin wrote this about children being salt and light: "One of the objections Christians raise to taking their child out of government schools is that they need to be 'salt and light' in that school system (see Matthew 5:13–16). However, this argument is not based on a proper understanding of the text. In Matthew 5, Jesus is telling his followers (those who believe) that they are salt and light, not that they should be salt and light. It's a statement of fact, not a command to go and do something. The purpose in educating our children is to train them with the intention of sending them into the world." (Simon Turpin)
Mature Christians who have deep roots in the Word are salt and light. Children need to be raised up in the admonition and nurture of the Lord by their parents in order to be salt and light when they are mature and grounded in their faith.
And what agreement hath the temple of God with idols? for ye are the temple of the living God; as God hath said, I will dwell in them, and walk in them; and I will be their God, and they shall be my people. Wherefore come out from among them, and be ye separate, saith the Lord, and touch not the unclean thing; and I will receive you.
2 Corinthians 1:16, 17