Separate and Holy From the World
Separate and Holy From the World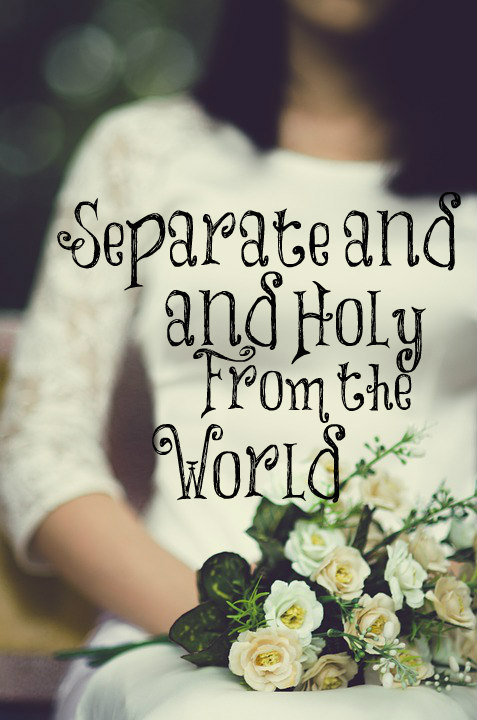 As I have grown older, my convictions have grown stronger. When I was younger, I still had some strong convictions. I didn't want my children to celebrate Halloween. I never trusted yoga as being something I could be involved with. I didn't allow my children to read Harry Potter. I was careful which TV shows and movies they watched. I have always taken the command from God to be separate and holy seriously but my convictions have grown with age and wisdom.
I asked the women in the chat room things that they don't participate in that the world freely participates in, even many Christians. Here is a list of the things they gave. Carefully ponder them and search out God's Word to see if maybe you should not participate in them either.
Drinking and dancing. Enneagram. Santa. Easter bunny. Women's ministries and conferences which usually study female preachers' material. Birth control. Tooth fairy. Romance novels. Self-help nonsense. Crystals. Women preaching. Vaccinations. Public schools. Wife working. Gentle parenting. Pop culture. Children's church. Sleepovers. Youth group. Video games. Smart phones for children. Gambling. Cussing.
Some of these things are clearly sin and others may not be but simply their convictions. We are to live our lives not as our culture lives but as Christ commands. Yes, we are allowed to drink alcohol but must always remain sober. King David danced but it should never be in a sexual way. The enneagram uses horoscope and some other things that are far from the heart of God and His ways. Santa and the Easter bunny are ways to get people away from Christ's birth and resurrection. I encourage you to always be truthful with your children about everything.
Women's ministries and conferences rarely center around the doctrines of biblical womanhood – what God wants older women to specifically teach the younger women. Study the roots of birth control and search God's Word to see what He has to say about children. Romance novels can be filled with sexually promiscuous material. Self-help nonsense most often leaves Christ out completely. Research the inserts in vaccinations. Search out the ingredients and the side effects, then prayerfully consider injecting them into your children.
Parents are the ones called to raise their children in the nurture and the admonition of the Lord, NOT a godless, government run institution. Mothers are commanded to be keepers at home and raise their own children. They are to discipline them and make sure they obey them. This is part of loving them. Protect your children from pop culture and the friends they hang out with. This means carefully considering sleepovers (which I believe are bad ideas), children's church, and youth groups.
Be careful what your children put in front of their eyes and what they dwell upon, including TV show and movies. I wouldn't have given my children smart phones until they graduated from high school and could pay for them themselves. They must be old and wise enough to know how to flee evil. Of course, make sure you're not gambling and cussing if you don't want your children to do likewise.
Yes, many in our culture will mock and ridicule us for our "ancient ways" but we worship the Ancient of Days. We know what He has done for us and how it all ends. We know His ways are perfect so we love living for Him and doing everything we can to live lives that are separate and holy.
Until the Ancient of days came, and judgment was given to the saints of the most High; and the time came that the saints possessed the kingdom.
Daniel 7:22