Just Ban Marriage All Together?
Just Ban Marriage All Together?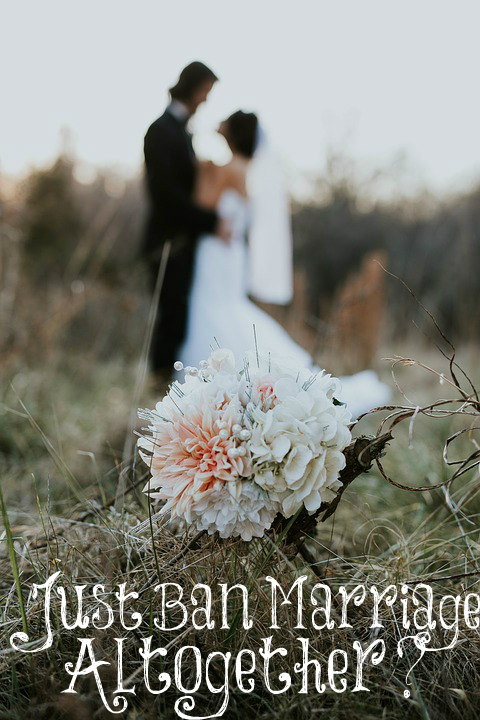 A woman named Angela Dougherty wrote this tweet yesterday: "Just ban marriage all together. It is a legal and social institution which exists to benefit men and control women. It's archaic and unnecessary. Let everyone be responsible for themselves. Hell of a concept all the way around." The funny thing is that she thinks she's being profound and thought these concepts up herself. It's the same concepts that Marxism and the Black Lives Matter Movement pushes. But these concepts aren't new. They're in the Bible.
"Now the Spirit speaketh expressly, that in the latter times some shall depart from the faith, giving heed to seducing spirits, and doctrines of devils; Speaking lies in hypocrisy; having their conscience seared with a hot iron; Forbidding to marry…" (1 Timothy 4:1-3).
Yes, Angela, your idea is a "hell of a concept." It's a satanic lie against all that is good and right. God ordained marriage and called it good. He created it to be between one man and one woman. After He created man, He said it was not good for man to be alone so He created a help meet for him. They are to become one flesh and be fruitful and multiply. We are told that marriage reflects Christ and His Church. Marriage is a beautiful, wonderful creation of God Almighty.
What about her accusation that marriage only exists to benefit men and control women? Does this have any merit? No. Actually, marriage greatly benefits women, too! Women were created to need the protection and provision of men. Children (including little women) need a father. When a woman marries a godly, hard-working man, she has someone who will provide for her so she can be at home with the children they have together. It's God's perfect formula for a healthy family that few experience these days and many are suffering as a result.
Most men don't control their wives. Yes, there are always some that do but most do not. It's actually women who generally want to rule over their husbands (Genesis 3:16), yet God wants the husbands to rule over their wives. Does this mean they are to control their wives? No, it means that they are head over their wives and the wives are to willingly submit to their husbands' leadership in their marriage and family. It's God authority structure just as there is an authority structure in every single institution on this earth.
Feminism has caused women to disdain men and masculinity. It has caused them to hate the Lord and His ways. It's caused women to become more depressed and suicidal than ever before. Feminism doesn't work. The end result is what we are witnessing now all around us, and it's tragic.
Women, love the Lord and His ways. Be in His Word daily renewing your mind with Truth. Seek His will out diligently. It's all written in His Word. His will for us is good no matter how much you hear against Him in our culture. Stand firm in your faith. Give God glory in all that you do. You will reap what you sow.
Wherefore they are no more twain, but one flesh. What therefore God hath joined together, let not man put asunder.
Matthew 19:6