She Works Willingly With Her Hands – Proverbs 31:13
She Works Willingly With Her Hands – Proverbs 31:13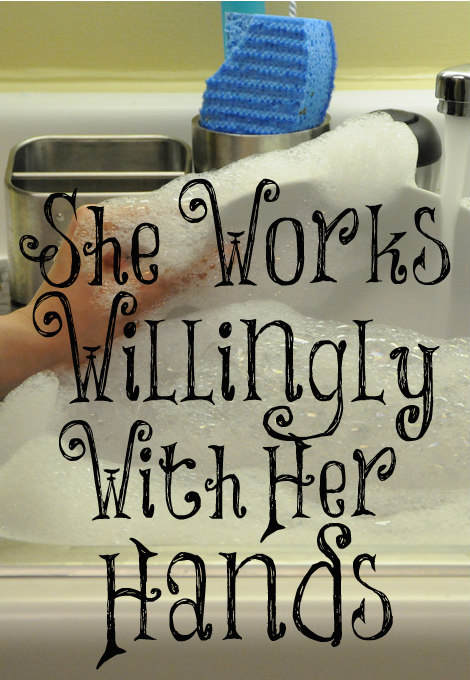 She seeks wool, and flax, and works willingly with her hands.
Proverbs 31:13
"Not that it is the duty of kings and queens to use manual operations, but it is the duty of all persons, the greatest not excepted, to improve all their talents, and particularly their time, which is one of the noblest of them, to the service of that God to whom they must give an account, and to the good of that community to which they are related" (Benson Commentary).
Everything we do needs to be done for the glory of God – to make God big, as our preacher taught last week. He commands that whatever we do, we do heartily to Him. Heartily means from the heart, with zeal, actively, and vigorously. When we are cleaning the kitchen, do it heartily as unto the Lord. When we are scrubbing toilets, changing diapers, rocking babies, making love to our husband, preparing nutritious meals, and all that we do, do it heartily as unto the Lord.
"The Jews have a saying, that there is no wisdom in a woman but in the distaff; suggesting, that it is her wisdom to mind her spinning, and the affairs of her household" (Gill's Exposition).
Our culture mocks housewives. Even Christian women who are homemakers when asked what they do will respond, "I'm only a housewife." But this is exactly what God created you to do and when you decided to look well to the affairs of your household, you are using wisdom from above. Never allow anyone to cause you to doubt this but rejoice in your work that is God has ordained just for you!
"Now as to the mystical sense of these words; as of wool outward garments, and of flax linen and inward garments, are made; by the one may be meant external, and by the other internal, acts of religion; both are to be done, and not the one without the other: outward acts of religion are, such as hearing the word, attendance on ordinances, and all good works, which make up a conversation garment that should be kept; and they should be done so as to be seen of men, but not for that reason: and internal acts of religion are, the fear of God, humility, faith, hope, love, and other graces, and the exercises of them, which make up the new man, to be put on as a garment; and these should go together; bodily exercise, without powerful godliness, profiteth little; and pretensions to spirituality and internal religion, without regard to the outward duties of religion, are all vain" (Gill's Exposition).
In other words, we are not to be hypocrites. What we are with others, we are at home. Our lives have been transformed by Christ and those who live with us can see it (especially our families) as well as those who don't live with us. We are nourished on God's Word and good teaching and our good works prove that our faith is not dead. We care for our outer bodies and use self-control in all areas; for we are to be known for our temperance in everything. Being clothed in Christ's righteousness is of utmost value to us. We never want to do anything to bring shame upon His name.
"She sought all opportunities of doing good works externally, as believers do; and sought after the kingdom of God, inward godliness, which lies in peace, righteousness, and joy in the Holy Ghost. Not that such garments are to be joined with Christ's robe of righteousness, to make up a justifying one…and worketh willingly with her hands; or, 'with the pleasure of her hands'; as if her hands took delight in working, as the church and all true believers do; who are made willing in the day of the Lord's power upon them, to serve him, as well as to be saved by him; in whose hearts he works, both to will and to do; and these do what they do cheerfully: these do the work of the Lord, not by the force of the law, nor through fear of punishment, but in love; not by constraint, but willingly, having no other constraint but the love of God and Christ; and not with mercenary selfish views, but with a view to his glory; and they find a pleasure and delight in all they do; Christ's ways are ways of pleasantness; his commandments are not grievous, his yoke is easy" (Gill's Exposition).
A godly woman serves cheerfully out of love. She submits cheerfully to her husband out of love, not because she is forced. She has learned to find pleasure in serving her family and in obeying the Lord because she knows His ways are perfect for her. She trusts that He knows best.
"The prohibition about mixing wool and flax in a garment (Deuteronomy 22:11) was probably based on the idea that all mixtures made by the art of man are polluted, and that what is pure and simple, such as it is in its natural state, is alone proper for the use of the people of God" (Pulpit Commentary).
Yes, I know we are no longer under the Law but I found this interesting in a number of ways. Food eaten as close to the way God has created it for us is by far the best for us. Man can't improve upon it. Clothes made in materials created by the Lord (cotton, wool, silk, etc.) are far superior and longer lasting than any man-made materials. Taking this to a spiritual side, we must seek the pure and the good as His children for we are to be separate from the wickedness of our culture.
"'She worketh at the business of her hands,' is feeble, and does not say much. What is meant is that she not only labors diligently herself, but finds pleasure in doing so, and this, not because she has none to help her, and is forced to do her own work (on the contrary, she is represented as rich, and at the head of a large household), but because she considers that labor is a duty for all, and that idleness is a transgression of a universal law" (Pulpit Commentary).
We were created to work hard. God made Adam and Eve in a garden to work. Work is good for us. We are to work hard at home. Our homes should be clean and tidy, our children should be well-nourished and cared for, and our husband's needs should be taken care of by his wife's willing hands. If this seems impossible to you, remind yourself that you've been given everything you need for life and godliness and that His Spirit works mightily within you.