Women Shall Not Wear Men's Clothing and Vice Versa
Women Shall Not Wear Men's Clothing and Vice Versa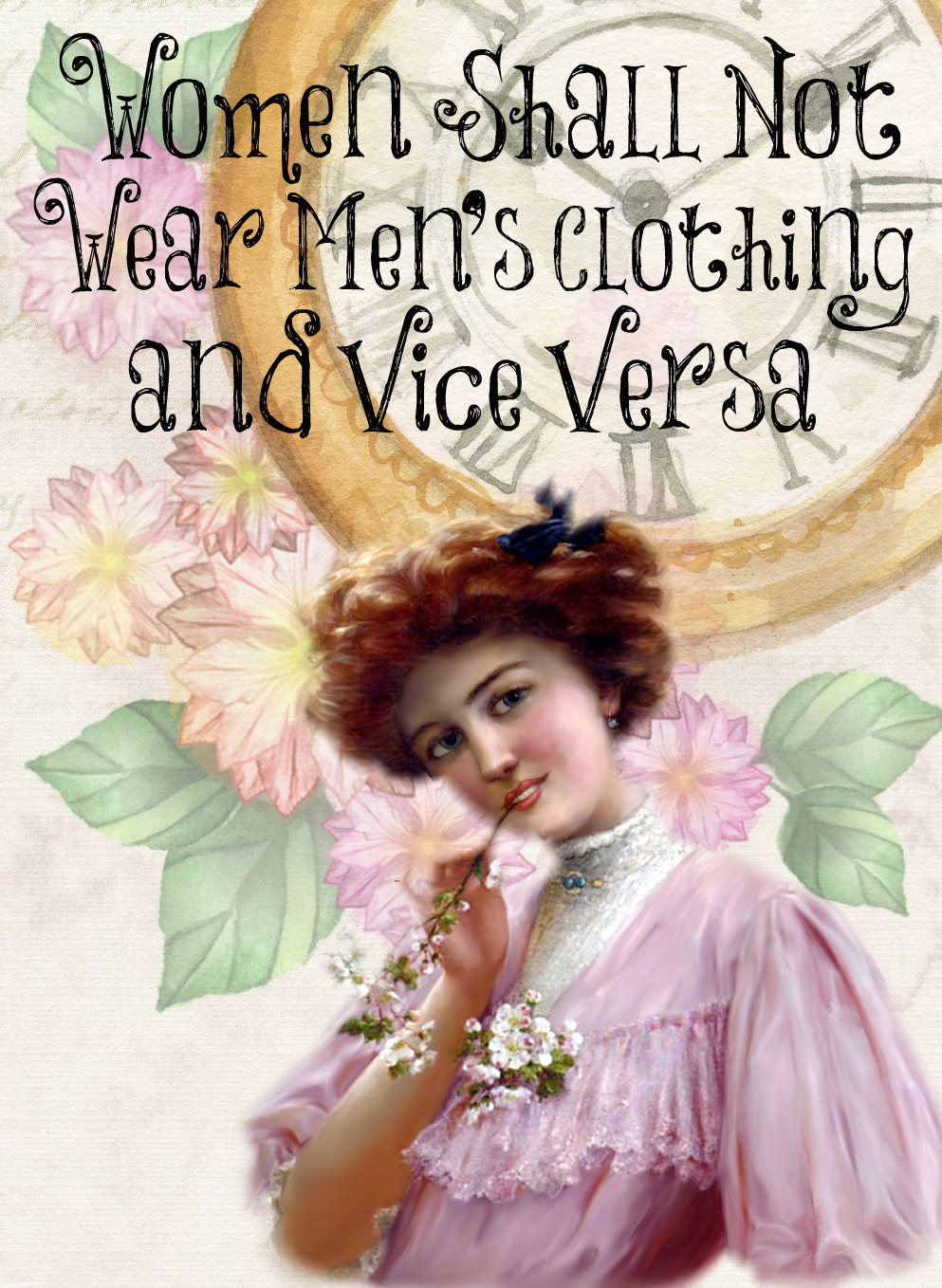 Women have used this verse to try to convince me that women are not to wear pants.
The woman shall not wear that which pertains to a man, neither shall a man put on a woman's garment: for all that do so are abomination to the LORD your God.
Deuteronomy 22:5
The problem with this argument is that men didn't wear pants in biblical times either, therefore, it doesn't seem to apply specifically to pants. Men wore long, flowing robes back then. This verse is from the Law, which we are no longer under, but we can still learn from the entire Bible about the Lord and what He thinks about different issues. I haven't been able to find anything, even in the Law, that gives specifications about what exactly women are supposed to wear, except that it be modest, not expensive, and not look like men's clothing. I believe there were no specific details given since cultures change and what each sex wears is usually easy to identify.
Let's look at what the commentaries had to say about this verse.
"The distinction between the sexes is natural and divinely established, and cannot be neglected without indecorum and consequent danger to purity" (Barnes' Notes). We can see the blurring of sexes happening in our culture with homosexuals and transgenders advancing their cause. Women are dressing like men and men like women. Sometimes, it's difficult to tell the sex of a person and this should not be for us.
Ken wears pants and so do I once in a while but everyone can still easily see that I am a woman and he is a man by the different style of pants and shirts we wear, by the differences in our hairstyle and cut, and I wear makeup, paint my toenails and wear earrings and he never does. He is masculine and I am feminine.
"For the adoption of the habiliments (garments) of the one sex by the other is an outrage on decency, obliterates the distinctions of nature by fostering softness and effeminacy in the man, impudence and boldness in the woman as well as levity and hypocrisy in both; and, in short, it opens the door to an influx of so many evils that all who wear the dress of another sex are pronounced 'an abomination unto the Lord' (Jamieson-Fausset Commentary).
Men are not supposed to look soft and feminine in their clothing and women are not to look impudent and bold in theirs. Effeminacy means "the softness, delicacy and weakness in men, which are characteristic of the female sex, but which in males are deemed a reproach…and an abomination unto the Lord." No wonder we're repulsed whenever we see a man dressed and acting like a woman, yet many today are being entertained by it! Disgusting. Whatever disgusts the Lord should disgust us.
Women are the ones who are to look soft and delicate and are not to look impudent and bold. Impudence means "shamelessness; effrontery (transgressing the bounds of modesty and decorum)." As godly women, we need to be known for our modesty and femininity and it becomes even more important as our culture falls farther from these standards. Children are growing up so confused about gender issues so we need to be salt and light to them. Show them what true femininity looks and acts like.
This is a battle in our culture right now, women. It began with the feminist movement and as these commentaries point out, when women want to become men and vice versa, it leads to all types of evils. Train your daughters to enjoy being feminine. Dress them like girls and train them to act feminine and train your sons to be masculine and act like males. If you don't, the culture around them will tell them that they get to decide what gender they want to be and this is evil. 
"It being very unseemly and impudent, and contrary to the modesty of her sex; or there shall not be upon her any 'instrument of a man', any utensil of his which he makes use of in his trade and business; as if she was employed in it, when her business was not to do the work of men, but to take care of her house and family; and so this law may be opposed to the customs of the Egyptians, as is thought, from whom the Israelites were lately come; whose women used to trade and merchandise abroad, while the men kept at home; and the word also signifies armour; and so here forbids women putting on a military habit and going with men to war, as was usual with the eastern women …and since in nature a difference of sexes is made, it is proper and necessary that this should be known by difference of dress, or otherwise many evils might follow" (Gill's Commentary).
Women were not created to do the "work of men." No, women are not to be in the military. They aren't to be policemen or firemen. These are men's jobs and among believers, we need to honor and respect men's positions in society instead of try to infiltrate them. Women's work is to take "care of the home and family," as this commentary states. It's clear all throughout the Word of God and nothing our culture does should ever change this for godly women. We are to set the examples to our society, not follow them.
The Egyptians must have had women who had left their homes and taken over men's positions and some men stayed at home but the Iraelites, God's chosen people, were not to follow their culture. They were to follow God's ways. In the same way when Paul wrote his epistles, women were most likely not being keepers at home but were following in the footsteps of the men around them and joining them in their jobs. Maybe some of the women were smarter than the men so the men went home to take care of the home and the children but Paul exhorted the believers that this was not the case among Christians. Women who profess Christ are to be the keepers at home and the men are to be the providers. This is God's perfect will for us.
Whatever tends to obliterate the distinction between the sexes tends to licentiousness; and that the one sex should assume the dress of the other has always been regarded as unnatural and indecent (Pulpit Commentary) Licentiousness means "excessive indulgence of liberty; contempt of the just restraints of law, morality and decorum." In Christ, we do not have excessive indulgence of liberty. No, we are to discipline our flesh and make it our slave. We are not to live as we please and satisfy our fleshly desires but to obey the governing authorities and more importantly God's Word.
What shall we say then? Shall we continue in sin, that grace may abound? God forbid. How shall we, that are dead to sin, live any longer therein? God forbid. How shall we, that are dead to sin, live any longer therein?
Romans 6:1, 2
Dress femininely, women. Ask your husbands what is modest and feminine since they are the God-ordained head over you and you are to live in submission to their leadership in everything. God makes this very clear in His Word and gives you the specifics of what submission looks like unlike modesty. Your husbands are to be who you dress to please but make sure that all who see you can easily tell you are a woman by what you wear, how you act, and what you do. Rejoice in being women and the role the Lord has given you!