Should Women Bloggers/Speakers Be Held Accountable?
Should Women Bloggers/Speakers Be Held Accountable?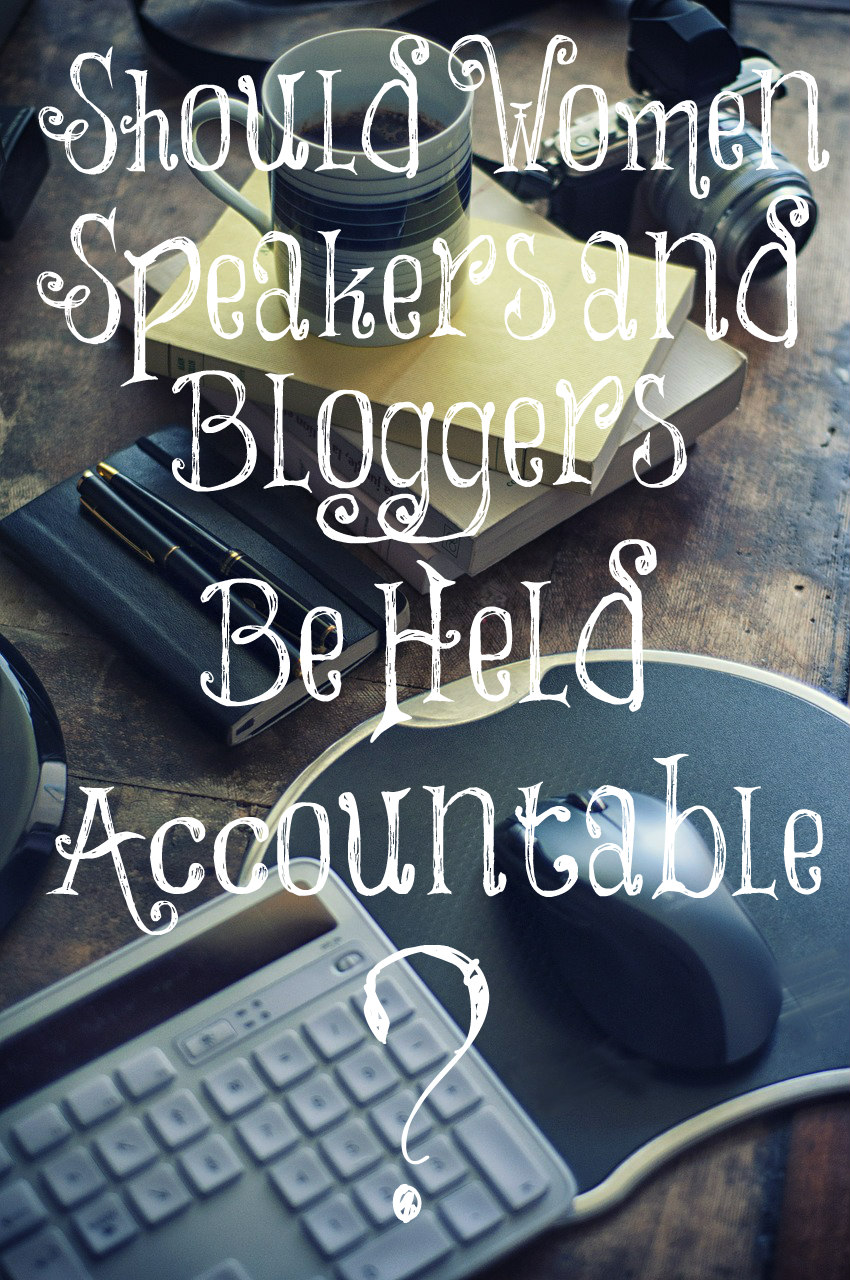 There is a "Christian" woman blogger who had a post go viral recently. She's a great writer so I went back to her beginning posts. Every post was filled with Bible verses and were about the LORD. She has many children but recently she divorced her husband. Now in her recent posts, she never mentions the name of the LORD nor quotes Scripture yet thousands of women are reading her words.
Warren B. Smith wrote, "And it is, indeed, very disturbing to see many Christian leaders today using many of the same words and expressions commonly used by their 'new gospel' counterparts. 'New revelation' describing how a great 'move of God' is going to take believers 'pregnant with destiny' to 'a new spiritual level' and into a 'new dimension' sounds a lot more like the 'new gospel' than the traditional Gospel of Jesus Christ.
Were we already witnessing the great 'falling away' predicted in the Bible? Was the 'mystery of iniquity' talked about in the Scriptures already doing its deceptive work with 'all power and signs and lying wonders' . . . ? Would people calling themselves Christians abandon their faith in the Bible and the Bible's Christ? Would they join an ecumenical movement that in the name of love and God and unity would sacrifice the truth of the Bible and perhaps one day merge with the new age itself?"
I have noticed a troubling trend among women today; they read and follow other women who proclaim "truth" as they see it since it is more acceptable and palatable, instead of learning from older women teaching what older women are commanded to teach the younger women and godly men teaching the Word of God. Therefore, few women have godly wisdom while most just want their ears tickled instead.
My questions becomes, "How many of the big time female bloggers are teaching women to love and obey their husbands, love their children, be chaste, discreet, sober, keepers at home, and good?" There are very few of us, unfortunately.
Even when we do, it's good for us to have a godly husband making sure that what we write is biblically accurate and be accountable to him. We aren't supposed to be an island to ourselves. We are told to exhort one another daily, while it is called To day; lest any of you be hardened through the deceitfulness of sin (Hebrews 3:13).
It seems the woman who divorced her husband and no longer writes anything about the LORD has been hardened through the deceitfulness of sin as some of the other big time blogging women. It's the same with the famous female bloggers who endorse gay marriage, female preachers, and other things that are forbidden in the Word or make up words or movements that aren't in God's Word. Knowing that women are more easily deceived, we need to be held accountable for the things we write, especially when we have a large platform of teaching many women.
What are the qualifications for teaching other women in the Bible? "The aged women likewise, that they be in behaviour as becometh holiness, not false accusers, not given to much wine, teachers of good things;" (Titus 2:3) and then it is listed what they are to teach the younger women.
Two older women who I greatly admire and love learning from are Debi Pearl and Nancy Campbell. They are considered "aged" women with a lot of wisdom and experience. They have both been married many years and have raised godly offspring. Their husbands are involved in teaching the Word to others and these women live in submission to their husbands' leadership. They are help meets to their husbands. They are keepers at home and modest. They are women worthy to look up to by following their example.
I also love that they teach about nutrition by eating healthy food and caring for our temples of the Holy Spirit. They focus upon teaching all aspects of godly womanhood and exhorting women to obey God's clear commands to them. These are the types of women we should all be learning from since they have been time-tested and shown to be above reproach.
Do you all understand how powerful the Church today would be as a force for salt and light in our wicked culture if all of the older women who love the Lord were teaching these things to the younger women?
 That they may teach the young women to be sober, to love their husbands, to love their children, To be discreet, chaste, keepers at home, good, obedient to their own husbands, that the word of God be not blasphemed.
Titus 2:4, 5