Should Christian Women Wear Lipstick and Jewelry?
Should Christian Women Wear Lipstick and Jewelry?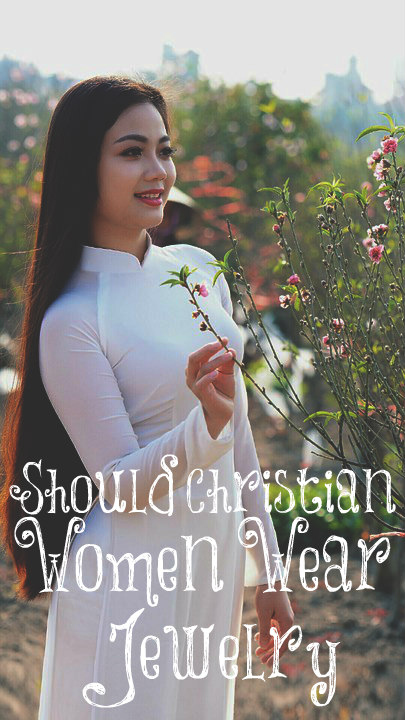 A woman on my YouTube video asked why I wore lipstick and jewelry. She told me this was a vain thing to do and women who wore these things did it to draw attention to themselves. Are Christian women not to wear these things?
Let's look as some verses on this topic. "Likewise, ye wives, be in subjection to your own husbands….Whose adorning let it not be that outward adorning of plaiting the hair, and of wearing gold, or of putting on apparel; But let it be the hidden man of the heart, in that which is not corruptible, even the ornament of a meek and quiet spirit, which is in the sight of God of great price" (1 Peter 3:1-4). Then we are told that the "in the old time the holy women also, who trusted in God, adorned themselves, being in subjection unto their own husbands…" (1 Peter 3:5).
Are these verses telling women that they should not adorn themselves with makeup and jewelry? No. If this were the case, then these verses are telling women to not put on apparel (not wear clothes). This could not be the case since God wants women to dress modestly and wear clothing.
God wants women's focus to be on their inner man. He wants our main adorning coming from our behavior and how we treat and love others. He wants us to adorn ourselves with meek and quiet spirits, and with submission to our husbands. These are the things that matter to God, not how we adorn our outer man.
Can we wear lipstick and jewelry? Yes. These are not sin issues but if women are only focused upon adorning their outer man without paying any attention to their inner man, they are in sin.
Most husbands want their wives to look pretty. God made men visual so women should look as good as they can within their husbands' income. If their husbands love the natural look with no makeup and jewelry, then their wives should adorn themselves this way since God cares more that wives submit to their husbands than whether or not they wear makeup or jewelry.
"In like many also, that women adorn themselves in modest apparel, with shamefacedness and sobriety; not with braided hair, or gold, or pearls, or costly array; But which becometh women professing godliness with good works" (1 Timothy 2:9,10)
God absolutely does not want us spending a lot of money on adoring ourselves. He doesn't want us to dress in a way that draws attention to our wealth or our bodies. We are to be modest in the money we spend on adorning ourselves (unlike most women these days) and modest in covering our bodies. We should not look nor act like the world. Others should be able to tell by the way that we dress and act that we are believers in Jesus Christ and He is the One we live to glorify, not ourselves.
Ask your husband how much money you can spend on clothes. Most of us have WAY more clothing than we need. The same goes for makeup, jewelry, and shoes. These should not consume our money or time. Find feminine clothing that your husband likes and be content with what you have. Wear a little bit of makeup if your husband likes it, and do what you can to look your best but the way that you treat others and the good works that you do for them is a far higher priority to God than anything that you could wear.
Our culture worships fashion. We do not. We worship God Almighty. Godliness with contentment is great gain. We don't need the newest fashions. We don't need to be in style. We don't go with the flow of culture. God has given us guidelines, women, so spend your time being transformed by His Word and becoming the woman that He has created you to be. Beauty is only skin deep and people don't remember what you wore or even what you looked like. They remember whether you loved them or not.
Strength and honour are her clothing; and she shall rejoice in the time to come.
Proverbs 31:25