Should Young Women Teach Titus 2:4, 5?
Should Young Women Teach Titus 2:4, 5?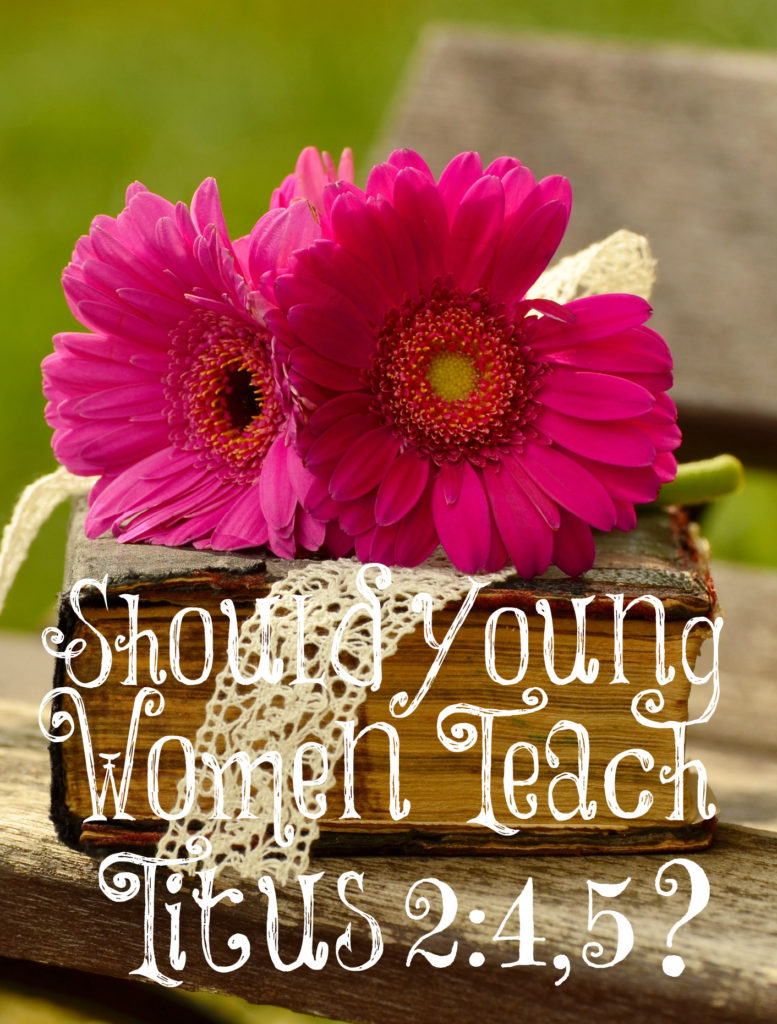 As many of you have noticed, there are a lot of younger women teaching other women the precepts of Titus 2:4, 5. It is most likely due to the void left by older women who are not obeying the Lord in this area. But are they the ones that should be teaching these things according to the Word? We know that younger women should love and obey their husbands, love their children by raising them up in the nurture and admonition of the Lord, be sober, good, discreet, chaste, and keepers at home. There is nothing in this list about them teaching other women. The Lord has given older women this responsibility.
Older women in the Bible are described in 1 Timothy 5:10, "Well reported of for good works; if she have brought up children, if she have lodged strangers, if she have washed the saints' feet, if she have relieved the afflicted, if she have diligently followed every good work." Then younger women who have lost their husbands are told to "bear children, guide the house, give none occasion to the adversary to speak reproachfully" (1 Timothy 5:14). I don't see that the younger women are to teach other women in this verse either.
Why is God's perfect plan to have the older women teaching the younger women? (I have heard many say that "older" means older "spiritually" in Titus 2:3 but this isn't what God meant. In the KJV, He calls them the "aged" women; those who have aged – older in age.) He wants the older women who have the time, wisdom, and experience to teach the younger women who are busy at home taking care of their families. Older women have raised children to adulthood. They know what works and doesn't work in teaching children how to be obedient, hard workers, and mother children through the teenage years. They know what it is like to be married to the same man for many years. They have many years of being a keeper at home. They have learned to be modest, discreet, sober, and good since they have most likely walked with the Lord for a long time.
Many of these younger women who blog, even those who aren't teaching Titus 2:4, 5, write books and leave their homes for book signings and conferences. I just finished writing a book. This book took hours, days, and many months to finish, plus a lot of money. I couldn't imagine trying to do this and write for a blog while raising children let alone travel, do conferences, and all that they do. I am sure it is the husband who is neglected in all of this. The older women, who have time on their hands now that their children are raised, need to fill in the gap. This is why I was drawn to Debi Pearl and Nancy Campbell years ago. They are older, time-tested women of God. They have walked with Him for many years, raised godly children, and are still in love with the husbands of their youths. I wanted to be like them, so I read everything they write. I learned from older, godly women with a lot of experience.
If you are a younger woman with a yearning to blog and teach other women, I encourage you to wait until your children are grown up and out of the home. It takes a lot of time and mental thought to write and blog, then moderate your comments, and mentor those who email you. If you have a friend that you see struggling in her marriage, of course, meet with her for coffee and share the truths of what you know. Be a light to all those around you, but spend the precious little time you have with your children to do what the Lord has called you to do. Love your family and care for them.
The aged women likewise, that they be in behaviour as becometh holiness, not false accusers, not given to much wine, teachers of good things; That they may teach the young women to be sober, to love their husbands, to love their children, To be discreet, chaste, keepers at home, good, obedient to their own husbands, that the word of God be not blasphemed.
Titus 2:3-5
***People have asked me if my book is the same as my blog. No, it's not. All of my chapters are brand new but the theme of my book is Titus 2:3-5 as is my blog. At the end of some chapters are some of my most favorite posts. I had amazing editors help me so you get some of their insights too. I have given this book to women who are not Christians and even they like it. It is not offensive in any way except to those who despise the Lord and His ways. Yes, it speaks Truth but in a way that even may convict and challenge unbelievers without causing them to dislike Christianity but be drawn to it instead because doing life God's way is SO good. I am selling 2 books for $20 right now. If interested, send the money to laalex2@aol.com at PayPal with your address in the note section. Thank you! (It's my Black Friday sale. 🙂 )
I sent a copy to Debi Pearl and she wrote me this about it. "I got your book this afternoon and thumbed through it reading a chapter here and there. I will take it with me to China next week to finish reading on the plane. What I did read made my afternoon a most pleasant and rejoicing time. You have opened your heart to others so they can learn from your mistakes and victories. After 3 or 4 chapters I skipped to the last chapter and read your husband's words and his poem. My soul was moved with thanksgiving that after years of struggle you and your husband found real joy and love. What your book gives best is HOPE."