Smart Phone Addiction Has Taken Over Relationships
Smart Phone Addiction Has Taken Over Relationships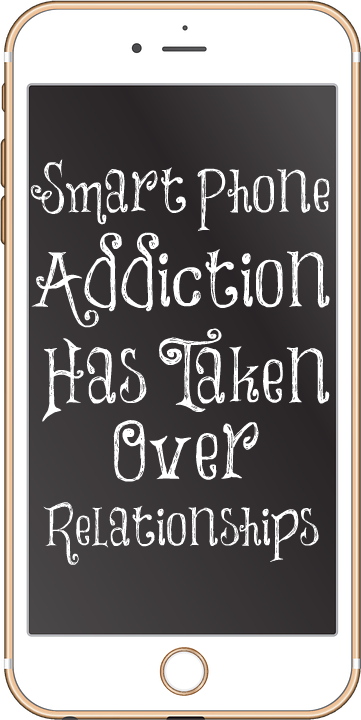 When I was raising my children, I didn't know anyone who homeschooled but in junior high, I decided to homeschool my sons. I didn't like what I was seeing going on in the public junior and senior high schools. We found a small, private, Christian school that we eventually sent all of our children to high school for one to four years. The Headmaster was a godly man who wanted Christ to be glorified in this school.
When we attended football games, everyone was either intently watching the game and/or chatting with those around them. It was the same for basketball and baseball games. We made a lot of new acquaintances and friends during these games. During lunch, the kids would hang out with each other chatting and simply being together. There were relationships and nothing to detract them when they were out and about.
The year after my youngest child graduated, smart phones came out and it seemed everyone had them. My sister said that her oldest son, who went to high school with my children, would have friends over and they would all laugh and talk the entire time. Her youngest son was a year younger than my youngest child and when he would have his friends over, all of them would be buried in their smart phones. Their smart phones were more important than being with the people they were with.
I can't even imagine high school football, baseball, and basketball games these days. Almost everyone must be buried in their smart phones. The same must be happening at school lunches. Smart phones have taken over relationships.
My sister has a policy that when people come over to her house for dinner, that they can't look at their smart phone. She wants the company to focus upon each other instead of the phones. I don't blame her. It is fun to have meals at her home and have everyone paying attention to each other instead of their phones.
It must be more difficult being a young mother these days with the distraction of smart phones. I didn't have this while raising my children and there were enough distractions back then without the added one of smart phones. Do everything in your power to keep it from having mastery over you. You master it. Your children and raising them is much more important than anything you will see or read on your smart phones. Give yourself a time limit on your phone and discipline yourself to keep it.
I believe our culture has lost a lot due to smart phones. People care more about their phones than they do about the people who live under their roofs or are right next to them. Don't allow them to control you! We are to be known for our temperance and our love. We must use moderation with our phone and love others enough to put them ahead of our phones.
All things are lawful unto me, but all things are not expedient: all things are lawful for me, but I will not be brought under the power of any.
1 Corinthians 6:12