Your Priority Should Be to Pass on Your Faith to Your Children
Your Priority Should Be to Pass on Your Faith to Your Children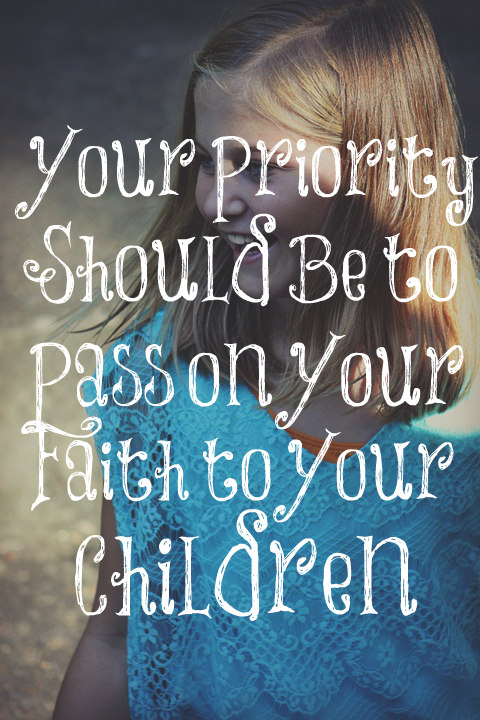 The only place to find wisdom and understanding is in God's Word. The wisdom of the world is foolishness to God. Most of the young in our nation have only been fed the wisdom of the world and they only know foolishness. Most have never been taught the wisdom and understanding of God.
We are told in Proverbs 3 that wisdom is more precious than rubies. It's ways are ways of pleasantness, and her paths are peace. She is the tree of life and happy is he who retains her.
Keep sound wisdom and discretion, we are commanded. Know God's Word. It is life unto thy soul and grace to thy neck. Walk in the way of safety and your foot shall not stumble. Your sleep shall be sweet, and you won't be afraid.
Mothers, it's your job to make sure your children are growing in the wisdom and the knowledge of the Lord. You, as their mother, want all of these good things for your children. You want your children to grow up to be wise in the things concerning the Lord, and babes in those things concerning the world.
"When I call to remembrance the unfeigned faith that is in thee, which dwelt first in thy grandmother Lois, and they mother Eunice; and I am persuaded that in thee also" (2 Timothy 1:5). Unfeigned means "not hypocritical; real; sincere." Timothy's mother and grandmother passed on their faith in Almighty God to Timothy and you are called to do likewise with your children. If you want the best for them which is belief in Jesus Christ and His righteousness, this will be the priority in your life.
Your children don't need to see all of the latest hit movies and TV series. They don't need the latest clothes and fashions. They don't need to learn to look and act like the world. You want them to look and act like those who belong to the King of kings and LORD of lords.
Be an example of godliness to them. Work on being patient and kind. These go a long way to show that His power works mightily within you. Keep your eyes focused on things above and not on things of this earth; for this earth and everything in it is passing away and will one day be all burned up. Learn contentment; for godliness with contentment is great gain.
Don't live in fear of what is happening in this world. It's all predicted and God is still on His throne and in control. We know how it all ends. We know that our lives on this world have been predetermined by Him and that we are like grass that withers away. We also know that we will live forever on the brand new earth with Jesus Christ and all those who call upon His name.
There is NO greater joy, women, than having your children walk in Truth. Yes, they will still have tribulation on this earth. We are all promised this but their hope is secure; it is the anchor of their soul. Live a life of serving others, gratitude, and love before your children. May the law of kindness and truth be always on your lips. Show them that living for Jesus is the best way to life. Everything this world has to offer is fleeting.
Happy is the man that findeth wisdom, and the man that getteth understanding.
Proverbs 3:13