Women Aren't Meant to Stay Quiet?
Women Aren't Meant to Stay Quiet?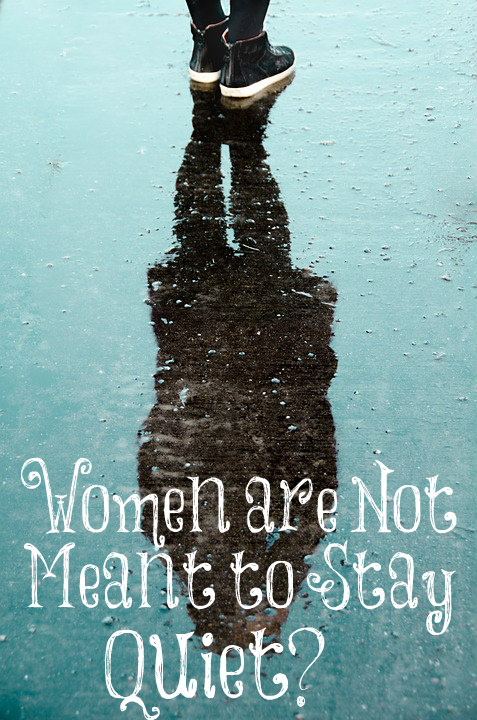 We were on our way home the other day and a song by Francesca Battistelli came on the radio called "He Knows My Name." We definitely balked at some of the words. "I'm not meant to just stay quiet. I'm meant to be a lion. I'll roar beyond a song…" Granted, there are some great lyrics in this song but these lyrics are just not biblical. In fact, they are unbiblical. God commands women to have meek and quiet spirits and there are times when women are commanded to stay quiet.
This doesn't mean we can't ever talk, of course, but God wants us to have a meek and quiet spirit. "Spirit" is the key word here. He doesn't want us to be rattled easily. He doesn't want us to be controlled by our emotions but by Truth instead. We don't need to share all of our opinions, be contentious, or quarrelsome. You know all of the verses in Proverbs about quarrelsome and contentious wives? They're aimed at women.
No, God doesn't want us to be a lion and roar. Nowhere in God's Word are we told to be a lion. In fact, God is called the Lion of Judah. Satan prowls around like a lion looking whom he may devour. We can't come close to being compared with God, and we certainly don't want to be compared with Satan!
When she wrote the lyrics that women are not being meant to quiet, do you think she was rebelling against this verse? "Let the woman learn in silence with all subjection" (1 Timothy 2:11) or how about these verses: "Let your woman keep silence in the churches: for it is not permitted unto them to speak…for it is a shame for women to speak in the church" (1 Corinthians 14:34,35). Wives are also commanded to win their husband without the word in 1 Peter 3:1,2. There's nowhere else in our culture that women are commanded to be silent, so she must be referring to these verses in the Bible!
God has a lot to say about how and when we use our voice, women. But there are times that He has commanded that we do indeed be silent and He does want us to have quiet spirits. No, these aren't popular in our day and age, but they are good. Women today are shouting for their voices to be heard as if they aren't being heard. Ignore them. Concentrate on God's Word and how He wants you to be.
And that ye study to be quiet, and to do your own business, and to work with your own hands, as we commanded you.
1 Thessalonians 4:11