Staying Joyful in These Turbulent Times
Staying Joyful in These Turbulent Times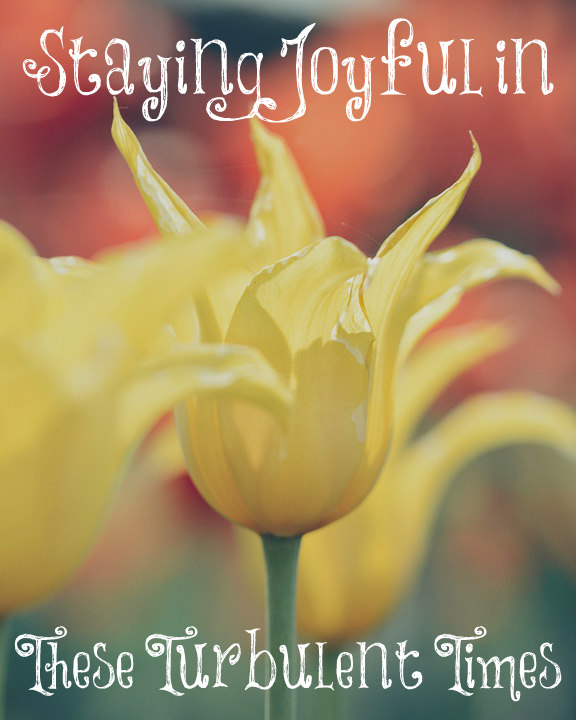 This world is going through some turbulent times. First, it was the virus from China that literally shut down the world and now it is violence due to rioting in the streets. It's scary times so I asked the women in the chat room how they keep their joy in the midst of this. Here's what some of them had to say:
"I bought some forest schooling books and I've been taking the kids out and spending a lot of time alone with them there, unplugged. Also intentionally looking for the people who are doing the right thing, like the communities picking up after the riots. Spending more time with family and other police wives" (Kaitlynn).
"Music, digging in my garden, and playing with my grandchildren. Their giggles are the best!" (Christine)
"I stay far away from the news! If something important happens, I rely on my husband to let me know. We've also been doing mini 'family trips' each week where we go to a new town we've never been to before and explore the area. This has been relaxing and fun!" (Kristen)
"I stay joyful by reading scripture, spending time outside with the kids, and reading lighthearted Christian books. And also, reminding myself that this has always happened in history. It's not new, even though it feels like it" (Larissa).
"We visited with some Christian friends yesterday and spent some time in their wonderful garden. (We aren't allowed in others people's houses yet in the UK at the moment.)  I foraged Elderflowers from their hedgerows and have made some cordial this morning. ? It's the little things that are keeping me going at the moment!" (Alena)
"I remind myself that God is on the throne, and none of this is a surprise to Him. He has a plan and will bring all to good for His people. I'm not blind to the bad, but I don't fixate on it. I check in with my husband once a day for the main news events. I pray. I'm very busy with my Bible. I'm still working from home and spending extra time working on the house, cooking, and finding ways to help people. I make loose plans for the future. I talk to friends and family. I venture outside to walk or meet up safely with a handful of ladies from church groups. I go to our drive-through prayer services for fellowship, prayer, and an exchange of smiles. I remind myself that God's got this, and I've already made it through a lot in 40 years, and if it's going to be over down here for me, I know where I'm headed! I look for opportunities to share that message of hope and trust in the Lord whenever possible!" (Amanda)
"Serving my husband and family, and teaching my girls that God made us all and loves each and every one of us the same. I love digging in my garden." (Kristin)
"I agree. It is so hard to be joyful when we are watching all of this hardship. I just remember that God is Sovereign, and that He is in control. Also, I try to stay in a thankful place. There is still so much to be thankful for. One thing I am thankful for today is this group. It helps me to have this group to learn from mature believers and to help me in my discernment. Your group and writings have helped me so much over the years! Thank you." (Kerin)
Be careful for nothing; but in every thing by prayer and supplication with thanksgiving let your requests be made known unto God. And the peace of God, which passeth all understanding, shall keep your hearts and minds through Christ Jesus. Finally, brethren, whatsoever things are true, whatsoever things are honest, whatsoever things are just, whatsoever things are pure, whatsoever things are lovely, whatsoever things are of good report; if there be any virtue, and if there be any praise, think on these things.
Philippians 4:6-8