Young Women Have Been Told Lies
Young Women Have Been Told Lies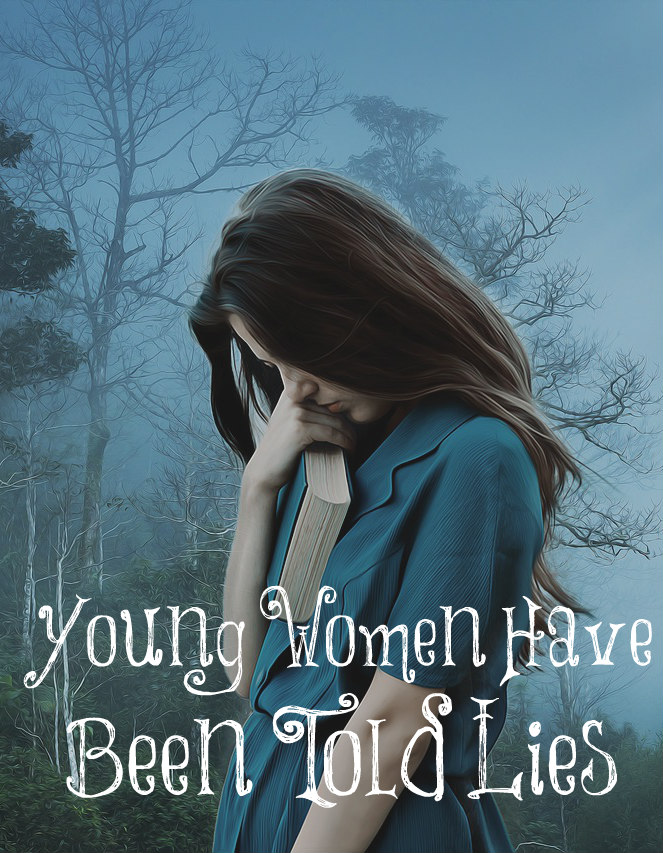 This post is simply going to be a mix of different things I have been sharing lately. A lot is going on in our world right now. It's nothing new. My grandparents went through two world wars and the Great Depression. Life on this earth has always been uncertain and full of tribulation. Jesus is the solid Rock which we build our lives upon and we trust Him. He still reigns and is sovereign over all.
One woman made a video last year called "They lied to me when I was a teenage girl. Now, I face reality." Here is what she wrote under the video: "We need to stop lying to teenage girls. I say this as a 27 year old who has spent the last 10 years focused on becoming a physician. We shoot ourselves in the feet by not valuing the role of the mother, which is a role that will bring immense happiness."
All young girls are told growing up is to pursue higher education and careers. They are never told about the great value of being a wife and mother, so they spend their most fertile years chasing a career and a paycheck. Young women are absolutely being told lies. Even the churches tell the same narrative to young women. Let's share the joys of being a wife and mother to them, women. They need to know that there's a great alternative out there!
Ken and I watched "The Auronauts" movie this past weekend. It was a great movie and extremely intense at times. It's based on a real life story about a man and a woman who go up very high in a hot air balloon to find out about weather. The woman is absolutely the heroine in the movie. She did amazing, life challenging things. The guy was a wimp. When it was over, I asked Ken, "I wonder if they got married in real life." So, he checked it out and said, "You're not going to believe this but it wasn't a man and woman who went up in the balloon but two men!" Feminism rears its ugly head again and makes it out to be that the woman saves the day when it was really a man.
The Social Justice Movement is founded upon this verse: "The LORD God has told us what is right and what he demands: 'SEE THAT JUSTICE IS DONE, let mercy be your first concern, and humbly obey your God.'" This is from The Contemporary English Version of the Bible. What does the King James Version say: "He hath shewed thee, O man, what is good; and what doth the LORD require of thee, BUT TO DO JUSTLY, and to love mercy, and to walk humbly with thy God?" Bible versions do matter! We are to do good, NOT seek justice. God is just. Vengeance is His.
It's tragic what is going on between the races in our country right now. For all of my black readers, I am only going to share the following information to try to help you understand that Black Lives Matter is not something you want to support. They have done nothing good for black people. If they really cared about black lives, why aren't they protesting Planned Parenthood who have murdered millions of black babies? What about the black cops who have been murdered in recent days during the riots? These don't fit their narrative. They are far from being a godly organization.
The movement was founded by three black lesbians. "Unlike the Black Freedom Movement of the 1950's and 1960's, BLM is inherently a movement sustained by a politics of blackness that is, Charlene Carruthers reminds us, unapologetically, feminist, womanist, and queer." These are not things we should be fighting for regardless of one's skin color.
I love what Voddie Bauchaum had to say about race. "Race is a social construct. The concept of race is not a biblical concept or idea. We are all the race of Adam, one blood. There is less than 0.2% genetic difference between any of us. We all have melanin just in differing degrees. We're just different shades of the same color. Some have more melanin and some have less. Don't think that God loves me more because he gave me more melanin than you!"
Did you know that racism isn't even listed as a sin in the Bible but hate, pride, and not loving others is? Why don't we bring it all back to the basics and call racism what it is: not loving others as oneself. Teach your children to love God and love others. This is what they need.
Here is what a few men on Twitter had to say about this entire situation:
"Dear Pastor, after Paul was saved by God's grace, his ethnic pride was buried in the depths of the sea. He spent the remaining days of his life preaching the gospel to Jew and Gentile before his head was cut off in Rome. His message wasn't 'Jewish Lives Matter'—it was the gospel." ~ Josh Buice
These other three men are black and they are speaking truth:
"I understand hurt. But I will not validate lies. Black people are not being 'hunted down' by police. Black people have equal opportunities in America like everyone else. The white man ain't the problem. Its the man or woman you look at everyday in the mirror. Stop it already!" ~ Brandon Tatum, a police officer
"For every 10,000 black people arrested for violent crime, 3 are killed. For every 10,000 white people arrested for violent crime, 4 are killed. I'm going to keep tweeting this until someone can explain to me how this is possible if there is truly pervasive racial bias in policing." ~ Leonydus Johnson
"How many unarmed blacks were killed by cops last year? 9. How many unarmed whites were killed by cops last year? 19. More officers are killed every year than are unarmed blacks. When do the #BlueLivesMatter protests begin?" ~ Larry Elder
No matter how much melanin you have in your skin, we all need Jesus Christ. HE alone is the answer to everything. Share the Gospel with others, women. They need to know that their answers aren't found in some movement (Black Lives Matter, feminism, Social Justice Warriors, etc.), law, or vote. It's found in knowing who they are in Christ and what He has done for them. He created all people and He wants all to come to repentance. This isn't a battle between flesh and blood. No, it's a battle being waged in the heavenlies for the souls of men. Pray. Stop listening to the lies of society. Be truth seekers instead.
For we wrestle not against flesh and blood, but against principalities, against powers, against the rulers of the darkness of this world, against spiritual wickedness in high places.
Ephesians 6:12