Stop Believing False Studies on Spankings
Stop Believing False Studies on Spankings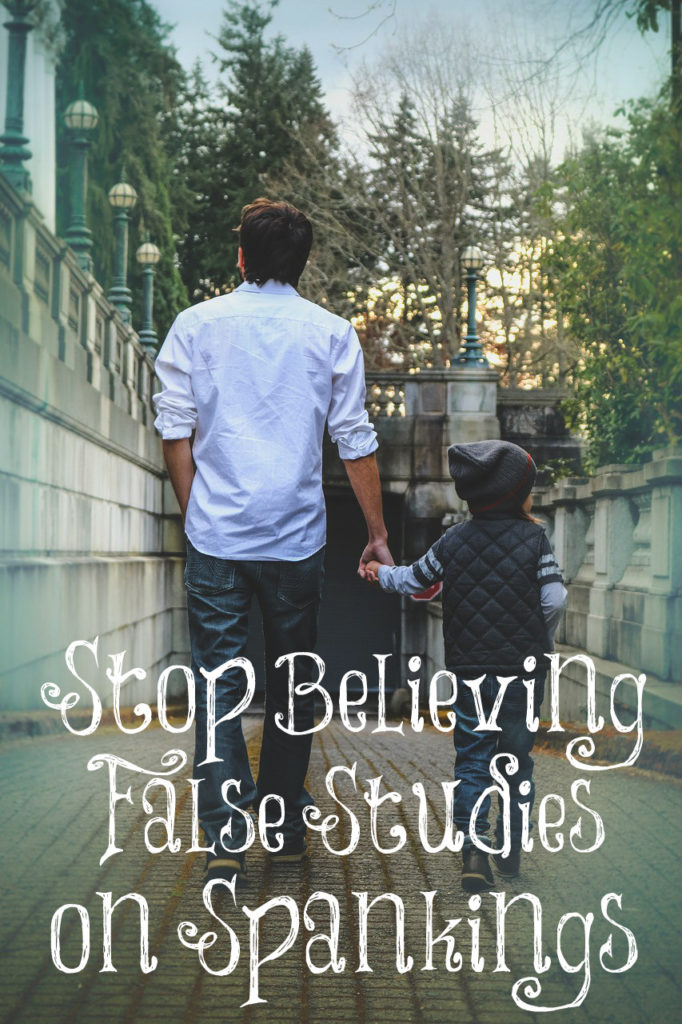 Since I wrote about the devastating effects of Dr. Spock's child raising book, I thought I would share what others think about spanking children. It seems we are constantly being told how the "studies" prove that spankings are bad for children and just plain wrong. In fact, a 50-year study proved that spanking children is just as bad as physical abuse.  "We as a society think of spanking and physical abuse as distinct behaviors. Yet our research shows that spanking is linked with the same negative child outcomes as abuse, just to a slightly lesser degree."
I know this isn't true since parents have been spanking their children for centuries. I decided to look at the comments on the Facebook that shared this study (which isn't a Christian site) to see what others had to say about this article and I was pleasantly surprised!
"And for 50 years society has demanded that there be no spanking and look what has happened to our kids. No respect of adults or other people's property or lives. I for one am glad I was not listening!" (Inger)
"Watch nature. A mother bear will cuff her cub to keep it in line! All animals control their young with physical means, and GOD did tell us if you spare the rod, you spoil the child. A spanking is not meant to be a beating, just enough to get their attention." (Joan)
"Funny how back in the day when a parent could discipline their children and not have the law or society call them out for 'beating' their child, we never had school shootings, or all of these disrespectful little thugs running around…." (Chrissie)
"There is a difference between abuse and spanking as one form of discipline. My parents varied our punishments to fit the 'crime.' Actually I much preferred a spanking (moderate) to not allowing me to ride my horse for a week. Discipline's purpose is to help the child remember, keep them safe, and learn self-control." (Ginny)
"Nah… I'm still gonna spank my kid. Worked for me, works for her as well. Whip her a** now, or get her out of jail later for being an entitled brat…" (Jon)
"Spanking properly with love is discipline in which in our society less children are receiving! Children are left to themselves to self indulge, and the lack of self control belongs to the child. There are adults who abuse, but calling every adult that properly disciplines one who lack self control is b**. A child properly disciplined and spanked if unruly, you'll find a well behaved child that's a joy to be around! A no brainer!" (Jennifer)
"I started spanking my son before he started walking. No, I didn't beat him. I said what I meant and meant what I said. I didn't count to three (hate that). By the time he was in grade school, the spankings stopped for the most part, I trained him early. Kids aren't stupid. Talk to your kids, don't yell." (Peggy)
"It's not violent. A smack on the butt and then explain to the child. The Bible says spare the rod, spoil the child. Look at the mess our kids are in today: out of control, drugs, because they had no consequence. No one should beat a child. That's wrong." (Carolyn)
"I'm not convinced. How is it that children who were raised getting a spanking they earned grew up with manners and respect? We are not talking about child abuse but, rather a swat on the butt. They didn't go around shooting up their schools even though in many places they had access to guns, whether at school or at home." (Elizabeth)
"There is a huge difference between spanking (discipline) and beating (anger). Spanking needs to be done more often. Beating needs to stop." (Christy)
I am thankful there are some wise people still left on this planet who are raising well disciplined children.
Foolishness is bound in the heart of a child; but the rod of correction shall drive it far from him.
Proverbs 22:15