Study to Be Quiet
Study to Be Quiet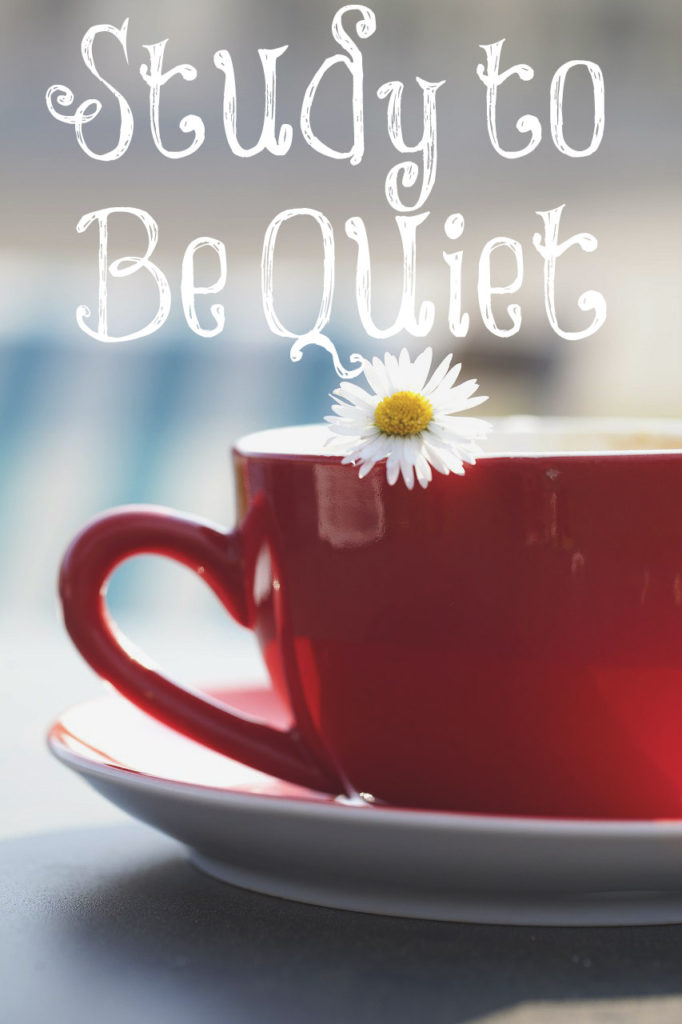 We are commanded in 1 Thessalonians 4:11 to "study to be quiet." What does this mean? It apparently means that it's not our nature to be quiet so we must study how to be quiet. Gill's Exposition put it this way:
"And that ye study to be quiet,…. To live peaceably in their own families, and to give no disturbance to other families, by talebearing, whispering, and backbiting; to behave with quietness in the neighbourhood, town, or city, they dwell in, and to seek the peace thereof; and to lead a quiet and peaceable life, in all godliness and honesty, in the commonwealth, and under the government to which they belong; and not to create and encourage factions, divisions, animosities, and contentions, in their own church, or in any of the churches of Christ; and it becomes saints to make this their study, to be very solicitous for it, to strive for it, and pursue after it: the word used signifies to be ambitious of it, as what is a man's glory and honour, to emulate and strive to outdo each other, as who shall have the honour of being the quietest person, and the most peaceable member in the community."
In order to be quiet, we must seek to be at peace with all man as far as it depends upon us. We must first be at peace in our homes with our husband and our children. We love, serve, and sacrifice for them. We show them kindness and patience. We are careful with the words that we speak to them.
We seek peace with people outside of our family. We don't speak negatively or critically about them. We don't whisper things behind their back as a means of tearing them down. We don't slander and gossip about others and find out all the things they are doing wrong so we can tell others. The only reason that people do this is to elevate themselves and make themselves look better than those they slander or they are trying to destroy the reputation of those they slander which should never be named among those who call themselves believers in Jesus Christ.
We abide by the rules of our government. We don't "encourage factions, divisions, animosities, and contentions." We pray for our leaders instead. Politics is NOT our life. The news of the day doesn't consume us because we understand that this isn't our home. We are strangers and aliens simply passing through to a bright eternity with our Savior so we go about His work instead of worrying about what's going on in our culture. We store our treasures in heaven where they are safe and protected.
We love those in our churches and pray for them. We pray for our elders and deacons as they lead our church. We are quiet in our churches as we are commanded to do so; for it is shameful for women to speak in churches. If we have a question, we ask our husbands at home instead of marching up to the pastor and demanding an answer. If we disagree with something that is taught, we don't make a big stink about it but pray that truth will always be taught in our church.
Let us all be known as the "quietest person, and the most peaceable member" in our community and the only way we can do this is by clothing ourselves with the righteousness of God – believing in Jesus Christ and being filled with His Spirit, then we can do ALL things through Christ who strengthens us!
 If it be possible, as much as lieth in you, live peaceably with all men.
Romans 12:18