When Should a Wife Disobey Her Husband?
When Should a Wife Disobey Her Husband?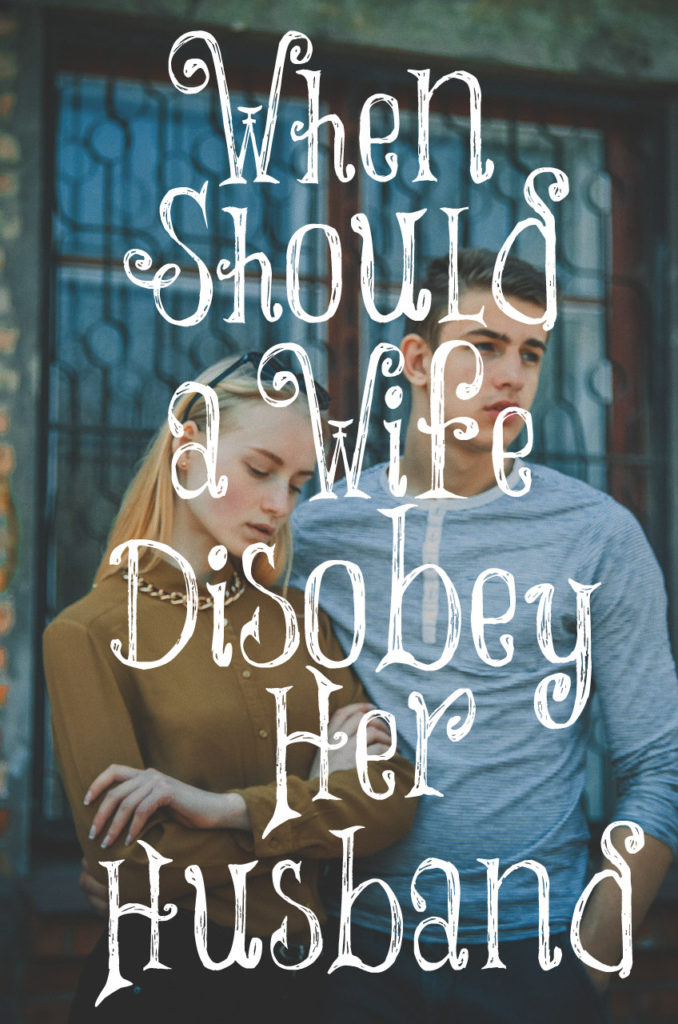 The question of when a wife should disobey her husband comes up frequently. It seems that people are more concerned about when a wife should disobey her husband than obeying and submitting to him. We are told to submit to our husbands in everything (Ephesians 5:24), be obedient to them (Titus 2:5), and we are Sarah's daughters as we obey our husbands as she obeyed Abraham (1 Peter 3:6). We are told that our husband is head over us (Ephesians 5:23). God has made it very clear that the husbands are the ones to lead their families, not the wives. But when should wives disobey their husbands?
As you know, I fully teach and believe that women should be keepers at home and raise their own children. What if a husband asks his wife to put their children into daycare and work full time? Should she disobey him because she believes it is sin? What if he asks her to fully vaccinate her children even though she believes this would be sin to pump her children "full of poison"? What if he asks her to put their children into the public schools even though she knows how sinful they are? What if he asks her to not spank their children when the Bible clearly tells us to use the rod on them? There are many things that are clearly stated in the Word of God that we should obey but what if the husbands ask their wives to disobey them?
I believe the only time a wife can disobey her husband is if he asks her to disobey a clear command of the Lord such as given in Romans 13:9 because God's clear commands trump a husband's. "For this, Thou shalt not commit adultery, Thou shalt not kill, Thou shalt not steal, Thou shalt not bear false witness, Thou shalt not covet; and if there be any other commandment, it is briefly comprehended in this saying, namely, Thou shalt love thy neighbor as thyself."
A wife never has to obey her husband if he asks her to do anything that will defile the marriage bed as in having an affair, watching pornography, engaging in anal sex, or participating in a threesome. She would never have to obey him if he asked her to get an abortion, steal, bear false witness, or do anything that is clearly evil. Anything that is not loving others (harming the children or others), she would not have to obey BUT she must obey him in everything else.
Yes, she would have to work full time and put her children in daycare if he asks her to do this in submission to his leadership. Yes, she would willingly vaccinate her children if this is his will. She would put her children into public schools if this was her husband's desire. She would not spank her children if he asked her to not spank. If he wants her to wear leggings and skirts above her knees, she would obey him. He is the one who will decide if she wears a covering on her head or not, what church they attend, where they will live, how to spend the money, etc. He is responsible for how he leads his family and she is responsible for submitting to his leadership. God is very clear about this! If she doesn't like some of his decisions, she gives them to the Lord in prayer and allows Him to convict and change his mind if this is the Lord's will.
If she wants to be a keeper at home and homeschool her children but her husband wants her to work full time, she lives carefully within his income and asks the Lord for daily strength and wisdom while she submits to her husband and works full time. If she must vaccinate her children because this is her husband's desire, she feeds them as healthily as she can and gives them a lot of healthy probiotics like kefir to help keep their immune systems strong. She daily prays protection over her children whether they are in daycare, public school, or vaccinated. If they go to public school because this is what her husband wants, she reads the Bible and prays with them every morning before school and reminds them to clothe themselves with the full armor of the Lord daily. She continually teaches them the truth of God's Word. If she can't spank her children because her husband doesn't want this, she is consistent in making them obey her even if it is time consuming and tedious. If he likes her to dress in clothing that she considers immodest, she wears it as modestly as she can but still pleases him. Remember, he will answer to God in how he leads her.
In all areas, she does her best to submit to him in everything, even the hard things that she disagrees with him about and in the areas that she doesn't believe are biblical. Remember, we are told how a wife is to "win" her husband who is disobedient to the Word and it isn't by disobeying him. No, it's by living in subjection to him – obeying and submitting to his leadership (1 Peter 3:1-6) so she works hard to obey him in everything as long as it is not evil or harmful to others and prays daily that she will win him without the word. In the meantime, she finds her strength and joy in the Lord and doesn't allow anything or anyone to steal her joy!
Likewise, ye wives, be in subjection to your own husbands; that, if any obey not the word, they also may without the word be won by the conversation of the wives; While they behold your chaste conversation coupled with fear.
1 Peter 3:1, 2