The Christian Woman's Legitimate Sphere of Action and Influence – The Home
The Christian Woman's Legitimate Sphere of Action and Influence – The Home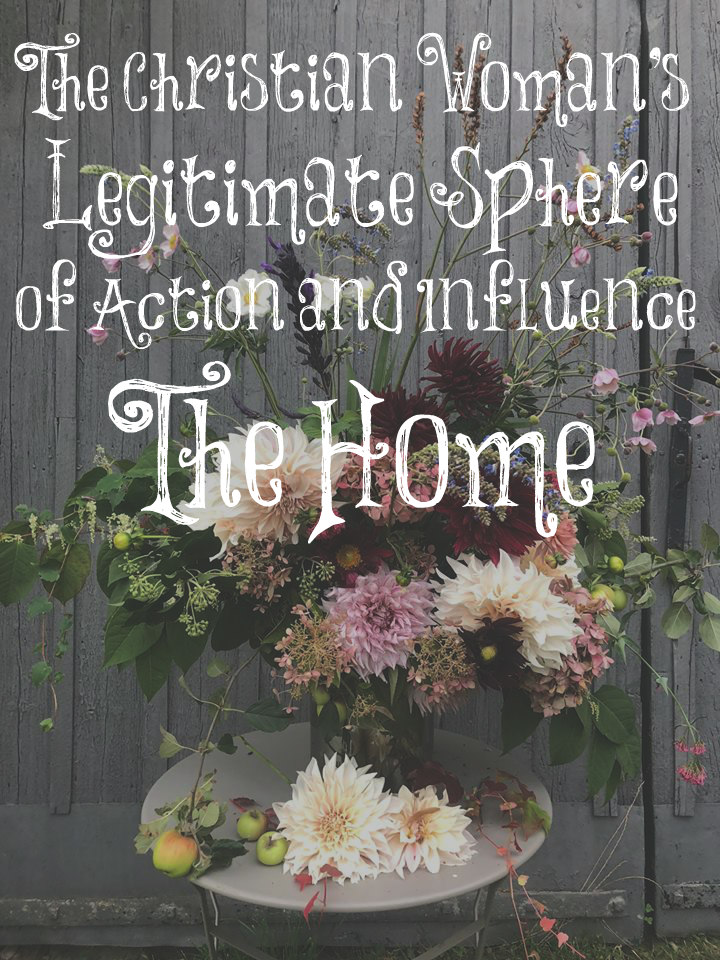 Studying the Word of God is something I love to do. Each time I read it, even with those passages that I have read many times, I learn something new. God's Word is definitely a twoedged sword!
The KJV uses the word "suffer" in this verse which means to allow or permit: "But I suffer not a woman to teach, not to usurp authority over the man, but to be in silence" (1 Timothy 2:12). Once in a while, I enjoy looking at the commentaries of old to see what they have to say about a verse so I did it with this one. Do they think this verse was only relevant to the time it was written as many believe? Were the women back then loud and obnoxious in the churches so this verse is not relevant for today?
Here is what I found:
"But I suffer not a woman to teach, nor to usurp authority over the man, but to be in silence.—The whole purpose of these weighty admonitions of the great founder of the Gentile Churches relegates Christian women to their own legitimate sphere of action and influence—the quiet of their own homes. St. Paul caught well the spirit of his Master here. He raised once and for ever the women of Christ out of the position of degradation and intellectual inferiority they had occupied in the various pagan systems of the East and West, and taught with all the weight of an Apostle—of an accredited teacher of divine wisdom—that woman was a fellow-heir with man of the glories of the kingdom,—where sex would exist no longer; but while teaching this great and elevating truth, St. Paul shows what is the only proper sphere in which woman should work, and in which she should exercise her influence and power; while man's work and duties lay in the busy world without, woman's work was exclusively confined to the quiet stillness of home." (Ellicott's Commentary)
We have a great ministry, women! We have the privilege of working and ministering to our families while keeping our homes a place of refuge for them. Never allow anyone to discount your priceless work at home.
"But I suffer not a woman to teach, They may teach in private, in their own houses and families; they are to be teachers of good things, Titus 2:3. They are to bring up their children in the nurture and admonition of the Lord; nor is the law or doctrine of a mother to be forsaken, any more than the instruction of a father; see Proverbs 1:8. Timothy, no doubt, received much advantage, from the private teachings and instructions of his mother Eunice, and grandmother Lois; but then women are not to teach in the church; for that is an act of power and authority, and supposes the persons that teach to be of a superior degree, and in a superior office, and to have superior abilities to those who are taught by them." (Gill's Exposition)
God ordained men to be the teachers of the Word in the churches. We have the privilege of teaching the Word to our children and to young women (specifically Titus 2:3-5), then living it out in front of them. Yes, we can share the Gospel with those in our sphere of influence, but the preaching/teaching of the Word has been given to men since this is God's authority structure from the beginning. God made Adam first. He could have easily made Adam and Eve at the same time but He didn't. He put Adam in the position of authority, Eve was created to be his help meet, but then Eve was deceived. This is another reason women are not to teach nor have authority over men. It goes all the way back to creation, not the time in which this verse was written as many suggest.
"The first argument, why it is not lawful for women to teach in the congregation, because by this means they would be placed above men, for they would be their masters: and this is against God's ordinance." (Geneva Study Bible)
If wives are to be submissive to their husbands, how can they be in authority over them in church as a preacher of the Gospel? They can't. God's order is right and good.
"According to St. Paul, women are not allowed to be public teachers in the church; for teaching is an office of authority. But good women may and ought to teach their children at home the principles of true religion. Also, women must not think themselves excused from learning what is necessary to salvation, though they must not usurp authority. As woman was last in the creation, which is one reason for her subjection, so she was first in the transgression.' (Matthew Henry)
This doesn't mean we are of any lesser value than men, women. It's simply God's ordained order and we must trust that what He ordains is for our best. It seems the men who wrote the commentaries of old all clearly understood God's will for women unlike many today.
"Let the woman learn in silence,…. The apostle goes on to give some other instructions to women, how they should behave themselves in public worship, in the church of God; he would have them be learners and not teachers, sit and hear, and learn more of Christ, and of the truth of the Gospel, and to maintain good works; and he would have them learn in silence, and not offer to rise and speak, under a pretense of having a word from the Lord, or of being under an impulse of the Spirit of the Lord, as some frantic women have done; and if they should meet with anything, under the ministry of the word, they did not understand, or they had an objection to, they were not to speak in public, but ask their own husbands at home." (Gill's Exposition)
Let us be women who obey all of the God's Word without trying to twist what it says to mean something that it does not. The role the Lord has given to us is good and we must learn to be content in it: silent in the churches and workers at home. After all, there's NO place like home!
Let the woman learn in silence with all subjection. But I suffer not a woman to teach, nor to usurp authority over the man, but to be in silence.
1 Timothy 2:11, 12