Premarital Sex is SO Detrimental to Marriage
Premarital Sex is SO Detrimental to Marriage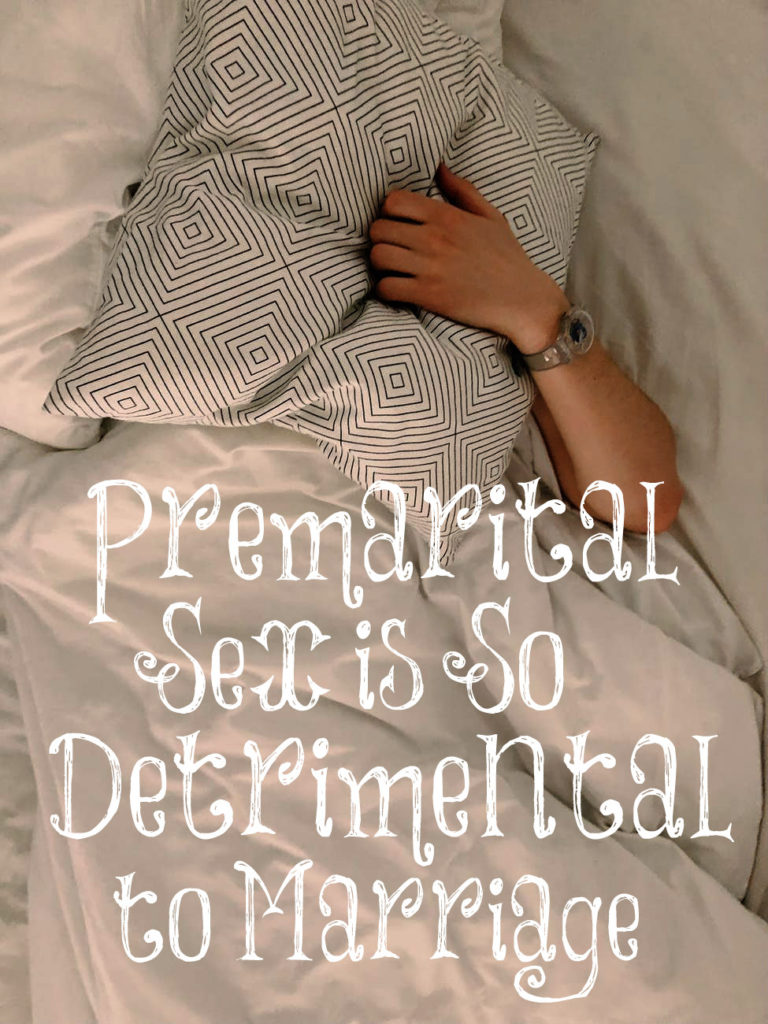 One man posted this question on his Facebook wall: "Should a wife have sex with her husband even when she is not in the mood?"
I answered, "Yes, because a wife who loves the Lord and His ways certainly will, since she is not led by her moods or emotions but by the perfect Word of God."
A woman responded to me, "Lori Alexander, really? You do realize that a woman is a human being in her own right and her body hers to do with as she wishes. No one has the right to dictate what a woman does with her body. You touch me without my permission and you will lose your teeth. I'm nobody's possession or toy. I decide what happens to my body. If I'm not in the mood, you don't get to touch me, period. You weak woman."
Actually, it's a strong woman who isn't being led by her moods and emotions but instead is living in obedience to God's command to not deprive her husband sexually. This takes strength whereas doing as you please takes no strength at all.
Why do women act so profoundly disgusted at the thought of giving themselves freely to their husbands sexually even if they're not in the mood? One woman gave a great reason and is a good warning to all unmarried, young women.
"My thought is that most, if not all, women with this woman's mindset comes from a background of regular premarital sex, where they have been used by men for sex (which in my mind includes all sexual activity outside of marriage). This repeated 'use' of a woman (the sex she gives freely, of course) hardens her heart against men. She feels she's 'putting herself out there' in relationship after relationship, only to have it end one way or another. This creates a huge bitterness in her heart. In her mind, she may not be able to control the relationship, but she can control her body and who does what with it.
"And certainly, if you are not following the word of God and what the Bible says about 'the two becoming one flesh,' the idea of giving yourself freely to your husband even when you're 'not in the mood' sounds incredibly outlandish and almost like sexual slavery.
"I can tell you from personal experience of becoming sexually active at an embarrassingly young age, that even though I know exactly what the Bible says and agree with it, I struggle DEEPLY with submitting to my husband sexually. Having a history of premarital sex is SO DETRIMENTAL to a marriage. The baggage of shame, hurt, and self-disgust is so hard to shake. I know the Lord has forgiven my past, but I am personally still so disgusted by it. It is very difficult to give myself freely to my husband.
"My heart shatters in the face of today's promiscuity among women young and old. I KNOW the path they are headed down; I've lived it. I want to shout my story from the rooftops in the hopes of halting others in their tracks and redirecting their attention to our loving Heavenly Father, who will love them more deeply and unconditionally than any man on earth is capable of doing."
From what I have seen, living in sin makes people very bitter and angry, whereas living in obedience to the Lord brings joy. It's your choice, young women. Do you want to live as you please, suffer the consequences, and have joy stolen from you or do you want to obey the Lord and be full of joy? Of course, there is forgiveness for all sin and His grace covers all who believe, but it's wise to live according to God's will from a young age and walk in the paths of righteousness.
Flee also youthful lusts: but follow righteousness, faith, charity, peace, with them that call on the Lord out of a pure heart.
2 Timothy 2:22