Was the Purity Culture Harmful and Dangerous?
Was the Purity Culture Harmful and Dangerous?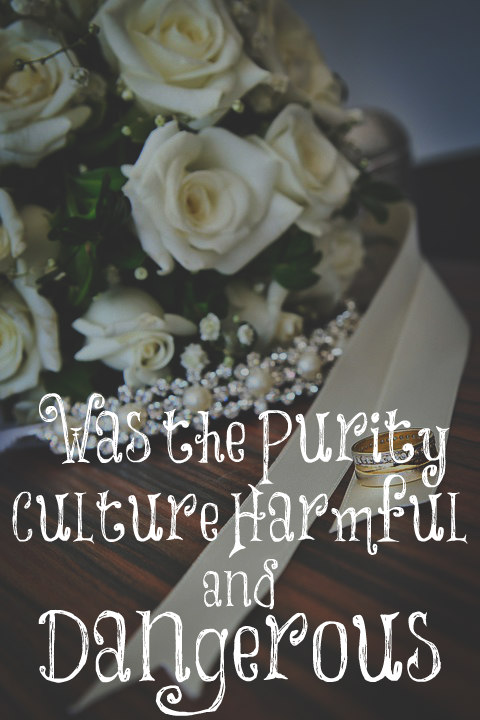 Written by My Husband, Ken, and Me
There's an article in the New York Times called, "How Should Christians Have Sex?" In it, the Christian author, Katelyn Beaty, tries to explain why the purity culture was harmful and dangerous. She was taught abstinence until marriage and signed a pledge that she would wait for sex until her wedding night. There were purity rings, purity balls, and even journals in which she wrote letters to her future husband. She feels that instead of teaching the beauty within marriage, it led to shame and an unhealthy view of sex and one's body.
Now, in her early thirties, she has determined that being taught by the purity movement was harmful and dangerous to many Christians. Somehow the teaching she learned about purity no longer works once you get past 23 years old and are still unmarried. She surmises that there must be a better way to teach what God requires of us. "Purity culture as it was taught to my generation hurt many people and kept them from knowing the loving, merciful God at the heart of Christian faith."
It is hard for us to see all the supposed harm caused by the purity culture or how scarring it is said to be as many "Christian" young couples today are having sex outside of marriage and living together. Even Ms. Beaty seems to agree that the opposite approach of the "consent model" espoused by "Shameless" author Reverend Nadia Bolz-Weber, "leaves her with a sense of loss."
Rev. Boltz-Weber is quoted as saying, "'It is time for us to grab some matches and haul our antiquated and harmful ideas about sex and bodies and gender into the yard, 'burn it,' and 'start over.' She proposes a sexual ethic grounded in the goodness of bodies and of sexual expression based in consent, mutuality and care." This certainly seems practical, but since when did reverends start straying so far from God's Word when creating their models for Christian living and sexuality? (I suppose when they began allowing women to be in authority in the churches!)
Ms. Beaty ends her article with these words, "While I hate the effects that purity culture had on young women like me, I still find the traditional Christian vision for married sex radical, daunting and extremely compelling — and one I still want to uphold, even if I fumble along the way." It seems that here we find one more confused voice seeking answers but unwilling to look into God's Word for the solutions. She exposes Joshua Harris and his book "I Kissed Dating Goodbye" as one of the key culprits behind the purity movement and defends her view by his apology "that much of what he taught was not actually scriptural."
We are not sure what parts of the book Joshua Harris is referring to as not scriptural, but this entire intent and premise of the book is on the solid bedrock of biblical teaching that all sex outside of marriage is wrong. God commands that the marriage bed be kept undefiled and that fornicators will be judged. We are called to be chaste: pure before marriage and faithful once married. This is abundantly clear in God's Word which is filled with admonitions and warnings for the consequences which may befall those who engage in sexual sins.
Our children were raised during the purity culture. They went to a purity camp and learned all about being pure until marriage. They wrote out a list of the things they wanted in a spouse and prayed over it. Should we be shocked that they kept their promises to God?
The "purity culture" did not harm them in least. We are curious about this great harm that has come to Christian kids, but we surmise that much of it is related to the guilt that came when they broke their promises to God and to themselves. Our children were protected by the purity teaching (boundaries and Truth do this), but I can see that certainly the guilt and shame would have been heavier had they given up their virginity before they married. And here they would have relied on the most crucial of all teachings of the Word – that God forgives our sins.
Boundaries are highly beneficial for children and young adults. The fear of guilt and shame motivates each one of us daily, and when we fail, we know it, but we also know the answer to such guilt is to take it to the cross where all sin and shame belong, and "go and sin no more."
Ms. Beaty appears to be searching for answers that will rightly place the teaching of purity on the positive reasons for keeping the marriage bed and bonds sacred, instead of on the shame of sex outside of marriage. So instead of passing around a cup and having everyone spit into it, then asking the last person, "Would you drink that?" she wants the Church to teach the positives of why we save ourselves for marriage.
We get it, but we can't help wondering how we can do this without teaching the fact that each person you sleep with before marriage, you carry a piece of them with you throughout your marriage. Sometimes the piece you carry is very unpleasant and worse than drinking a cup of spit as you pick up their herpes, HPV, and a bunch of potential STDs, but sometimes it can be very pleasant memories that should belong only to your spouse, yet your mind wanders to another body at the time it should be bonding in greater intimacy with your spouse. Yes, sin has its short- and long-term consequences on this earth.
Sex before marriage is not free, but comes sometimes at a great cost, including babies outside of marriage, and worse yet, the murder of that unborn baby that follows. We wonder how much Ms. Beaty and others want to find a way to whitewash these costs by limiting or eliminating the teaching on the evils of pre-marital sex. They think that if we stop teaching how bad sex before marriage is and start teaching how important it is to keep the marriage bed sacred for its positive benefits, then the psychological and emotional scarring done to her and others when they sin will be lessened or disappear. It won't and then they will have to find someone or something else to blame for their pain instead of the sin itself.
So, let's turn to God's Word on the matter and find all of those beautiful positives when sex is bound up with only one spouse in marriage. Where do we turn? The Song of Solomon? Does God give us such a complete picture of the absolute bliss of sex within marriage in this little book? Did God just screw up His Word on this important matter when He says repeatedly things like:
"Flee fornication. Every sin that a man doeth is without the body; but he that committeth fornication sinneth against his own body. What? Know ye not that your body is the temple of the Holy Ghost which is in you, which ye have of God, and ye are not your own? For ye are bought with a price: therefore, glorify God in your body, and in your spirit, which are God's" (1 Cor. 6:18-20).
God must not be teaching us right according to Ms. Beaty since 95 percent of His focus is on the negatives of sin (outside of marriage) instead of teaching us the positives (inside of marriage). Just look at the weight of scripture on the matter and it is nine to one negative teaching and warnings concerning sex, yet our "touchy feely can't handle the shame" new world of Christianity wants to try to find a way to absolve their guilt and shame apart from God's way. They do not want to take it to the cross where it belongs.
The sad commentary on our world is that when shame disappears a society collapses, and now the Christians want to jump on board the feel-good gospel. Guilt and shame are not bad things when they drive us back to Jesus and His saving grace. But if the sinner will not repent and is unwilling to cast their sins upon the cross in 30 A.D. believing that God has indeed forgiven them, and then "go and sin no more," they are left searching for a solution other than the cross. They want to sterilize the purity movement of its accurate message of the cup filled with spit because after all, is not sex a beautiful thing? It sure is, and that is why God wants to protect us from its scars.
Is it possible that many are simply confusing the scars of their sins by blaming the purity movement because the guilt and shame hurts? We live in a new society and Church that wants everyone to "feel good" no matter what they do. You can't even have a husband talk to a wife about overeating because that can lead to scars and pain, right? Sex outside of marriage and overeating should not be causing emotional pain, should they? So, let's blame God's Word for it, and if we can't blame the Word, let's blame the messenger and preacher who takes a strong stand against sin because they hurt me!
My conclusion is that, unfortunately, Ms. Beaty has fallen into the same game that the lukewarm Church wants to play with concerning sin. Instead of taking it back to God and allowing Him to place it on the cross of Christ, free and completely forgiven, then walking again in newness of life, they want all of the verses against fornication to be regulated to the old world, the old church, and no longer to be taught to a new modern "feel good" church. If your church is not making you feel good about who you are and your relationship with God, it is the church's fault. Shame on them for emphasizing exactly what God emphasizes in the harms and evils of sin, especially sex outside of marriage. After all, it feels too good to be bad!
So how do we integrate faith and sexuality in ways that honor more than one's desires, as she would like to figure out? Teach self-control and abstinence until marriage. Teach the beauty of sex within marriage and that most men (godly men, at least) do prefer to marry virgins.
Recognize that it wasn't the purity culture that harmed Christian woman, but rather that those who failed in their promises to God and their future spouse can still find freedom from guilt and shame at the cross of Christ, but it comes at the cost of repentance (turning from one's sin) and recognizing there still may be earthly consequences from their sin.
One cannot keep sinning in the same manner and expect to feel dead to sin, freed from sin, and alive in Christ Jesus (Romans 6). It doesn't work that way and blaming the messenger won't help. There is truly a lot more to sex than just two bodies enjoying each other for a short time. God intended it to be a fantastic gift within the bounds of marriage. Freedom from all guilt and shame is available to all sinners the moment we place our sins on the cross of Christ. Do so today and God will indeed restore you and make you brand new in Christ, just as He has promised.
The unmarried woman careth for the things of the Lord, that she may be holy both in body and in spirit.
1 Corinthians 7:34