The Inability Young People Have to Connect with Others
The Inability Young People Have to Connect with Others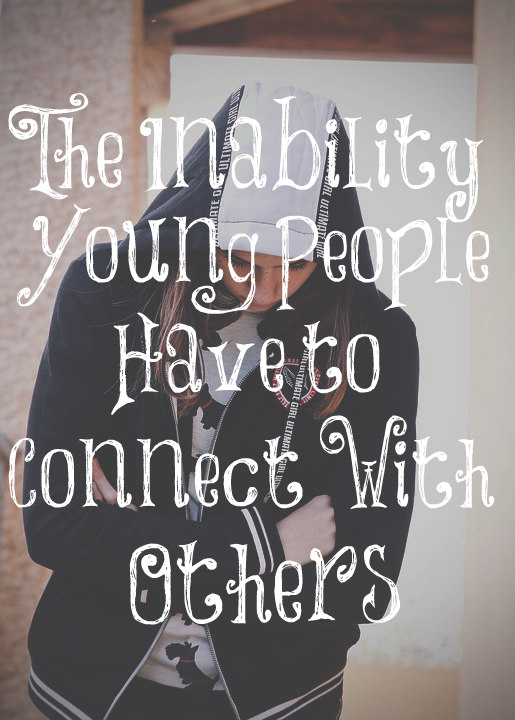 An article called There's No Sex Recession – only a Connection Recession explores why young people are having less sex than their parents' generation. "The modern generation was specifically taught to give up on love and to focus on themselves and their careers instead…The real concern, in other words, isn't that young people are having less sex but that they're unable to form attachments. An actual relationship with the opposite sex eludes them. Young people are afraid of commitment, and they're afraid of intimacy."
The author of this article and the one she refers to in her article don't give the solutions to this problem. Yes, porn is one of the reasons for the problems and women focusing on themselves and their careers is another but what are the solutions? The biggest reason why young people can't connect with other people is because they, most likely, didn't bond with their mothers as babies. Most of their mothers had careers and left them in the care of others. (Read The Way Home by Mary Price.) Another reason is divorce and the devastation these young people have suffered through because of their parents' divorce.
It was a sad part of President Trump's speech when he heralded the fact that more women than ever before are in the Congress and in the workforce. Who is home watching the children? Who is training them in the way they should go? Who is teaching them about morals and values that make families and nations great? Who is raising the next generation to be people of integrity and kindness? Yet, those women in white coats are fighting for all of the things that are against God's plan for women. They are fighting for what God hates – the shedding of innocent blood (Proverbs 6:17). They cheer wildly for all of the things women have accomplished for themselves yet sit in stone silence when saving the lives of unborn babies is mentioned. They will reap what they are sowing. This is an eternal principle that they will be unable to escape unless they repent.
Feminism is self-seeking and selfish. Being a wife and mother full time is self-sacrificing and loving others more than oneself. There's a wide gap between the two. Many tell me that women can do it all. No, they can't. That's a lie. Someone suffers and it is usually the children. The greatest security a mother can give to her children is to be there for them in her home full time. They will know she is always available for them. This will grow emotionally stable and secure children who will grow up to be able to connect easily with others. They will be secure and well-loved. They also need to be raised in a household where their mother and father stay married for life. This is God's plan for strong families and strong nations.
Feminism has made women much less attractive to men. It has made women think they don't need a man in their lives. They are independent, loud, and "free" in their minds. They no longer act feminine, dress feminine, and want no part of being feminine. Men like feminine. Femininity is what attracts men to women. Feminism does not. And we wonder why so many men are involved in porn these days. Yes, men will be held accountable for their own actions and no, they should NOT look at porn because it is so destructive to them and it's on a deadly pathway to hell but women must ponder the part that they had to play in this addiction. If foolish women can tear their homes down with their own hands, they can tear down nations with their own hands.
Can a woman forget her sucking child, that she should not have compassion on the son of her womb? yea, they may forget, yet will I not forget thee.
Isaiah 49:15