The Modern Day Proverbs 31 Woman
The Modern Day Proverbs 31 Woman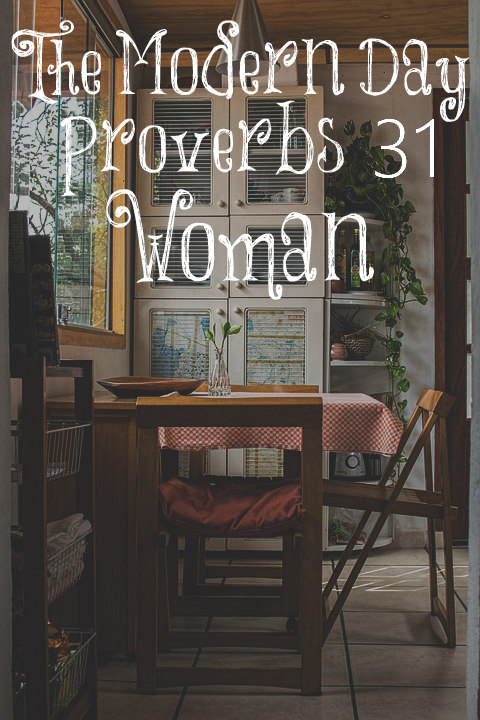 The Proverbs 31 woman was not a real person that once lived. She's an example of a woman who the King's mother told him to look for in a wife. There are no commands to us in Proverbs 31, but this woman is a good example for us in many ways. I am going to match the attributes of this woman to the commands given to us for today that are clearly spelled out in the New Testament so we can strive to be a modern day Proverbs 31 woman!
First of all, this woman must be a virtuous woman. She must love the Lord and His ways. Therefore, when she reads all of the verses about a wife's submission to her husband and that he is head over her, she knows that they are for her good since God is good. She doesn't try to water it down and pervert it to say her husband should submit to her. No, she believes it just as it is written.
"Wives, submit yourselves unto your own husbands, as unto the Lord.  For the husband is the head of the wife, even as Christ is the head of the church: and he is the saviour of the body. Therefore as the church is subject unto Christ, so let the wives be to their own husbands in every thing" (Ephesians 5:22-24).
Her husband trusts her and knows that his wife will do him only good. Older women are to teach younger women to be good and to love their husbands (Titus 2:4, 5). If we truly love someone, we will only want to do them good (1 Corinthians 13). She won't speak negatively about him to others. She won't even think negatively about him. She will dwell on the good in him (Philippians 4:8). She will lovingly serve him and try to make his life as good as possible (1 Corinthians 7:34) since she knows she was created to be his help meet (Genesis 3:16).
She's a hard worker and doesn't eat the bread of idleness. She knows that she's called to do whatever she does heartily as to the Lord (Colossians 3:23)! She loves being a keeper at home (Titus 2:5) and looking well to the ways of her household. She works hard in her home to make in as clean and tidy as she can, fixes her family the best food she can buy, and does everything that needs to be done to run a home including caring lovingly for her children and raising them in the nurture and the admonition of the Lord (Ephesians 6:4).
She is clothed with strength and honor. The only way to be clothed with strength and honor is to be filled with the Holy Spirit. This happens the moment you repent of your sins and believe in Jesus Christ, then you know that His Spirit works in you mightily (Colossians 1:29). Imagine that! The same Spirit that raised Christ from the dead lives in you, therefore, you can do all things through Christ who strengthens you (Philippians 4:13)!
She speaks with wisdom and kindness. She studies the Word to make sure that it dwells within her richly (Colossians 3:16). She faithfully renews her mind with truth since she knows that this is what transforms her (Romans 12:2). She understands that true, godly love is patient and kind (1 Corinthians 13:4) so she is patient and kind with her family and all those who come into her life. She takes every thought captive to the obedience of Christ and doesn't give into vain imaginations (2 Corinthians 10:5). This is why she can rejoice in the time to come. She doesn't live in fear but in faith because she knows who holds the future.
She fears the Lord. She knows that He is her Creator and that His ways are good, and acceptable, and perfect (Romans 12:2). She knows that He will one day judge the world and that everything in this world will one day burn (2 Peter 3:10) so she lives with eternity in her vision. She stores her treasures in heaven rather than upon this decaying earth (Matthew 6:20). Her husband and children are eternal so she makes sure to store up a lot of love and time into their lives. She is a wise woman who builds her life upon the Rock of her salvation (Matthew 7:24).
Favour is deceitful, and beauty is vain: but a woman that feareth the Lord, she shall be praised.
Proverbs 31:30