Does God Want Us to Be Happy?
Does God Want Us to Be Happy?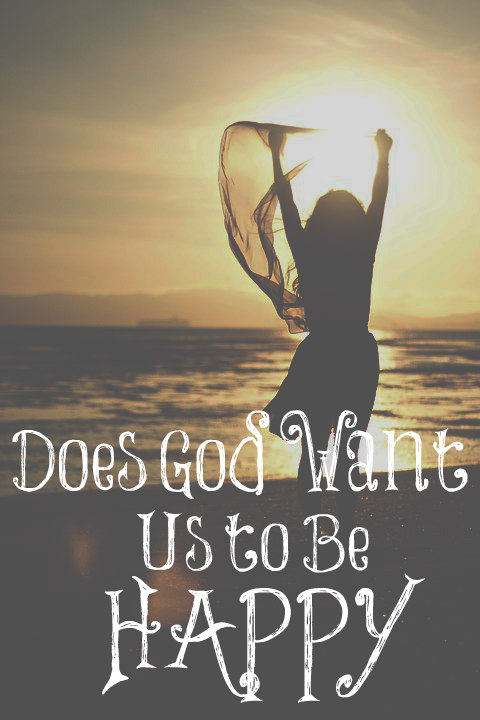 Many women today believe that God wants them to be happy. I receive a lot of comments on my blog to this effect. They believe that if they are not happy in a marriage, they should get out of it. If they aren't happy being home full time, they need to seek a career. If they aren't happy having one or two children, they should have no more.
If God only cared about our happiness in marriage, why did He have the Apostle Paul write 1 Peter 3:1, 2 which commands those wives who are married to disobedient husbands to live in subjection to them with godly behavior? Surely if God wants wives to be happy in marriage, He would tell them that if they aren't happy, then they can leave, right?
Women will divorce their husbands to try and find "freedom." Is there freedom in divorce? Is it freedom to have the children part-time, maybe have to go to work full time, sleep alone, raise children alone, and have the children suffer because they miss seeing their dad on a full-time basis? Does a divorce really make for happiness?
If God only cared about a woman's happiness in what she was doing with her life, why would He command that they be "keepers at home" and warn them against these things: "And withal they learn to be idle, wandering about from house to house; and not only idle, but tattlers also and busybodies, speaking things which they ought not" (1 Timothy 5:13).
Does scurrying around in the morning trying to get everyone ready on time bring happiness? Does a morning commute, working the same nine to five job every day for a paycheck, arriving home exhausted, then trying to be a mother and wife for a few hours at night bring happiness to women?
If God only cared about a woman's happiness if it depended upon how few children she had, why is this verse in the Bible? "Happy is the man that hath his quiver full of them: they shall not be ashamed, but they shall speak with the enemies in the gate" (Psalm 127:5). God commands young women to "marry, bear children, guide the house, give none occasion to the adversary to speak reproachfully" (1 Timothy 5:14) and even tells us that women will be "saved in childbearing" (1 Timothy 2:15). Being help meets to our husbands, raising children, and being keepers at home is God's ordained ministry for women. He seems to believe that having many children is a great thing and can even make people happy!
Women who base their happiness on their emotions, feelings, circumstances, and what they want to do will never find true and lasting happiness. Living one's life this way is a recipe for unhappiness. There are more women today on anti-depressants and mood stabilizers than ever before. The rates of depression have skyrocketed among women even though they have everything they thought would bring them happiness.
There are no verses about seeking happiness in the temporary things of this world. Look at the life of the Apostle Paul and all of the other apostles who lived lives of self-denial and self-sacrifice in order to please their Savior and tell others about Him. God isn't concerned about our worldly happiness. He's concerned about our obedience because He knows that true joy and even happiness can only come when we know who we are in Christ and obey His commands. Happiness is a result of knowing that God is the Lord and doing His will.
The bottom line is that happiness is a choice we make that doesn't depend upon our circumstances and the way we want life to go. As believers in Jesus Christ, we want to walk in obedience to the Lord because He's our Creator and knows what's best for us. This may even cause suffering in our lives but we learn a lot through sufferings. "And not only so, but we glory in tribulations also: knowing that tribulation worketh patience.." (Romans 5:3). Trials make us more like Him but in the midst of our trials and sufferings, we can still have joy since we know how it all ends!
Happy is that people, that is in such a case: yea, happy is that people, whose God is the Lord.
Psalm 144:15