Fornication Leads to an Empty Life
Fornication Leads to an Empty Life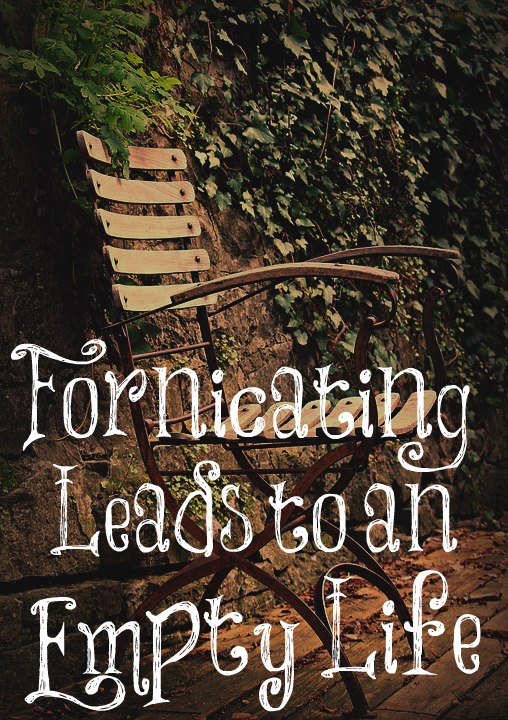 He's wasted the early years of his life on fornicating and traveling and found that it all led to emptiness. He blames our hedonistic culture that doesn't make women into wives and mothers but instead into feminists who give sex freely and have become sex objects for men. I don't know anything about this man so please don't write to tell me that he promotes something I am against. I am writing this post about this article because he has some very good points. Even men who aren't Christians can see that something is terribly wrong with our culture and what it values. (I don't know if he is a Christian now.)
"I've met too many men who are diverting most of their intellect, time, and energy into gaining leftover scraps of happiness from life instead of building up their communities or nurturing a deeper love with one woman because of how toxic and dangerous both women and our communities have become…All of this wasted time is by design.
"The oligarchs in power don't want us to become leaders of households and communities. They don't want men to create loving bonds with women and vice versa (and if you manage to do so in such an inverted climate, permissive divorce laws will reduce the chances it lasts). They don't even want men to be self-sufficient. Instead, they want you to form weak bonds with other people and focus entirely on your belly and genitals, all while being a cog in the machine that gorges on GMO food, lusts after tattooed women, and consumes entertainment in a lonely urban box. The more atomized you are, and the weaker your relationships, the more dependent you are on the system—on the corporations and government to provide you with a cheap but damaging simulation of love and meaning that used to be real.
"My nature, and I believe the nature of most masculine men I meet, is one of creation, strength, and provision for family, things we're increasingly not allowed to do, or allowed to do only at impossible cost. I may not be able to change the world and revert back to a healthier time, but I surely don't have to waste any more time doing exactly what they want me to do."
When Israel was being led away captive to Babylon, what were God's instructions to His people? "Build ye houses, and dwell in them; and plant gardens, and eat the fruit of them; Take ye wives, and beget sons and daughters; and take wives for your sons, and give your daughters to husbands, that they may bear sons and daughters; that ye may be increased there, and not diminished. And seek the peace of the city whither I have caused you to be carried away captives, and pray unto the Lord for it: for in the peace thereof shall ye have peace. For thus saith the Lord of hosts, the God of Israel; Let not your prophets and your diviners, that be in the midst of you, deceive you, neither hearken to your dreams which ye cause to be dreamed" (Jeremiah 29:5-8).
Even in an enemy territory as captives, this was God's perfect plan for them. It is still His plan for us. Build houses. Dwell in them. Plant gardens and eat from them. Take wives and have children. Have your children marry and bear children. Seek peace and don't listen to false teachers. The author of the article I linked to above knows this is a good and perfect plan for mankind.
We are in enemy territory. Satan is the prince of the power of the air. But God's plan is still good for us, His children. As women begin to turn back to biblical womanhood, men will follow. This is a great calling upon our lives, women. We are a remnant but told to be salt and light in this wicked culture. Let us make sure we don't lose our saltiness and blend in with the world. All it has to offer is loneliness and painful regrets of a life poorly lived.
For I know the thoughts that I think toward you, saith the Lord, thoughts of peace, and not of evil, to give you an expected end.
Jeremiah 29:11