The Strawman Argument For Female Nurses and Teachers
The Strawman Argument For Female Nurses and Teachers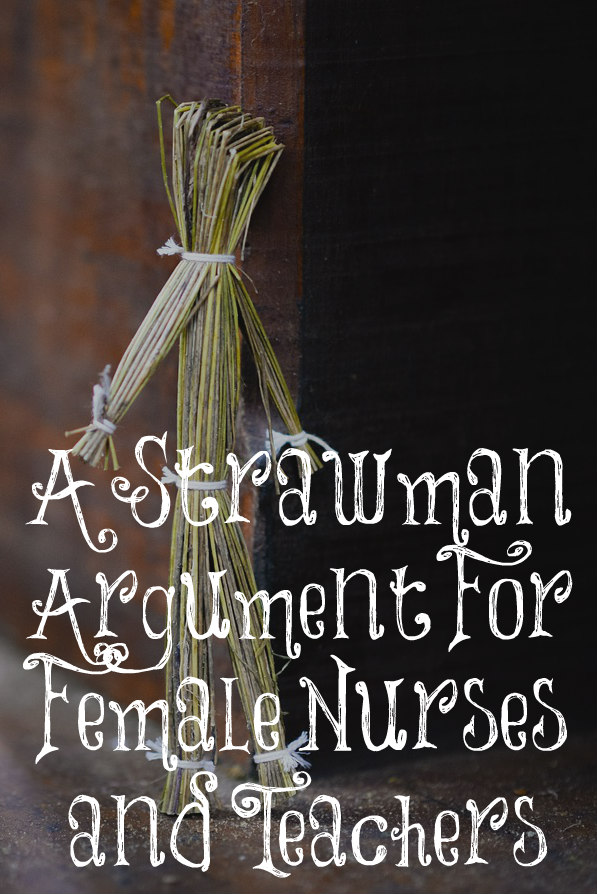 Undoubtedly, every time I teach women to be keepers at home, women will cry, "What about female nurses and teachers? We need them!" This is a strawman argument since there will always be female nurses and teachers. Few women read what I write and even fewer want to do what God commands of them, therefore, there is no need to fret that there will be no more female nurses or teachers.
Many women believe that being a teacher or a nurse is the ideal job for mothers. Is it?
There's an article written called "Nurses in America are experiencing extremely high rates of burnout." I shared this article on my Instagram and one woman wrote, "I am a nurse and I can confirm that it is absolutely exhausting: mentally, emotionally, and spiritually. I feel like I am broken at the end of a 12 hour shift and it takes almost the whole next day to recover. I only work two days a week at the hospital but it really is so hard. I can't cook or do housework that day, and I have to prepare the day before and morning of to get ready. It takes so much mental space. I am married with no children and my husband does help cook that day sometimes and I, deep down, feel guilty. Not to mention being gone one whole Saturday and Sunday a month working and many holidays. I wouldn't suggest any young woman go into nursing based on my real life experience." Other nurses agreed with her.
Another woman wrote, "I agree. I'm a postpartum nurse and it's the best nursing job IMO. I'm not full time and I work exclusively with female patients except newborn baby boys. Nursing can be a soul destroying job. My babysitter  desires to be a SAHM once married and I've strongly encouraged her to not consider becoming a nurse which was her original plan."
Most nurses have 12 hour shifts on their feet. It's exhausting! The nurses who are mothers leave their children in the care of others while they go care for others. Don't you see how backwards all of this is? Women were never called to go out and provide a living. Men can do these 12 hour shifts much more easily than women since they have more endurance, testosterone, and strength than women. God made them this way. God created them to be the providers for their families.
Teaching is also an exhausting job. I did it for two years with my first child. I left my baby in the arms of others to go teach other children. Ridiculous! Thankfully, I only had to do it two years. One mother I know who raised four children while being a full-time school teacher told me it was like running a marathon every day. She was always exhausted. During those two years that I taught, I didn't feel like I was a good teacher, wife, nor mother. We were never meant to do it all! We were meant to be at home and minister to our husbands, children, and take care of our homes. This is our calling from God.
Next time you hear someone encouraging women to be keepers at home, instead of worrying about having female nurses and teachers, pray that more women will go home to raise their own children. The jobs of nursing and teaching are exhausting for women, and their children need them more than you do. It's only selfishness to think what is best for you rather than what is best for these women and their children.
She looketh well to the ways of her household, and eateth not the bread of idleness.
Proverbs 31:27