So Much Grace, Femininity, and Beauty Lost
So Much Grace, Femininity, and Beauty Lost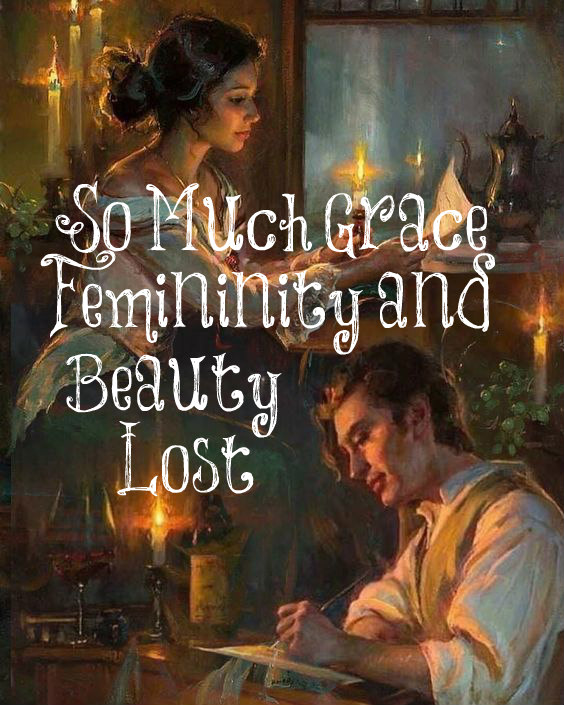 Below are excerpts from an article entitled Marxist Feminism's Ruined Lives. It was written by Mallory Millett whose sister, Kate Millett author of "The Bible of Women's Liberation," was heavily involved in the beginnings of NOW and the move to infiltrate feminism into every area of society. It's goal? Destroy the family. Read it and weep for our culture. Carefully ponder sending your daughters to college which are filled with toxic feminist teachings against God's ways for them. Train them up in grace, femininity, and beauty. Let's reclaim biblical womanhood for our daughters and steer them in the direction of the old, beautiful paths that God has for them.
"How do we destroy the family?" she came back.
"By destroying the American Patriarch," they cried exuberantly.
"And how do we destroy the American Patriarch?" she replied.
"By taking away his power!"
"How do we do that?"
"By destroying monogamy!" they shouted.
"How can we destroy monogamy?"
Their answer left me dumbstruck, breathless, disbelieving my ears. Was I on planet earth? Who were these people?
"By promoting promiscuity, eroticism, prostitution and homosexuality!" they resounded.
They proceeded with a long discussion on how to advance these goals by establishing The National Organization of Women. It was clear they desired nothing less than the utter deconstruction of Western society. The upshot was that the only way to do this was "to invade every American institution. Every one must be permeated with 'The Revolution'": The media, the educational system, universities, high schools, K-12, school boards, etc.; then, the judiciary, the legislatures, the executive branches and even the library system.
Imagine this: a girl of seventeen or eighteen at the kitchen table with Mom studying the syllabus for her first year of college and there's a class called "Women's Studies." "Hmmm, this could be interesting," says Mom. "Maybe you could get something out of this."
Seems innocuous to her. How could she suspect this is a class in which her innocent daughter will be taught that her father is a villain? Her mother is a fool who allowed a man to enslave her into barbaric practices like monogamy and family life and motherhood, which is a waste of her talents. She mustn't follow in her mother's footsteps. That would be submitting to life as a mindless drone for some domineering man, the oppressor, who has mesmerized her with tricks like romantic love. Never be lured into this chicanery, she will be taught. Although men are no good, she should use them for her own orgasmic gratification; sleep with as many men as possible in order to keep herself unattached and free. There's hardly a seventeen-year-old girl without a grudge from high school against a Jimmy or Jason who broke her heart. Boys are learning, too, and they can be careless during high school, that torment of courting dances for both sexes.
By the time Women's Studies professors finish with your daughter, she will be a shell of the innocent girl you knew, who's soon convinced that although she should be flopping down with every boy she fancies, she should not, by any means, get pregnant. And so, as a practitioner of promiscuity, she becomes a wizard of prevention techniques, especially abortion.
The goal of Women's Liberation is to wear each female down to losing all empathy for boys, men or babies. The tenderest aspects of her soul are roughened into a rock pile of cynicism, where she will think nothing of murdering her baby in the warm protective nest of her little-girl womb. She will be taught that she, in order to free herself, must become an outlaw. This is only reasonable because all Western law, since Magna Carta and even before, is a concoction of the evil white man whose true purpose is to press her into slavery.
Thus, the females, who are fundamentally the arbiters of society go on to harden their young men with such pillow-talk in the same way they've been hardened because, "Wow, man, I've gotta get laid and she won't do it if I don't agree to let her kill the kid if she gets knocked-up!" Oppressed? Woman has always had power. Consider the eternal paradigm: only after Eve convinced Adam to eat the fruit did mankind fall. I.e., man does anything to make woman happy, even if it's in defiance of God. There's power for ya! Without a decent womankind, mankind is lost. As Mae West said, "When women go wrong men go right after them!"
I've known women who fell for this creed in their youth who now, in their fifties and sixties, cry themselves to sleep decades of countless nights grieving for the children they'll never have and the ones they coldly murdered because they were protecting the empty loveless futures they now live with no way of going back. "Where are my children? Where are my grandchildren?" they cry to me.
"Your sister's books destroyed my sister's life!" I've heard numerous times. "She was happily married with four kids and after she read those books, walked out on a bewildered man and didn't look back." The man fell into despairing rack and ruin. The children were stunted, set off their tracks, deeply harmed; the family profoundly dislocated and there was "no putting Humpty-Dumpty together again."
I insist that woman always has been the arbiter of society and when those women at Lila Karp's table in Greenwich Village set their minds to destroying the American Family by talking young women into being outlaws, perpetrators of infanticide, and haters of Western law, men and marriage, they accomplished just what they intended. Their desire — and I witnessed it at subsequent meetings till I got pretty sick of their unbridled hate — was to tear American society apart along with the family and the "Patriarchal Slave-Master," the American husband.
So much grace, femininity and beauty lost.
So many ruined lives.
Thus saith the LORD, Stand ye in the ways, and see, and ask for the old paths, where is the good way, and walk therein, and ye shall find rest for your souls. But they said, We will not walk therein.
Jeremiah 6:16
Here is an recent article called MY SISTER KATE: THE DESTRUCTIVE FEMINIST LEGACY OF KATE MILLETT interviewing Mallory Millet and it's worth your time to read.
"Men are men and women are women. They are essentially different and designed for a natural division of labor. Period.
"I get a kick out of the feminists' love affair with the word 'empowerment.' They have clever formulas for ensnaring hapless souls into their deceits. One of their slicker moves is to create a vocabulary designed to get around long-held beliefs, mores, taboos or fears. 'Pro-choice' is their Newspeak euphemism for the casual murder of an human being; 'Dreamers' means illegal immigrants; 'Progressives' denotes a group dragging us back to the cave; 'Sanctuary City' means a place where no actual US citizen is safe. This 'empowerment' thing makes me especially crazy.
"We need only go back to Eden in Genesis where God commanded Adam not to eat a certain apple. Eve demanded he eat it. Adam obeyed Eve against the will of God Himself. That's not power? It only proves that man will do anything to please woman even if it means going against the wishes of his Almighty Creator.
"Having had that power, feminists were so greedy for more that they destroyed our society in order to prove they were exactly like men. In doing so they have destroyed the American family and our children which has resulted in the demolition of society…Moms decided they were the same as men so they deserted the home and babies to grab their briefcases and rush out to run the world.
"One of their most desired results was the smashing of every taboo in Western culture. Imagine that! Think of that alone! The normalizing of every taboo: polygamy, bestiality, Satanism, pornography, promiscuity, witchcraft, pedophilia – all activities which rot the human soul and city. Nothing burns down a society with such dispatch and totality as the unleashing of taboos."
*Painting by Daniel Gerhartz