Practical Skills to Know Before Marriage
Practical Skills to Know Before Marriage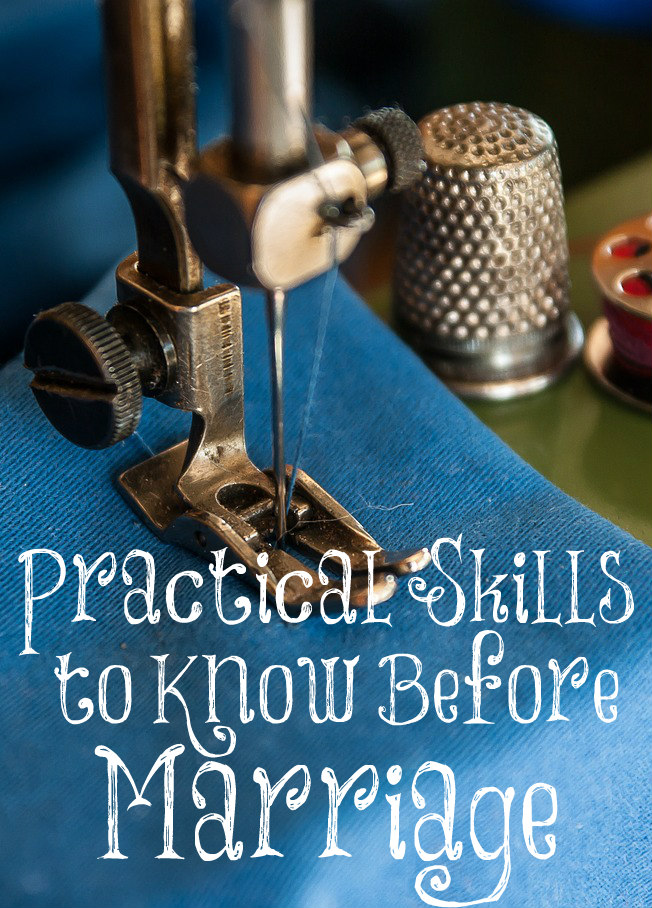 Our culture doesn't prepare young women for marriage. The churches and the schools don't. Most mothers aren't preparing their daughters for marriage and neither are the older women in the churches, so most women go into marriage knowing little about being a wife, mother, and running a home.
I asked the women in the chat room what practical skills they wish they knew before marriage and this is how they answered.
They wish they had learned how to cook healthy meals for their families and knew how to bake. Many wished they were taught how to maintain a cleaning schedule and knew how to organize their homes more efficiently. Some would have loved to know how to sew, can, knit, knew about herbs and natural healing, and gardening. Others wish they had learned how to budget and shop frugally. One wish she knew administrative skills. Others would have loved to know how to stay calm and not be led by their emotions. Most wish they had been taught how to be a submissive wife from the beginning.
Debi Pearl made a list in her recent magazine of things young women should know before marriage. "Mamas have to know a LOT about vaccinations, drugs, chemicals, homebirths, banking and financing, homeschooling, …" Young women should also be wise and not go into marriage with debt so they can be the ones home full time with their children if and when the Lord blesses them with children.
We are to train our children in the way they should go so that when they grow up, they will not depart from it. Mothers, raise your daughters with all of the knowledge they will need to be a wife, mother, and manager of a home. You are doing your daughters a huge favor by doing so. One mother I know trained her daughter to be neat and tidy with her room. That daughter grew up to be neat and tidy in her own home. Anything you train your daughters to do while they are young, you are doing them a huge favor since it will come more naturally for them when they are grown. Also, teach them the joy of being a wife and mother by being joyful yourself. Let the joy of Jesus shine forth from you to your children!
Here is how one woman in the chat room responded to my question.
"My Mom did an excellent job in training us girls how to be homemakers. All four of us girls were making our own dresses before 12 years old. We were taught to garden, how to can (preserve) food from the gardens, how to makes, jams, jellies, bake bread, cook, clean and laundry. The summer I was 14, my Mom was unexpectedly hospitalized for two weeks. I took over on my own, cooking for my Dad, GrandPap, and older brother, also cleaning, laundry, garden and canning on my own. My brother picked the apples from the tree using a ladder for me.
"After Mom was home awhile, she mentioned what a shame the apples had to go to waste. I said, 'Mom, I canned them! Forty some quarts of applesauce! Plus I baked some apple pies, and several for the freezer!' Her big smile and 'Good job, Rachel,' made it so worthwhile! I continued taking care of the housekeeping, cooking, and the garden, as Mom did very little for six to eight weeks. Our Dad made sure us girls could do basic car maintenance and tire changing before we were allowed to get our drivers license. I had very wise parents."
Train up a child in the way he should go: and when he is old, he will not depart from it.
Proverbs 22:6