The Time I Was Never Nearly Raped
The Time I Was Never Nearly Raped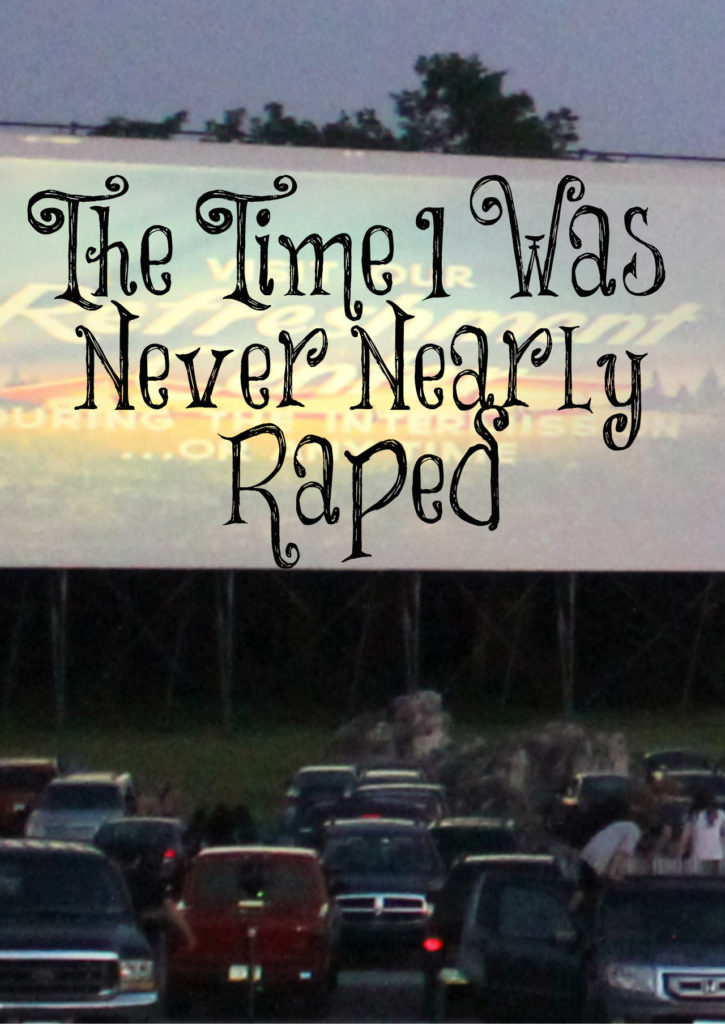 Amazon allows anyone to write a review of a book without purchasing it, so I am receiving a number of one star reviews from trolls who haven't read my book but are on a crusade to discredit it. I mostly ignore the trolls, and my sister warned me to not read their reviews. (She just finished my book and loved it!) No one likes being continually insulted and slandered, however, but when I read Paul's persecution my woes cannot compare. God is never surprised, especially by opposition."Therefore we do not lose heart, but though our outer man is decaying, yet our inner man is being renewed day by day. For our light affliction, which is but for a moment, worketh for us a far more exceeding and eternal weight of glory." (2 Corinthians 4:16, 17)
There is one review (yes, I peeked), however, that I want to respond to since it is so far from reality. (I have no idea how they know about this incident in my book since they were not listed as a "verified purchase" on Amazon but somehow trolls will stop at nothing to find out any possible dirt in the lives of those they hate in order to destroy, just as the enemy of our soul does.) "Lastly, her description of the near-rape horrified me and I am terribly sorry that she had to go through that. But I heard absolutely nothing about whether or not she went straight to her parents, his parents, the principal of the school, and the police, who should all have been IMMEDIATELY informed. In doing so, you not only protect others, but you might also save the poor guy from a life behind bars. She says nothing about the aftermath of this, and I believe that is crucial to her credibility. I am waiting to hear about what happened here… I am hoping she will clarify this."
So let me clarify this for her as I was hardly "near-raped,"and there was nothing to report to anyone. The summer before I turned sixteen, I was going to the beach often with a group of high school friends. One of the boys in the group was good-looking and I had a crush on him. My mom would not let me date until sixteen, so on my sixteenth birthday he asked me out and of course, I was excited to go. He took me to the drive-in theater where, for you who are too young to know, we watched movies from the comfort of our car.
As the movie began, we snuggled up together and soon after, he began to kiss me. The next thing I knew he slowly push me over on my back, my feet still firmly planted on the floor of the car, and immediately I knew this was not something I wanted or was enjoying. I said to him, "I don't want to do this. Please take me home now." He immediately pulled himself up, started the car, and angrily drove me home. That's it. No attempt to feel me, no trying to undress me, just a bit too frisky and aggressive for this young and inexperienced teenager. I felt no fear, but certainly was disappointed that this guy who I had liked had a bigger interest in making out than he did in enjoying the evening with me. (I had a lot to learn about guys!) We never dated again.
So I appreciate the insincere troll's comment trying to make a big to-do about nothing as it gives me the opportunity to not only set the record straight but to give my views on this important matter. To say this is near-rape is not only maliciously wrong, but it minimizes all the women who are truly raped or "nearly raped." Imagine if every woman who had a man make an unwanted  sexual advance to them simply said, "I don't want to do this. Please take me home now," and the man's response was to start the car and take her home. Is this not proper dating etiquette or has feminism taken us so far that we are to have all men everywhere ask permission before making any affectionate advances?
"Hey, Lori, do you mind if I kiss you now?
"I like the feel of your warmth on my shoulder, can we hug now?"
If you have grown up in highly-sexualized America without any godly parental teaching, you understand that many guys will try to go as far as they can with the women they date. Unless we want to legislate all physical relationships in dating, we have to recognize that worldly "love" has a sexual component to it. Do we really expect every young woman who finds herself in my situation to have her mom call the high school principal each time a guy tried to make out with her?
"Hi, Principal Smith, this is Mrs. Falk and my daughter went out on another date this week with one of your students who stepped over the bounds of being a gentleman by pushing himself on top of her. I know this is my sixth report this year, but just because my daughter is a cheerleader does not mean these guys should be trying to take advantage of her. Are you talking to their parents?"
"I am so sorry to hear this, Mrs. Falk, but you can call his parents directly and discuss this with them. Is this something the police should be involved with?  
"Oh, no. Once Lori told him to stop and take her home, he stopped and took her home."
"Well, maybe you should encourage your daughter not to date, or to make clear to her dates exactly what is and is not acceptable to her before the date starts."
If this was a Christian high school, I might see it but really, a public school with a thousand hot-blooded testosterone filled teenager guys? This would be impossible for any school to police. My mom grew up before the 60s sexual revolution but she still understood young men and their sexual attraction to females. That's what young guys and girls do unless they are taught otherwise.
Anyone who reads what I write knows that we taught our children to not go out on single dates until they were eighteen years old, and even then encouraged them to only single date the godly ones they thought were potentially marriage material. They knew all about modesty and keeping the marriage bed pure which includes before marriage. I was not brought up with this stronger coaching, so I had to say "No" to most of the guys I dated.
We have just as big a problem today it seems with female teasing and promiscuity leading guys on. Guys still need to stop when told "No" but young women who claim to be Christians must stop wearing the skimpy thong bathing suits in front of the young men or a bra-less dress or shirt that the guys can look right down into and see everything, then wonder why the guys are making unwanted sexual advances. Entrapment is illegal for police and it should be illegal for women too. To believe that men must just control themselves no matter how a woman dresses or acts is just plain wrong. Did I lead some of my dates on by my skimpy cheerleading outfits, short shorts, and flirting? I am sure I did, but thank God the guys I dated still had the moral fiber to respect a woman when she said, "Okay, that is enough." For godly young adults, it is far better to group date and stay away from any dating just to date. Instead, only single date those who are marriage material and godly, and if they make unwanted sexual advances, maybe you need to reconsider if this is the one for you.
My near-rape experience is a figment of a troll's imagination, but it points out a huge issue in today's world. Our world has much real sexual abuse, and no sex before marriage is defensible. But it does a huge disservice to society to create sexual abuse in places it does not exist. Let's be protective, but let's not try to change the world into one that takes the minor and blows it up into something it is not. Practicing sin is the condition of the unredeemed heart and that condition will only change when Jesus enters the heart and makes it brand new. We as believers live in this world, so let's be careful and cautious, not be naive to the world's ways. Don't be swayed when it comes to insincere trolls who violate their own values to try to deceive others just because they dislike what the church has taught for the last 20 centuries until now, the "New Age of Women" which is not godly at all.