Their Affection For Each Other
Their Affection For Each Other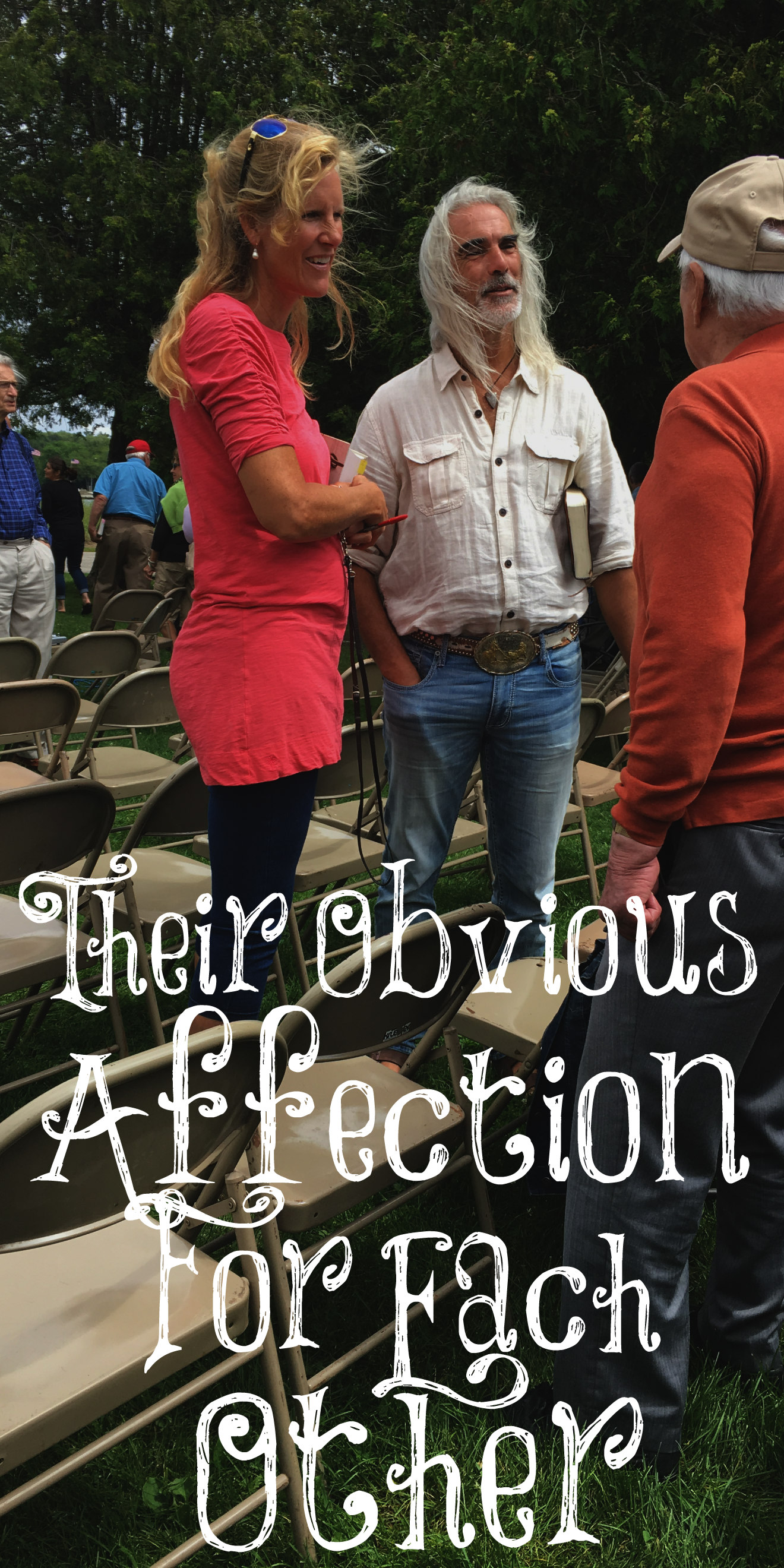 Last Sunday, our church held their service on the beach at Lake Michigan. We are in Door County, WI where we've come almost every summer since I was a child. My grandpa built a cabin up here in 1959 and then my dad built one right next door thirty years ago so we've always loved coming here.
During the service, there was an older man with long, gray hair in front of us sitting next to his wife who had long, wavy blond hair. I noticed that he was continually putting his hand on her back and around her waist. It was easy to notice how much affection he had for her. Her Bible was laying on the ground in front of her and was all marked up so I could tell she was a woman of the Word. When she sang, her arms were lifted high in the air praising the Lord.
When the service was over and they turned around, Ken asked if he was a part of the Gaither Band. I then remembered last week someone telling me that the young, tall handsome man who sings up front was one of the sons of Guy Penrod who sang in the Gaither Band and then it all made sense. The couple I was admiring was Guy and his wife, Angie!
I then found out that they have eight children! Many of them were standing right in front of us next to their parents; all of them were very tall boys. They have seven boys and one girl. There was a baptism after the service and I saw Angie come up behind Guy and wrap her arms around him. Anyone watching them could tell they have a strong and happy marriage.
It's rare to see a couple interact the way they did and knowing they've been married a long time and have so many children makes it even more special. They are witnesses to all around them the value of having a good marriage and children. Their children are blessed being raised by parents like them. This shouldn't be rare among Christian couples but it seems to be, unfortunately.
Guy wrote this on his Facebook page on his 30th wedding anniversary: "When Angie and I married almost 30 years ago now, we could have never known how much we would learn from one another about love, life, and God Himself. As believers, whether you are married or single, God has chosen to show us how He wants to relate to us by using the model of marriage.
Angie and I hope that you will press into the presence of God more each day of 2015, remembering that good communication done often, is the key to an ever deepening relationship of any kind. Love God, and each other, the way He says to and the rest falls into place! LOVE NEVER FAILS! (1 Cor. 13:8)"
Here is a video of them from 2006 and Guy said about his wife Angie, "She feels like she was put on this earth to be a mama!" Yes, the picture above is one I sneakily took of them after the church service. They are a beautiful family and I felt privileged to be able to have a small glimpse into their lives.
Let thy fountain be blessed: and rejoice with the wife of thy youth.
Proverbs 5:18