Traditional Families are More Productive in the Long Run
Traditional Families are More Productive in the Long Run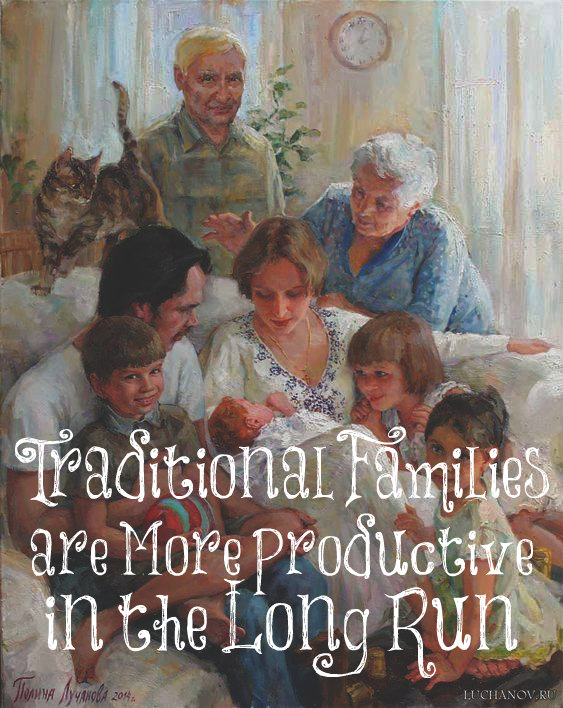 "In simple English, it turns out that households with a homemaker who specializes in childrearing, while the other parent focuses completely on their career, tend to be more productive in the long run." This quote is from an article called, "Families With a Stay-At-Home Parent Are Better Off, According to a Nobel Prize Winner in Economics." The author supports the notion of women being keepers at home and men being the providers and gives plenty of evidence why this is best.
"In his 1981 book A Treatise on the Family, Becker analyzed the household as a sort of factory, producing goods and services such as meals, shelter, and child care. One of the interesting discoveries found was that, in order to maximize household output and wealth, once a family has kids, it's generally better for one parent to stay home and run the household while the other parent with the higher income potential focuses 100 percent on work and maximizing their career.
"When the members of a household specialize in their respective fields, they're able to maximize the total output of their economic production. A breadwinner who doesn't have to worry about housework can dedicate their focus on optimizing their career track. For example, a husband whose wife is a full-time homemaker can dedicate his focus completely on his work outside of the home. If their child falls ill, the breadwinner won't have to worry about asking his employers for time off to stay home and care for the sick child."
The author goes on to give all of the benefits of clearly defined roles in the home. Imagine that! God's ways are perfect, as if this is any surprise to those of us who love the Lord and His ways. When the wife is a homemaker and stays home to care for her home and children, the husband can pour all of his energies into his job and not have to worry about sick children, running them to sports activities, cooking, and cleaning. There's a good reason that God said that it was not good for a man to live alone, thus he needed a help meet.
Bearing and raising children along with running a household is a lot of work but so it working in the workforce to provide for one's family. When each spouse knows their role and works hard at it, much good is accomplished. There is beauty in order. Marriages are stronger and children are happier. Men and women weren't created to do it all. A man who works hard for his family should not have to come home and clean the home and care for the children. If he does, great but if he doesn't, that's great too since he's working hard so his wife can stay home full time with the children to care for them and the home.
In the same way, a woman who has to bear and raise children and care for the home should not have to go into the workforce to provide. When this happens, something suffers and it's usually the marriage. That's way too high of a cost to pay for a wife to have a career. What if the husband wants her to work? Please, women, discuss this before marriage! If you're already married, ask the Lord daily to convict your husband and change his mind. It's a lot easier to live simply and frugally when a wife is home full time. The children need the mother at home.
If you have the privilege of having a hard working husband so you can be home full time with your children, be careful to live within his income. Cook food from scratch. Learn contentment with what you have. Learn to do without. Work hard in your home. Be productive. Be like the Proverbs 31 woman and be known for looking well to the ways of her household.
She looketh well to the ways of her household, and eateth not the bread of idleness.
Proverbs 31:27