What Happened to Church Discipline?
What Happened to Church Discipline?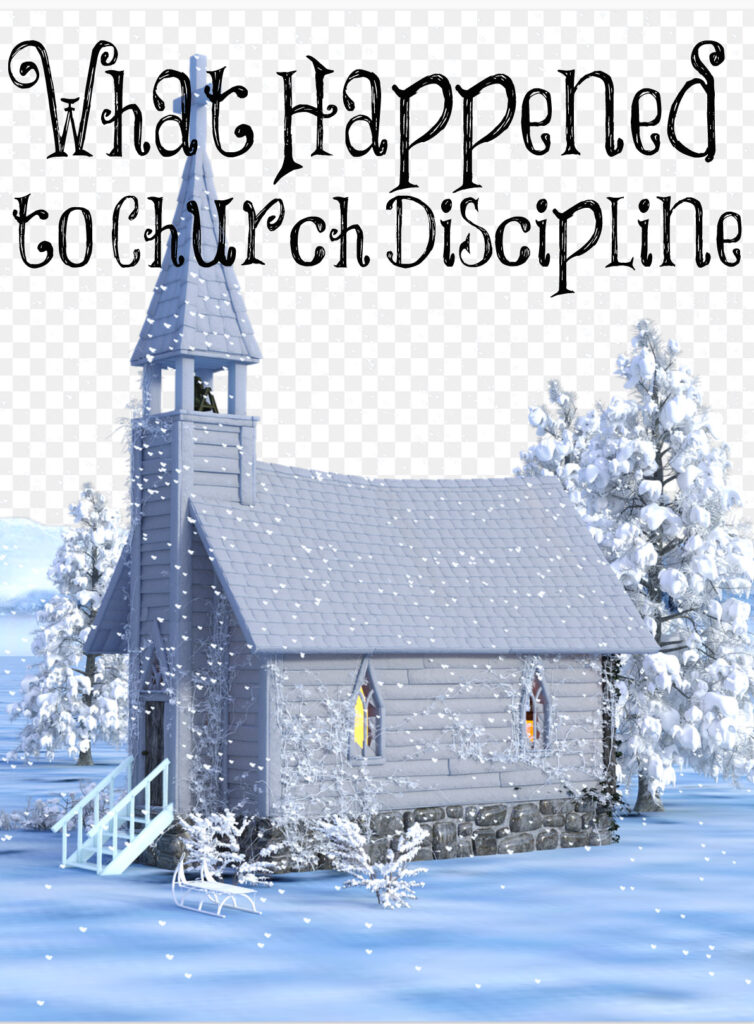 Years ago, Ken and I mentored young couples who wanted to marry. This was at a large church near us. The head of this pre-marital ministry once told us that he had been doing this for over 30 years. When he began, the vast majority of couples were not fornicating nor living together. Now, the vast majority are, even though they have all grown up in this church. What happened??? (This same church forbid me from teaching women to submit to their husbands, since this causes "boatloads of abuse" to happen. The head of the women's ministry told me this, and went to an elder to make sure I obeyed her.)
Every season, I do a Question and Answer on my Instagram stories. Last week, one woman asked me why a church would discipline a couple who were fornicating. "Doesn't everyone sin? Shouldn't everyone experience church discipline?" The reason this church where we mentored is full of fornicating couples now is two-fold, maybe more.
Churches have grown dark and loud. They sing Hillsong, Bethel, and Elevation music which are heretical churches teaching false doctrine. This atmosphere, which is like a bar or rock concert, and these songs appeal to the emotions and the flesh. "Rock concerts are designed to give you an emotional experience. Everything works together to entertain you. They want to make you feel good, to feel euphoric. You should have fun, and you should want to buy more product. Worship of the Christian God is not about fun, good feelings, entertainment, or euphoria. Worship is laying down our lives, honoring the God who died for us, and receiving his grace. That has nothing to do with rock concerts." (Thomas McKenzie)
McKenzie asks some probing questions:
"If you are in a room that has been darkened with all the lights on a single person or small group, if you can only hear them and no one else, if one person's face looks down on everyone from a tall screen, whom are you meant to worship?"
"When you sing praise to God, why isn't your voice good enough?"
"Why does your voice have to be drowned out by a sound system?"
"Why can't you hear your neighbor sing?"
"Why is it necessary to have a close up look at the preacher or singer on a giant video screen?"
There is no church discipline happening in most churches. This would offend many. Most churches look more like the world than they do churches that are to be set apart and holy. Few pastors give strong sermons on sexual purity before marriage and exhorting the young people to obey God in this area. Sermons are watered down in order to not offend the congregation. The leadership is appealing to the younger generation and the unbelievers.
When I was growing up, the churches were bright and hymns with rich theology was mostly sung. Women did not speak in most churches, at least, none that I ever attended. There were still plenty of lukewarm churches, but the singing was mostly biblically accurate, and churches weren't supporting false churches by singing their false songs. Remember, God commands that we worship Him in Spirit and in Truth (John 4:23).
Now, in all of these churches that have grown dark and loud, I can assure you that women are speaking up on the stages. They are giving announcements, praying, leading the singing and giving little mini-sermons in between songs. There may be even some well-known elderly women who gives a "talk" for the sermon. Women are no longer required to be silent in these churches. They have grown lukewarm. Instead of using the churches to build up the body of Christ and obey Him, they are seeker-friendly and are growing cold.
Yes, churches should be practicing church discipline. It's biblical! Young couples shouldn't be able to fornicate and live together without any consequences. Husbands and wives who attend shouldn't be able to continue watching porn or engaging in an affair without some higher accountability. Blatant, ongoing sin should be weeded out of the churches. God tells churches to do this! This is protection for the church and its members. Women shouldn't be able to speak in the churches. They are commanded to learn in silence with all subjection.
Women, find a biblical church. We have found one and love it! The entire focus is upon Christ and His Word. The singing is focused upon this. The Church obeys God's instructions to it. There is church discipline. The pastors and elders are all men. Here's a link you can find one hopefully near you. Drive a ways to find one. This will not only be a blessing to you but to your children as well.
Purge out therefore the old leaven, that ye may be a new lump, as ye are unleavened…For what have I to do to judge them also that are without? Do not ye judge them that are within?
1 Corinthians 5:7,12