When His Life is Out of Control
When His Life is Out of Control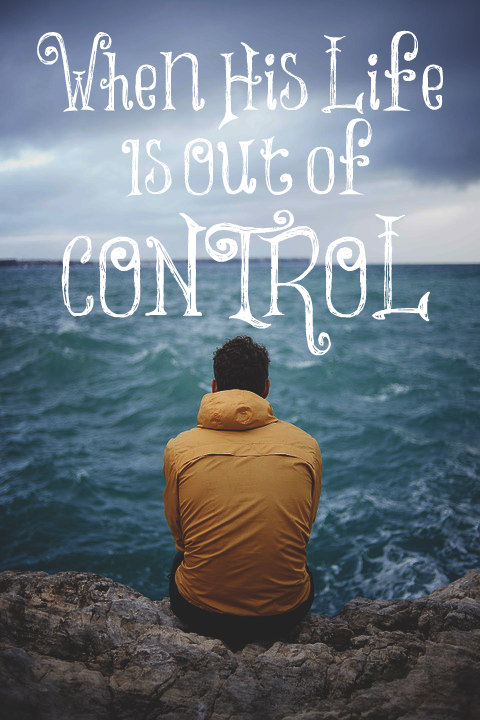 TheJoyFilledWife and her husband went through some difficult times in their marriage. Her husband was deeply addicted to pornography and it was devastating to her. Often, addictions, such as this, make those who are addicted mean and controlling. During this time, her husband agreed to see a counselor with her and this counselor turned out to be amazing. It's almost impossible to find one who will teach the hard truths to the husband and the wife but the one they found did. Here are some things she wrote to me about her counselor and what she learned.
You couldn't be more correct that counselors, like the one we had, are very rare indeed. In fact, my husband and I saw several counselors before we came to the one that the Lord used mightily. They are a gift from God and I never took that for granted for a second.
Truth be told, our counselors were introduced to us through an association that we keep. I would love to share more about them, but that would make it impossible for me to keep my identity anonymous. I may ask them if they recommend any resources for people who are in need of some truly Godly counsel.
One bit of material my husband and I went through individually is the workbook "The Mind of Christ" by T.W. Hunt. I warn you – it is not for the faint of heart! Much like "The Excellent Wife" book, it will challenge you to your core. It will turn you inside out and expose all the sins inside of your heart that you thought weren't even that big of a deal. Even if your spouse refuses to seek counsel, I recommend that you do this workbook on your own if you want the Lord to do a mighty work in your heart.
The workbook is not easy to find. I had to search on Amazon in the used section to get it. Sometimes it's available and sometimes it's not. It will blow your mind and could even overwhelm you, if you don't seek the Lord's guidance as you go through it. Ask the Lord to work through each sin in your heart one by one. I couldn't recommend this enough to the believer who desperately wants a heart and mind transformation to become more like Christ.
My counselor explained to me that my husband felt like his life was out of control and that my rebelling against his unreasonable micromanaging would serve no purpose but to feed the desire to control more. They emphasized the importance of me always checking my heart and that I needed to remain as "behind the scenes" in my habits that angered him as much as possible. If I insisted on putting up a fight, even though he was unreasonable, it would only serve to drive him further away out of feeling like he also was losing his authority in his marriage. I decided to keep snacks in my bathroom drawer and my purse so I could take a few bites while I went out to get the mail or was in the other room. Was he unreasonable to become upset about me eating a slice of bread four hours after my last meal? Yes. But my counselor helped me see that I needed to avoid being a distraction as God worked on my husband's heart. My husband apologized to me later that night for being controlling about the bread.
Because my husband's addiction caused him to become a man he wasn't proud of, he would often take his inner frustrations with himself and project them verbally onto me. He would blame me for things I had no part in, would become angry that I didn't meet an expectation he had failed to communicate to me, and, on one occasion, belittled me in front of our guests for not having dinner completely ready when he walked through the door with them, even though he had failed to call me and let me know they were heading over, as agreed upon.
My counselor explained to me that my husband was projecting his feelings of failure and inadequacy onto me because he was not happy with himself and the choices he was making. Pornography addictions are built upon a foundation of selfishness and it was easier for my husband to shift blame than to own up to his own failures, when he already was overwhelmed by the shame of his failure to resist his sinful addiction for so long. The counselor guided me to not respond to my husband in front of others or to fight with him when he lashed out at me. Instead, I was to calmly and firmly explain to him, privately, that I was not responsible for the failure he was angry about and how it made me feel when he belittled me in front of others. After that, I was not to carry on or get into an argument, no matter how much he wanted to fight. The counselor warned me to keep my heart and spirit in the right place in these situations, so the devil would not gain a foothold with me and perpetuate the situation further. I was to be an instrument of peace. Not a doormat to walk all over, but a wife with inner strength that uses her tongue to impart peace amidst the war within my husband's heart.
My husband was very unhelpful with our children during the time of beginning to overcome his addiction and would gripe if I asked him for even a small favor. I did not ask him often, but there were times when I was incapable of accomplishing two things at once and he would refuse to help out. My counselor showed me that taking care of the children was my God-given responsibility and that I could show my husband respect and build him up as a husband by taking on all of the responsibilities in this area and thanking him for how hard he works to provide for us.
I'll never forget the counselor's first words to me when I asked what I should do when my husband refuses to help: "Don't fight a battle that's not worth dying for!" Those words rang over and over again in my head. God had bigger things to work on in my husband's heart than unhelpfulness. I did not need to dwell on the smaller things and make them as big a priority as the serious stuff. The small stuff would be ironed out over time after the Lord refined my husband and helped him break the chains of his addiction. We are currently at the place where God is working on the medium to small things now and it has been such a blessing to come home now from running errands to children that have been bathed and put to bed!
During the progression and height of my husband's addiction, I was denied sexually almost every single time I asked. There was always an excuse made why he couldn't do it. Usually he would say that he was too tired or in a bad mood, even though he would stay up for hours afterward doing other things. I tried not to nag him about this, but did come to him several different times and let him know that I was struggling greatly with temptation from lack of intimacy in our marriage. He would simply respond, "Maybe in the morning."
My counselor explained to me that, while my husband was clearly sinning by defrauding me, the selfishness that comes from porn addictions, as well as the fact that he was already meeting his sexual needs through that outlet, was responsible for his sin in refusing me. He had trained his mind to mentally "dispose" of images that no longer excited him in search of a more exciting image. When you train your brain to become aroused by two dimensional images, it's a lot harder to be interested in your real life relationship with your wife. It had nothing to do with my value as a person or my physical attractiveness, but he literally trained his brain to seek arousal and fulfillment from things that will never satisfy.
When he had just met his own sexual desires in sinful ways, he no longer felt a need for intimacy with me. As hard as it was to do, my counselor told me that when I felt temptation coming on, to go into the other room after my husband falls asleep and work out as hard as I can to release excess energy. Once I finished that, I should spend time in the Word and in prayer for myself and my husband. I needed to memorize Scripture and inundate my mind with the Truth. That was the only way to resist the enemy.
Therefore, my beloved brethren, be ye stedfast, unmoveable, always abounding in the work of the Lord, forasmuch as ye know that your labour is not in vain in the Lord.
1 Corinthians 15:58
*You can read more of TheJoyFilledWife's posts HERE.