With Age Comes Wisdom and Experience
With Age Comes Wisdom and Experience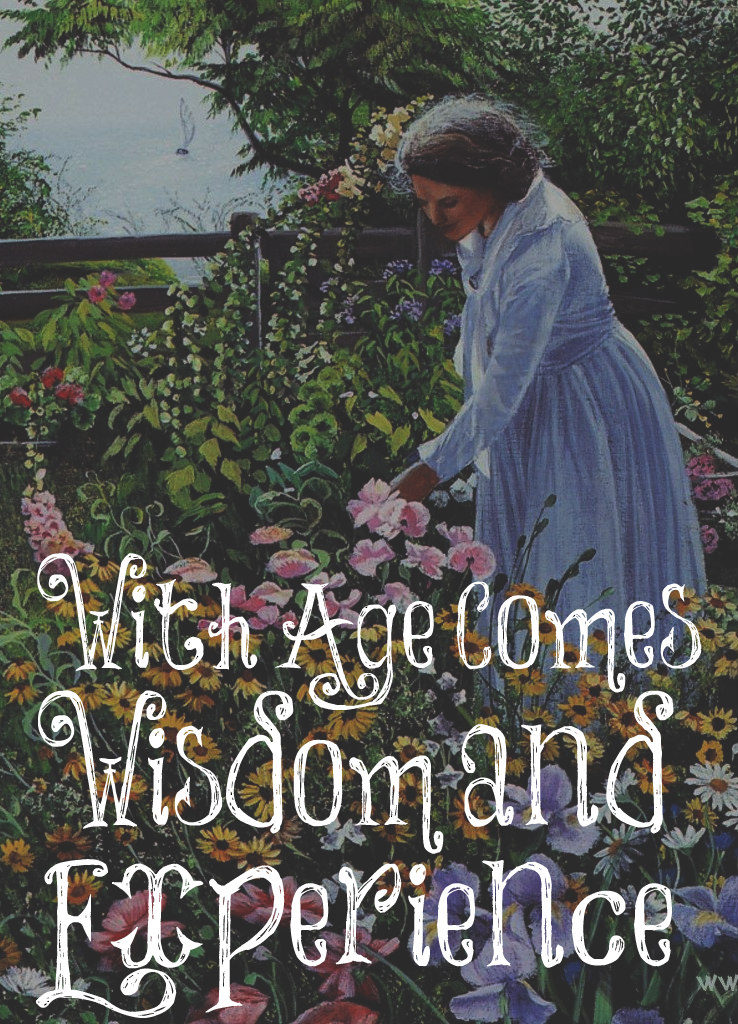 The Apostle Paul had a good reason for using the word "aged" when he commanded the aged women to teach the young women in Titus 2:3-5. The aged women have wisdom and experience that the young women don't have. They have raised their children and have time to teach the young women. A few month ago, I wrote about young women bloggers divorcing and received a few great comments from aged women that may be of interest to you!
Debby in Kansas, as she goes by when she comments on my blog, wrote this: "This reminds me of a Valentine's day several years ago. My husband and I were watching the news and they had a celebrity couple on to talk about how they keep romance in their lives and their secrets to happiness. We both exploded into laughter because this couple hadn't even been married six months! At the time, we'd been married 20 or so years…and they're going to give US advice about marriage?! We both said the same thing. Bring on the couple celebrating 50 years!! The young pups they had were still on their honeymoon!"
Then Kelley responded: "EXACTLY! Ridiculous. Paul taught Timothy that aged women were to teach the younger. While I realize that, if you're 16, a gal who's 18 is older than you, Paul didn't say the 'older women.' He said the aged women. There's the difference.
"When I, too, reflect on the lofty advice and opinions I barked in my 20s and 30s, I blush in embarrassment. In my 40s, I earnestly began hungering and thirsting after a godly wifehood and motherhood. I began quizzing aged women whose husbands demonstratively adored and cherished the wives of their youth. In my 40s, I desired eyes to see and ears to hear.
"In my 20s and 30s, I was a brilliant know-everything. In my 40s, I was ignorant and unlearned. In my 20s and 30s, I called the shots and declared, 'My way or the highway.' In my 40s, true life began! I began seeing my husband for the man God made him and wanted him to be, and I began seeing myself as his helper to make that happen.
"Fortunately by the time I had come to myself, my husband had not chosen to leave his oft-foolish wife for some 'bimbo' whose words and actions put him first in an (adulterous) relationship. He had chosen to stay with the likes of a rotten wife. God bless that strong, valiant man.
"Younger women bloggers and motivational speakers who have lost their marriages (and their children) have also lost their witness, their voice, their testimony. The choices they made inspired the choices their husbands made: 'I'm outta here, headed for greener pastures.' Most of these women have no one to blame but themselves. When you cause the Word to be blasphemed, what do you expect?
"Stay off the computer, younger women, and your devices. Keep the main thing the main thing. GET INTO, climb into, crawl into, hide yourself in the Word of God. Listen to the reaches of godly, aged women. You'll have no regrets for your own wiser choices then, and a very strong chance of 'helping' a grateful, fulfilled husband who sings your praises and children who rise to call you blessed."
Her children arise up, and call her blessed; her husband also, and he praiseth her.
Proverbs 31:28