Those Who Have Many Children Shall NOT Be Ashamed!
Those Who Have Many Children Shall NOT Be Ashamed!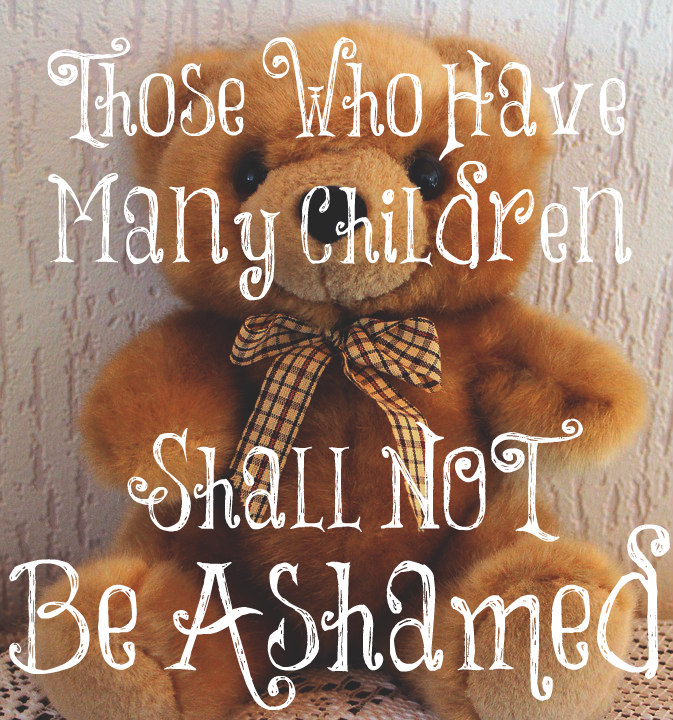 "Lo, children are an heritage of the LORD: and the fruit of the womb is his reward. As arrows are in the hand of a mighty man; so are children of the youth. Happy is the man that hath his quiver full of them: they shall not be ashamed, but they shall speak with the enemies in the gate" (Psalm 127:3-5).
A heritage is usually tangible like money or an estate. It's inherited from someone else. Reward means something is given such as money or a trophy for doing good or winning a contest of some kind. God calls children a heritage and a reward. They are gifts from Him. They are to be valued and treasured above all the stuff this world has to offer.
Happy is the man who has a quiver full of children! Many in our culture try to shame men and women if they have more than one or two children. "You're overpopulating the earth." "Don't you know how to prevent those?" They value the creation over the Creator. God tells parents of many children that they shall not be ashamed! Children are blessings from the LORD!
"Thy wife shall be as a fruitful vine by the sides of thine house: thy children like olive plants round about thy table." (Psalm 128) Have you seen a fruitful vine by the sides of a house? It's usually full of flowers that eventually produces fruit and is beautiful! This is how a wife is described who is open to marrying and bearing children. God calls this good! The children shall be like olive plants around the table. Another good thing!
I looked up the characteristics of olive trees. They are known for their longevity. They're prolific, indestructible, unparchable, ancient, and sacred (the olive branch). I love that God equated children with olive plants! All the stuff that we are accumulating, the trips we take, our college degrees, our careers, the money we may make, and the things we do are NOTHING in comparison to having children; for they are eternal souls who will last forever.
Godly offspring are indestructible! If raised in godly homes to be Christians, they won't be affected by our wicked culture because their roots will go deeply into the Word and they will live eternally with the LORD (unparchable). They are the gifts that keep on giving by giving us grandchildren and great grandchildren (prolific). They are gifts from God (sacred). God knew them from the foundation of the world (ancient).
God in His Word has only good things to say about children. It's His will for married couples to have children and have a quiver full, if they are blessed with them. This is completely opposite of what the world is telling women to do. This shouldn't surprise us. The prince of the power of the air (Satan) holds many captive in this world and lives to deceive women away from God's will. He hates marriage. He hates children. He especially hates godly families.
God's will for young women is to "marry, bear children, and guide the home" (1 Timothy 5:14), to love their husbands and children and be keepers at home (Titus 2:4, 5). It's a good will, women. In fact, it's good, and acceptable, and perfect for you! Why would any godly women want anything other than God's will?
For my thoughts are not your thoughts, neither are your ways my ways, saith the LORD. For as the heavens are higher than the earth, so are my ways higher than your ways, and my thoughts than your thoughts.
Isaiah 55:9, 10