When NOT to Obey an Older Woman
When NOT to Obey an Older Woman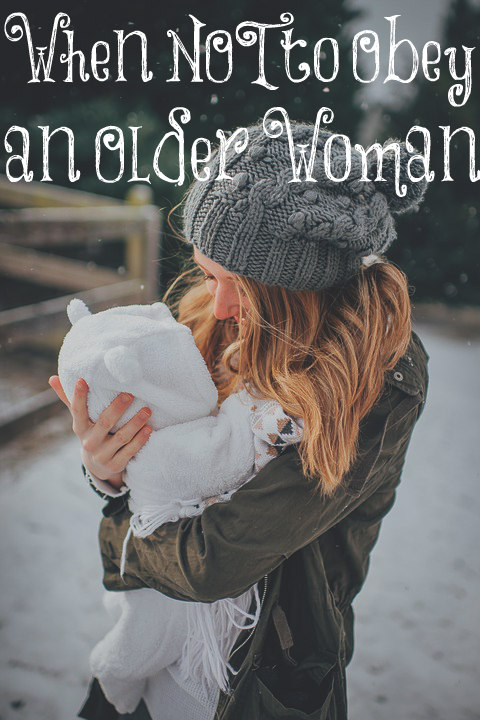 There was a woman's journals I read years ago. She was an older, godly woman who I greatly admired. She had many children and raised them in the nurture and the admonition of the Lord. Her children were all growing up to walk in Truth. BUT she was adamant about mothers co-sleeping with their children and nursing their babies on demand. In fact, they usually had four children in their bedroom, two in their bed and two on the floor. She said children wouldn't suck their thumb or need a pacifier if you nursed them whenever they wanted and this is the way it should be! She wrote that those who didn't co-sleep and nurse on demand were bad mothers and seemed to imply that they were in sin.
Well, I didn't co-sleep nor nurse on demand and I knew I wasn't a bad mother or sinning. Just because she taught this strongly and said how important these things were didn't sway me. I don't think mothers who choose to co-sleep or those who don't co-sleep are being bad mothers. If they are co-sleeping against their husband's wishes, then they are disobeying their husbands and being bad wives. I don't think mothers who nurse on demand or those who have their babies on a schedule are bad mothers. I don't even think those who give their babies formulas are bad mothers UNLESS it's simply for convenience sake since nursing is much healthier for babies. Even then, I would still have a hard time calling them a bad mother. I would say they weren't doing what is best for their child.
The problem I have with all of these issues is how cruel women can be to those who hold positions different than theirs. These aren't salvation issues. They aren't even biblical commands! There is NO verse that states you must co-sleep with your children. (We sure didn't! We couldn't sleep with our children in our bed and sleep was way more important to us than co-sleeping.) There is no verse that states you must nurse on demand or not allow your baby to cry it out or how long to nurse. No, all of these are freedoms that each mother and father get to decide on their own. Yes, I have my opinions on these issues but I sure don't mind if others hold different opinions.
What can happen if an older woman teaches that part of "loving your children" is co-sleeping with them? Then mothers who aren't co-sleeping feel guilty, go home, and tell their husbands that they are going to co-sleep for now on since this older woman said they must in order to love their children. This isn't the way it works, women. Decisions such as this one must be okay'd by the husbands or they shouldn't be done. Some women co-sleep against their husbands' wishes and use it conveniently as a way to deprive her husband sexually. She is disobeying God on two counts now. She is disobeying her husband and depriving him sexually (1 Corinthians 7:5).
Everything you are taught to do, compare it with scripture. If it is not in the Word of God, then discuss it with your husband. Give your reasoning for choosing to do something and then let him decide the matter. This is submitting to your husband in everything as you are commanded to do! Even older women can be wrong at times. Always check scripture and talk it over with your husband. Yes, please do this even with things I teach you. A much more important part of loving your children rather than co-sleeping and nursing on demand is by loving your children's father, obeying him, and putting him first.
Therefore as the church is subject unto Christ, so let the wives be to their own husbands in every thing.
Ephesians 5:24