Where is a Mother's True Mission Field?
Where is a Mother's True Mission Field?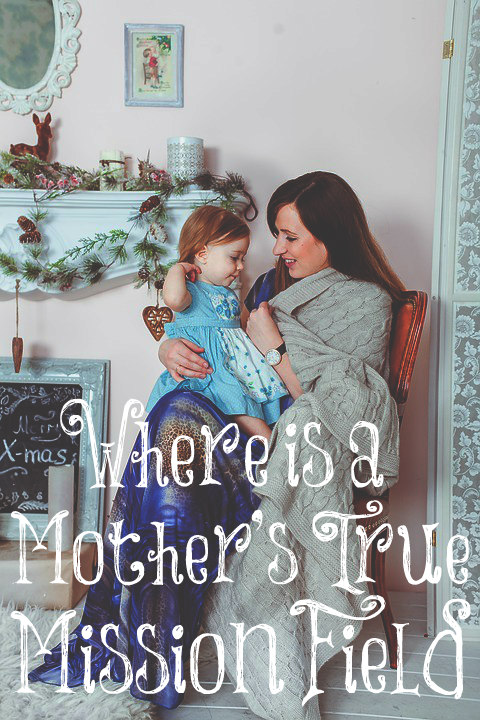 Instead of God's Word causing conviction in many women's lives, it most often causes them to feel shame and offense. Women who truly love God and His ways aren't offended by any of His commands! His Word causes conviction and changes behavior in their lives.
Here is a comment I recently received by a woman on one of my posts about being a keeper at home. "I am a godly woman/mom and God blessed me with the gift of teaching. I became a teacher. And, my students became my mission field. I find your articles hurtful and guilt-ridden. This hurts my heart."
I was blessed with the gift of teaching as well. In fact, I went to college and received my teaching credential. I worked the first two years of my oldest child's life. I was absolutely exhausted! I felt like I wasn't a good, wife, or mother. I have asked women who were raised by mothers who were teachers and they felt their mothers gave their all to their students and had little left for them. We weren't created to hold a full-time job on top of being a wife and mother. Something or someone always suffers.
I asked the women in the chat room how they would respond to this woman. Here are their answers:
 "If she truly feels that this is God's calling for her, why does she feel guilty?" (Kylene)
"I would simply say, 'My intention is to share what the Word says. What I teach is not merely my opinion, but God's clear teachings.' She isn't hurt by you. She's hurt by her own disobedience. Pray she repents and submits to His Word." (Paige)
"The guilt she is feeling is likely the Holy Spirit. God's truth is sharper than a two-edged sword. Don't let Satan use these pathos arguments to dull your ministry. It's too important!" (Guisel)
 "I think as godly women we are called to serve our families first. She may feel that her students are her 'mission field' but this is at the cost of her family. If she is feeling hurt and guilt, I would encourage her to think further about why she is feeling this way." (Alicia)
 "Teaching other people's children can be a good thing, but not when you leave your own children to do it. Our first and most important mission field is our own children. We have to prioritize the children specifically entrusted to our care by God. God holds us directly responsible for them. I was also gifted to be a teacher, but God gave me that gift primarily so that I can teach my own children. That is the proper place for my gift to be used." (Lindsay)
"She should be teaching her own children. Her OWN CHILDREN should be her mission field. She has abandoned her post. No mother should be able to, in good conscience, trade the well-being of her own children to pursue her own gifts. This is why she feels guilty. God might have given her this gift and that is WONDERFUL but it isn't being used for the kingdom if it's being used outside his perfect will. She may feel 'hurt' but feelings are not the truth. What's really happening here is conviction." (Sarah)
"Too many women are looking for a mission field because they don't think the one God gave them is enough. 'Mission field' is also the term used to excuse sending children into secular schools. I think it's become a common excuse to spiritualize unspiritual choices." (Tammy)
And ye shall teach them your children, speaking of them when thou sittest in thine house, and when thou walkest by the way, when thou liest down, and when thou risest up.
Deuteronomy 11:19