Has Feminism Made Women Better or Happier?
Has Feminism Made Women Better or Happier?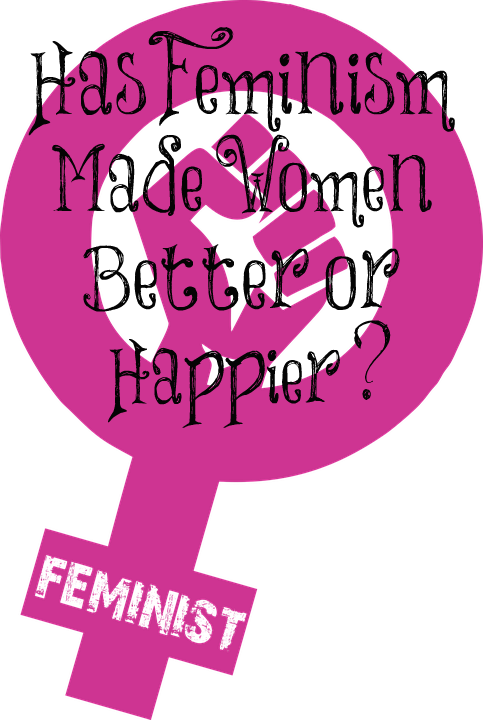 Has feminism made women better or happier? "The feminist movement taught women to see themselves as victims of an oppressive patriarchy…Self-imposed victimhood is not a recipe for happiness" (Phyllis Schlafly). Feminists have made men the enemy and see men as the oppressors who are keeping them from their full potential and ultimate happiness. After all, men used to be the ones who had most of the jobs, made the money and were in positions of authority. This looked so much better to women: to leave their family each day to seek the happiness that was eluding them. "Oppressive patriarchy" became the battle cry to convince women of their self-imposed victimhood and a search to settle the score, even if it meant walking into a harder, stress-filled life that most husbands were trying to protect their wives from.
 In a recent article written by a female retired college professor, Victoria Brown tells of a time when she was screaming at her husband over all of the evils men bring into this world: "In the centuries of feminist movements that have washed up and away, good men have not once organized their own mass movement to change themselves and their sons or to attack the mean-spirited, teasing, punching thing that passes for male culture. Not once. B****. Don't listen to me. Listen to each other. Talk to each other. Earn your power for once."
So "good men have not once organized their own mass movement to change themselves…"? Judaism, Christianity, and many of the world's religions were started by men and carried forward by men to help civilize the world. The Magna Carta, Democracy, and Bill of Rights are just a few of the most recent accomplishments of men making men and women better. Many wars were fought by organized men wanting righteousness: the Civil War to free the slaves and two World Wars to save the world from evil, tyrannical men. Modern day management has been organized by men to improve leaders and employees as team players. Christian colleges, as the seat of learning almost all developed by men for the benefit of men and women but now turned into costly, liberal bastions. Police forces, regulators, FBI – all organized by men to help men and women be fair and civilized towards one another.
One really has to ask, "Dr. Brown, is there really anything that women have organized to make women better as we see what an utter failure feminism is as it streaks towards greater extremes? Are women more gentle, more civil, more committed to faithfulness, and family? Has the free sex of feminism really achieved anything good for women but for a few moments of pleasure and massive heartaches and STD's?" I have never seen women as mean-spirited as they are today, especially with those with whom they disagree.
No, Dr. Brown, feminism isn't a women's mass movement that has changed women for good or made them better and certainly no happier. Yes, women can now vote, have any job they want, get equal pay, and the insanity to abort their child at almost any stage of their unborn baby's life. But take a look at the women's marches, mean-spirited speeches, screaming, and dressing up in vagina costumes,then tell me if feminism has not set women back thousands of years in civilization. Feminism has made women far worse as it pushes selfishness while devaluing women's bodies with immodesty, promiscuity, easy sex, and murdering or neglecting the lives of their own children. Mothers of old would be flabbergasted to see the modern feminist woman.
Women are leaving their children in the care of strangers so they can go off and "pursue their dreams and goals." Marriages are falling apart at alarming rates and children's lives are often shortchanged, all the while women are starting to display the very traits in men Dr. Brown so greatly despises. In many cases, instead of having more to offer society, women are leaving their role of mother and wife that only they can adequately fill, to replace a man who can do what they do in the workforce. They come home too tired to adequately care for themselves or family, but somehow this is seen as progress and self-betterment?
If Dr. Brown thinks there is no mass movement that has changed men, she has not been around Christians.  I know many men who are none of those things she claims them to be. My dad, my husband, my sons, my brothers-in-law, my many friend's husbands and sons, my cousins and their sons, the men in my neighborhood, and most men are not "mean-spirited, teasing, punching things." Many of these men were raised in the nurture and the admonition of the Lord and were taught His ways: to love God, love others, and treat others better than themselves. A majority of these men she hates are out busting their tails so that their families are well cared for, yet even then many of their wives are not happy. Like Victoria, many women are angry with "men" yet they have forgotten and neglected the one man who loves them enough to stick with their antics and thoughtless screaming. These women are angry because someone has planted a lie in their heads that says, "But what about me?" when everyone of us should be saying, "Life is not about me but what I can do for others."
No, feminists and their rage aren't going to accomplish anything good. Screaming at your good husband isn't going to accomplish this either, Victoria. Is this not the exact behavior you are accusing men of doing? Temper tantrums need to be stopped in children so they don't continue happening in adulthood as we are seeing in many today. The more women excuse their rage by blaming men, the more they become exactly what they claim they want to change. After all, sin and evil has no gender. It just depends on which sins one wants to count as being most evil. Talk to the manosphere and you will discover this same rage against women because of the evils women have done to husbands by leaving them hurt and broken all in the name of their own selfish freedoms and new found virtue called feminism where a woman's power to choose trumps common goodness and faithfulness to family.
There is a better way that has held true throughout the centuries, and men under God's direction have well organized the family unit to be that method of bettering mankind. In the family, we are to train our boys and girls to value each person as God does, and teach God's ways of love, joy, peace, goodness, and faith. Teach the children to treat others the way they want to be treated without blaming an entire gender for all the problems in the world. It is only individual responsibility based on a minimum standard of common human decency that can keep our society together and help it progress. This is not going to happen, Dr. Brown, by everyone screaming at each other, but instead by seeing that goodness and evil are choices each person makes, so train the foolishness out of your children (Proverbs 22:15), dear women.
Dr.  Brown's idea of an improved society is to get men to organize themselves for betterment, yet feminism has all but destroyed the greatest betterment program ever called the family. Mom and dad getting along and showing by way of example to the children how they should unselfishly live in a selfish and immoral world. We should be training children in the way they should go and continually teaching them the wonderful precepts of the Lord and who they are in Christ. If you want to create a mass movement that ends in making men and women better, stop destroying the one place where common human decency and love can be best trained, the family. A whole, healthy family with dad at the helm and mom closely following as each lives sacrificially is what betters our culture.
I love the men in my life and I know many others who feel the same way. Without men in this world it would be sorry place, and if they were not filled with testosterone we would not have the bridges, buildings, trains, planes, computers, and cell phones, and many more things that we have today. Let's stop trying to turn our men into something they are not. And let's stop turning women into something they are not designed to be either. Stop the stream of screaming and hate towards the other gender and start talking about the reality that we need both sexes to be just the way God created them to be within His roles for each gender. Our culture is desperate for husbands and wives who love each other and are committed to raising well-behaved, mature children who grow up to lead unselfish lives. This is the best betterment movement for all cultures.
Follow peace with all men, and holiness, without which no man shall see the Lord.
Hebrews 12:14