Why is Overeating Off Limits in a Wife's Submission to Her Husband?
Why is Overeating Off Limits in a Wife's Submission to Her Husband?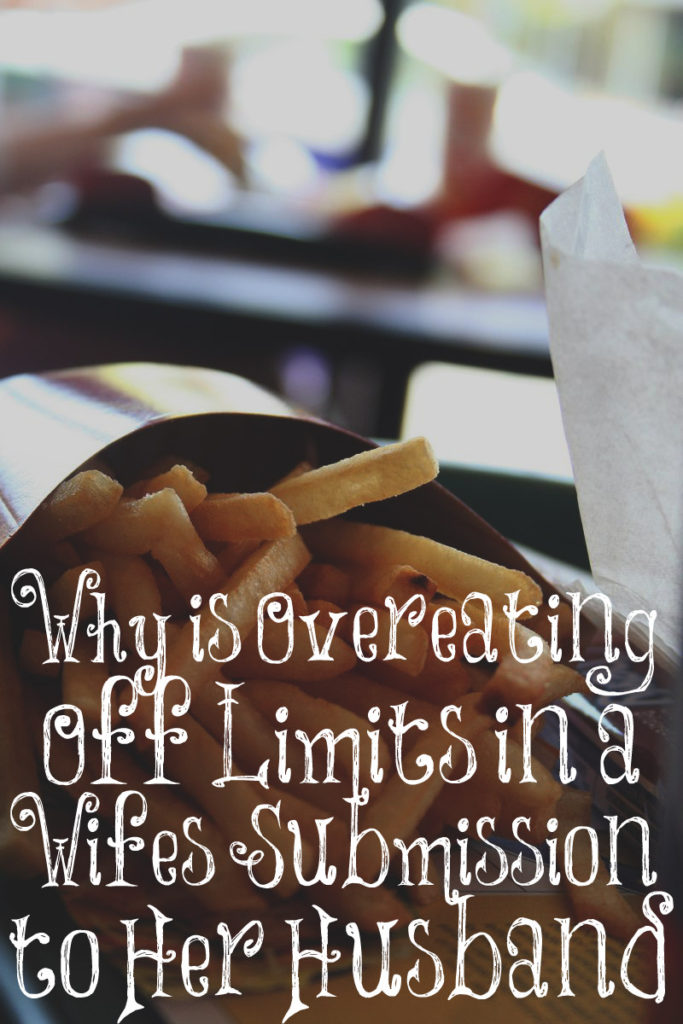 How would you respond if your husband one day looked at you and said, "You're eating too much. You need to lose weight" Most women would be highly offended and angry with their husbands. Some would even tell him that it's none of their business and they shouldn't ask them to do this. Then they would go to their friends and tell them how unreasonable their husbands are.
Is this the godly wife's response? No. A godly wife would tell her husband that she will stop eating so much and begin to lose weight since she knows that when she obeys her husband, she is obeying God. Even if it offends her sensibilities, she would keep her emotions under control, respond to her husband's request with respect, and go about eating less and losing weight.
A husband who says this to his wife is NOT in sin in any way. He is pointing out his wife's sin. She's the one in sin, not him as most want to say. As head over her, he has every right to point out his wife's sin since he is to wash her with the Word and love her as Christ loves the Church. Christ is sure free to point out the Church's sin, therefore, husbands are free to do so, too. Christ commands that we not be gluttons, therefore, there's nothing wrong with husbands telling their wives to not be gluttons. Anything God takes seriously, we ought to take seriously, too.
Oh, but women will protest and say a husband can only say something like this IF he says it in a kind and loving way. 1 Peter 3:1-6 wouldn't have had to be written if all husbands spoke kind and loving words to their wives. No, wives who are married to men who make requests like this, even if they aren't loving and kind, are to live in subjection to their husbands without the word and with godly behavior. God covered this, women! You aren't responsible for how your husband treats you or what he expects from you but only how you treat and respond to your husband.
I posted this on twitter the other day: "If your husband said to you, "You eat too much and need to lose weight," how would you respond? Would you be angry with him and tell him it's none of his business or with, "You're right. I will eat less and lose weight"? The first response is rebellious and the second response is biblical." I love one wise woman's comment: "My husband and I have been married 37 years and when I get a little too fat he says, "You're getting too fat; try cutting down." And when he gets a little too fat I get on him for it. If you have a marriage that you can't talk truth to each other then, that's not gonna last." A man responded, "Hm. If I see my wife taking bad habits into her life and becoming unhealthy because of them, I would be a terrible husband for not saying it. I keep it to myself when I don't care."
Weight and overeating are NOT off limits, women, even though other women will try to tell you that they are. How much you eat is important; for we are called to be moderate in everything and to not be gluttons. Gluttons eat more than they need. We are not to do this. We are to eat in moderation. Eating too much is not only a sin, but it's harmful to our health.
Do you want to be a godly woman? Do you want to be obedient to the Lord in all areas of your life? Do you want to be a wise woman who takes rebuke? Then nothing should be off limits for your husband to confront you about. If he sees sin in your life, he should have the freedom to point it out in you. If he can't, then who can?
As an earring of gold, and an ornament of fine gold, so is a wise reprover upon an obedient ear.
Proverbs 25:12