They Want Me to Stop Teaching Women to Be Keepers at Home
They Want Me to Stop Teaching Women to Be Keepers at Home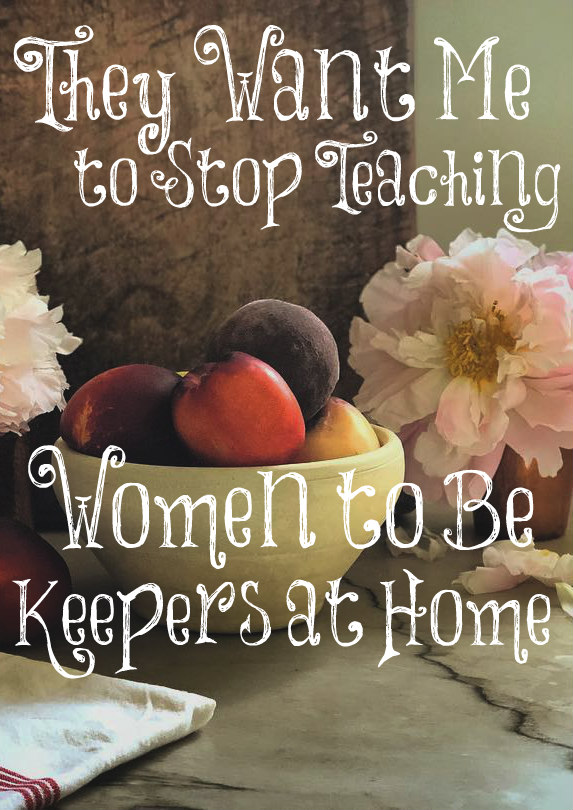 Women simply want me to stop teaching women to be keepers at home. They bring up all of the exceptions. They bring up all of the "What ifs…?" They bring up all of the career women in the Bible who left their homes all day, five days a week, worked for a boss, and left their children in the care of others. (There were none.) They will bring up how much money the Proverbs 31 woman made and she just must have been a career woman. (She wasn't.) They will tell me I am shaming working mothers so I just need to STOP!
Why are they so adamantly opposed to me teaching women what God commands I teach them, that younger women are to be keepers at home? Why does this ruffle their feathers so profusely? Why can't they see how good it is for the children to have mothers who are home full time raising their own children? Can't they see the great good in this? Who else is better at disciplining, teaching, caring for, training, and loving their own children then themselves?
Oh, they say, but the world needs nurses. Who would take care of the sick if there were no nurses? All of the women who weren't mothers or had children at home, that's who! There are others who can take the place of a nurse but no one can take the place of a mother. I recently heard that a female surgeon decided to quit her job to be a keeper at home. She wanted to be the one home to raise her children. She knew there were other surgeons who could take her place at work but NO one else who could take her place in her children's lives.
"That's too bad," they'll say. "She wasted all of that education and money to become a surgeon for what? Raising children and being stuck at home! Preposterous!" As if having a career, making money, having lots of stuff, and taking fancy vacations are more important than being the one home full time raising her own children. The women who value their "dreams," money, and stuff over their own children is shameful!
Why do women think that making money is more important than raising their own children? Who deceived them in this way? Who caused them to believe that having strangers raise their children was better for their children than they were? Who taught them that their worth and value came from what career they had and how much money they made rather than raising the next generation?
Satan has got to be at the root of all of this. After all, it was Satan who deceived Eve in the garden by asking her, "Did God really say…?" Did God really say that women should be keepers at home? Does this mean that they really have to be home with their children full time or did He mean something else so they can go off and pursue their dreams?
Many are so good at twisting the Word of God to mean what they want it to say rather than what God said. He knows mothers are the ones who are to raise their children just as all of you do even though many won't admit it. He knows that no one can take the place of a mother in a child's life. This is why He commands older women to teach younger women to love their children (yes, even sacrifice for them, sacrifice your career aspirations for them, and sacrifice your body, time, and energy for them) and be keepers at home (yes, find satisfaction AT home raising the next generation).
His ways are good, women. They aren't bondage as many want you to believe today. Working away from home five days a week for a boss and having others raise your children is bondage. God has called YOU to raise your own children. He wants you to LOVE them! He wants you to be with them full time. Your children will benefit more than you will ever know. Find contentment in God's perfect will for your life.
For as the heavens are higher than the earth, so are my ways higher than your ways, and my thoughts than your thoughts.
Isaiah 55:9