Why We are Voting For President Donald Trump
Why We are Voting For President Donald Trump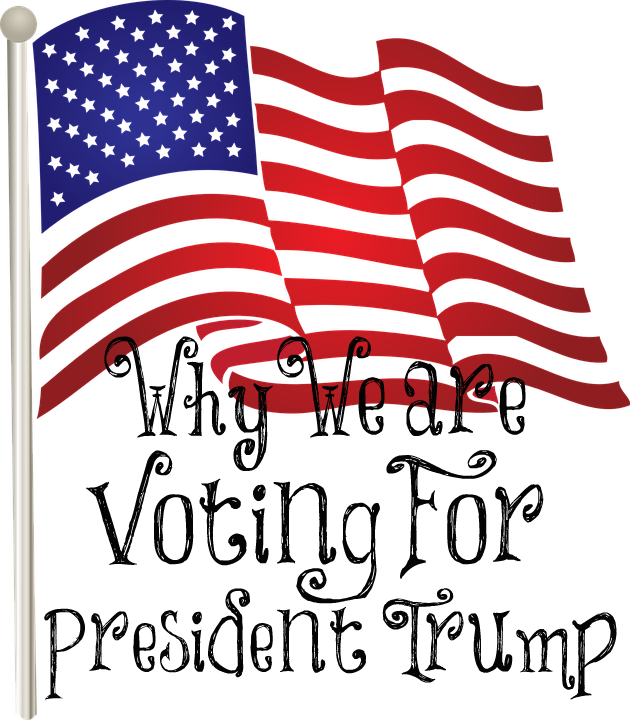 Written by Ken and Lori
We nervously voted for Donald Trump four years ago. We weren't thrilled about him and didn't even know where he stood on most issues. Would he keep his promises? Did he support unborn babies? What were his true views on most everything? We didn't know! We thought he may be more like a used car salesman than presidential material.
Well, we can now confidently say that we believe he's the best president in our lifetime. He sees something that needs to be righted, and he goes for it. He's kept almost of his promises if they were not thwarted by obstinate Dems. You don't have to wonder what he's thinking; he says it! Yes, this offends many, but we prefer this to saying one thing and doing another like President Obama did to get elected only to violate the sanctity of marriage and walk away from anything to do with the Christian faith. Trump's not a politician. We like this too. He knows what hard work and paying taxes are like, and he is working himself seemingly non-stop for what he believes will restore America and keep her from becoming a full-on socialist/communist country.
He supports Israel. We support Israel. He's the first president to publicly speak at the March For Life rally. He speaks up for the life of the unborn. The Left supports the slaughter of the unborn up until birth and some even support death after birth. He speaks out against wicked organizations like BLM and Antifa. He believes black lives matter as all lives matter, and yes, this means ALL black lives matter, especially the lives of the unborn babies. The BLM agenda is wicked to its core in what it openly promotes in socialism, destruction of property and the lives of good cops. The fruit of this movement brings violence to the land as some appear to have an insatiable appetite of vengeance on society for the wrongs of a few bad apples.
He supports small businesses and wants to do away with massive government regulations. He wants the country to completely open up and allow freedom back to the American people. Allow Americans to take responsibility in deciding how they want to live their lives with the virus, not have government mandates that regularly and too often without wisdom, tries to control us. He believes church is essential, supports Christians, and surrounds himself with strong believers like Mike Pence, Ben Carson, and Jerome Adams.
His children all fully support him and appear to love and respect him deeply. This says a lot about a man! Yes, his past is far from perfect but none of us have perfect pasts. We are electing a president, not a pastor, and VP Biden's past is not great either, filled with lies and troubled children. Some are saying they can't vote for the President because he's a bully or tweets bad things. We are not thrilled about some of what he says, but we appreciate a President who we know where he stands and will not back down from a fight. We are voting for liberty, freedom, and the Constitution; everything the Democrat party seems to be trying hard to get rid of and replace with socialism, radicalism, and free wheeling judges instead of the rule of law.
President Trump has created many more jobs for Americans before the virus hit, including bringing manufacturing jobs back to America that were sold overseas. If the Democrat mayors and governors would open up their cities and states, the economy would most likely come roaring back but this is what they fear. They are doing everything possible to prevent the President from being reelected. He fully supports the police and many police departments around the nation fully endorse him. He supports the military. The police and military are what keeps this nation a free nation. Without them, this nation will fall into chaos. It seems the Democrats love chaos and destruction as this is what many of their cities look like; a war zone instead of places of opportunity and advancement.
The President believes in the American people. The Democrat party wants Americans to see themselves as victims who need to be controlled by them. They believe in tyranny. Our President does not. He trusts the people to make good choices for themselves within the limits of the law of the land. He believes in the Constitution and has been faithful to appoint many good judges who do too.
And isn't the choice so very clear when you look at the governance differences between the Red and the Blue?  Which states have the highest taxes? Which cities the highest crime rates? Which party is seeking to actively destroy: destroy the family, the unborn, and the very fabric of society, culture, and faith?
The choice of President Trump for four more years is the easiest choice we have had since Ronald Reagan, and he deserves it. Not just because of his outstanding record in the face of all the fabricated lies of the media and Dems of Russia-gate, Ukraine-gate, and more, but because the alternative in Biden/Harris is even worse than the choice between Trump and Hillary, if that is even possible.
Please Christian, if you call yourself by that name, you need to take this matter to the Lord and make the wise choice of which candidate will seek to advance the things of the Lord and believes church is essential, and the other candidate who supports closing down churches for minor infractions and keeping them closed permanently.
President Trump is an imperfect man but he stands firmly and squarely with Christians and Israel while surrounding himself with godly men and women who we know love the Lord Jesus. Who is Biden surrounding himself with? You know the answer (wanting to only appoint Muslims to his cabinet), and they are not looking out for America, but rather desiring to destroy much of what we have come to love about our great country. Vote but more importantly, pray. Prayer to Almighty God is the most powerful thing we can do.
When the righteous are in authority, the people rejoice: but when the wicked beareth rule, the people mourn.
Proverbs 29:2