Being a Full-Time Homemaker Without Children
Being a Full-Time Homemaker Without Children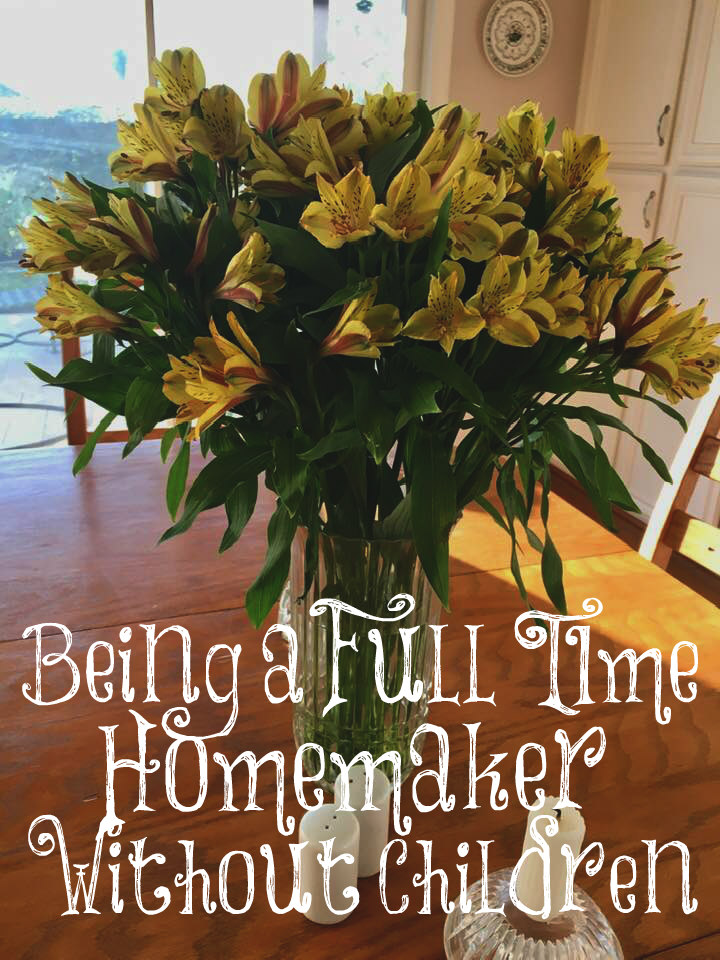 Written by Megan E. Saben
"She watches over the ways of her household, and does not eat the bread of idleness" (Proverbs 31:27).
While eagerly anticipating marriage after four years as a children's librarian, I was repeatedly informed that although my intentions to be a homemaker from the beginning were admirable, I was sure to be bored before long.
Now, months after the wedding, I haven't had time to read the help wanted ads nor felt any inclination to do so. Caring for my husband, I find numerous ways to improve our home and form better habits that will enhance my abilities as the seasons of life change.
Recently, as I ironed a pile of linen napkins, I began to wonder why I insist on making more work for myself. Paper napkins are cheap, they can be pretty, and it is really not essential to use cloth for every day. There may come a season when clean diapers and burping cloths take precedence over keeping up with napkins, but for now, cloth napkins represent creativity, personal taste, and an investment of time and love in making the table attractive. Someone else might design an interesting centerpiece or add garnishes to a simple meal, but my cloth napkins are part of my pursuit of orderly domestic beauty.
In the past, I felt that I needed an excuse for keeping at home while many of my friends felt it necessary to work post-wedding pre-family. Can I justify being at home full time before becoming a mother? I can if my time is well spent. If I want to maintain an orderly routine in the future, now is the time to learn habits that will be valuable in later seasons of life. If I want to try a new recipe or keep the freezer stocked with homemade bread and berries picked in season, now is the time to experiment and practice. If I hope to encourage and establish friendships with other young mothers, now is the time to visit them and help with their children or with housework.
I am still in training in my new, full-time position. The things I admire when I visit other homes are the things I have the opportunity to learn right now. Adjusting to married life and a new home is a radical change. Add writing thank you notes and unpacking to regular responsibilities and you can become overwhelmed in your new role. Can your full energies be offered equally to work outside the home, maintenance in the home, and the care of your worthy husband, who is your priority?
To a woman who is willing to sacrifice extra income and who desires to develop skills that will make her home a warm, welcoming haven, I offer the following suggestions:
Serve the Lord with gladness (Psalm 100:2). The best investment in a new marriage is establishing a routine that includes regular Scripture reading and prayer. With so many changes in a woman's life, this habit may not appear as urgent as having clean clothes or dinner on the table, but your relationship with God is a priority. It has been a great comfort to me in a new home and a new life to remember that God has not changed. I enjoy Him in remarkable new ways as a bride that I never knew as a single woman.
A wife without children or career may falter in her resolve, wondering if she has a sufficiently notable calling. To gain practical advice on how to grow closer to God, love your husband, and care for your home, learn from older women. Invite them for tea or visit their homes. Bring handwork, listen, and even take notes. These wise, spiritual mothers can encourage and teach you so that you can be available to teach other young women what you learn.
Look for opportunities to provide a meal for someone else. Attend Bible studies. Get to know your neighbors to have a fruitful witness. Be available to minister and your time will not go unfilled! But beware of filling your calendar with too many extra things that devour your time. Choose carefully and prayerfully with your husband's guidance.
Serve your husband. I am glad to do the things that I know will please my husband, because I appreciate his faithful love and care for me. I am thankful that my mother taught me to make bread and to enjoy being comfortable and creative in the kitchen, but if she had not, this would not be an excuse for not learning. I demonstrate love to my husband when I make his breakfast, pack his lunch, straighten the bed, iron his shirts, tidy the house, pursue creative activities, prepare an attractive and nutritious dinner, and after all that, have the energy to enjoy his return home. My tasks vary, but faithfulness in the details is as important as the accomplishment of larger works. The specific demands on my hours will change, but the wise use of my time now will establish habits, improve skills, and richly bless my relationship with my husband.
Care for your home. If you have the desire but not the skills to make your house a home, I recommend "The Hidden Art of Homemaking" by Edith Schaeffer. You don't have to be Martha Steward with unlimited funds and a team of artist-consultants in order to enhance your home.
Begin by pursuing the regular maintenance of order. Choose one small area, determine a practical solution to the clutter, and stick with it. Then add another small area. There are excellent books with practical suggestions if you were not born organized. If there are certain tasks you find tedious, focus on learning to enjoy them by doing them better and more efficiently so that the visible results are gratifying.
Cloth napkins can be made easily as soon as  you can sew a hem, or they can be purchased reasonably. Planting flowers provides a supply of centerpieces. Even if you live in an apartment, grow a few simple, fresh herbs, cultivate in pots outside the door. Basil and thyme are good to experiment with and require minimal attention.
If you already know how to cook and make bread, indulge in creative arts such as sewing, quilting, or knitting. If you use the opportunity to develop your skills, it will be much easier to implement them or build on them later when you have less time to devote to learning the basics.
Personal Development. The most important task you can undertake that will improve your success in the other three areas is to learn personal self-discipline and establish a household routine. When will you exercise your body and your soul? How quickly will you put the dishes away? How often will you clean the bathroom, change the sheets, and vacuum the carpet? When will you go to the grocery store? If you set goals and standards for yourself now, it will be easier to return to them later.
Whether you have completed a formal degree or not, what you know and what you have experienced makes you an interesting person. What have you read that you can contribute to the conversation when you have guests? Consider taking classes in areas of interest: literature, history, cooking, music. If the cost is prohibitive, get a library card and exhaust the shelves! [This was written before we had free access to the Internet to learn these things!]
In the early months of our marriage, I discovered many valuable reasons for staying home, although finding employment was an option. When my husband is called away on travel, I am free to accompany him. The home is a beautiful place to be when I am content to make it so, and when I rejoice in my calling as a homemaker I am available spontaneously to serve the needs of others. During a holiday season, I am available to make our home a festive place for family, friends, and guests. I am able to meet my husband at the door with warm smells emanating from the oven behind me. No second income can compare to discovering how many ways I can express my love to him and to seeing his pleasure in the results.
It is never too soon nor too late to begin.
And whatsoever ye do, do it heartily, as to the Lord, and not unto men.
Colossians 3:23